agriTECH, with registration number ISSN 0216-0455 (print) and ISSN 2527-3825 (online), is a scientific journal that publishes the research results in the field of food and agricultural product technology, agricultural and bio-system engineering, and agroindustrial technology. This journal was published by the Faculty of Agricultural Technology, Universitas Gadjah Mada, Yogyakarta, in collaboration with the Indonesian Association of Food Technologies (PATPI).
Furthermore, based on the Decree of the General Director of Strengthening the Research, Technology and Higher Education of the Republic of Indonesia No. 30/E/KPT/2018, it was designated as an Accredited Scientific Journal (Sinta 2) from Vol. 37 No. 2, 2017 to Vol. 42 No. 1, 2022.
Since 2016, Open Journal Systems (OJS) has been applied for all business processes in agriTECH. Therefore, authors are required to register in advance and upload their manuscripts online. This system allows readers, authors, editorial boards, editors, and peer reviewers to obtain the real-time status of manuscripts and purchase hard copies of journals. Finally, agriTECH publishes four times a year, in February, May, August, and November. More about the various changes that have taken place in this journal is written in its history.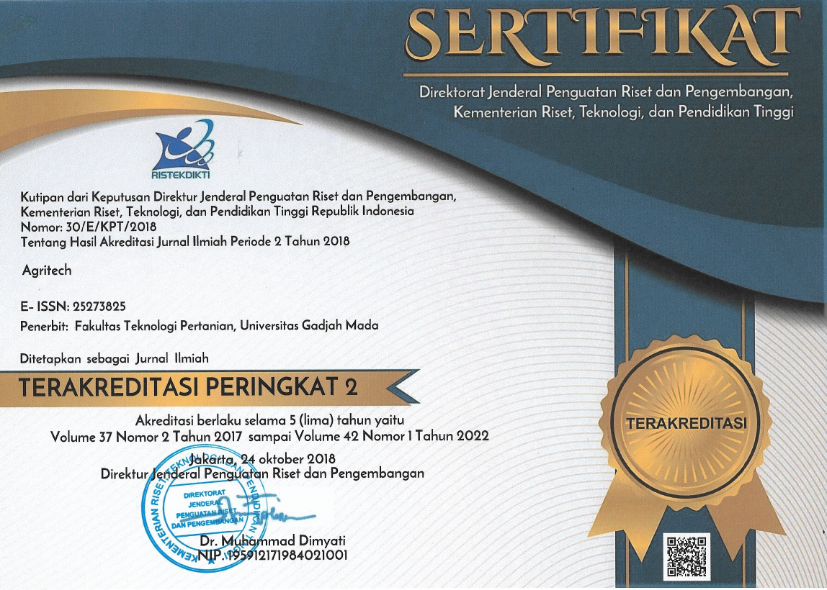 Announcements
Accreditation

Based on the Decree of the Director General of Higher Education, Research, and Technology of the Republic of Indonesia, Number: 158/E/KPT/2021, agriTECH has been accredited with Sinta 2. The certificate is currently in process at the ministry.

Posted: 2022-02-09

Indexed on the Emerging Sources Citation Index

On January 2018, agriTECH was indexed on the Emerging Sources Citation Index (ESCI), a new database within Clarivate Analytics (formerly Thomson Reuters) Web of Science.

Posted: 2018-02-01
Vol 42, No 3 (2022)
Table of Contents
Articles
Rinda Kusumawati, Nurheni Sri Palupi, Slamet Budijanto

10.22146/agritech.56064

Abstract views : 530 |

views : 514

195-205
Desiana Nuriza Putri, Damat Damat, Okta Pringga Pakpahan, Erika Novena Santoso, Elfi Anis Saati

10.22146/agritech.56693

Abstract views : 438 |

views : 293

206-217
Tri Wahyuni Apriyani, Supriyadi Supriyadi, Rachmad Gunadi

10.22146/agritech.57006

Abstract views : 353 |

views : 218

218-230
Ilham Marvie, Aziz Boing Sitanggang, Slamet Budijanto

10.22146/agritech.58013

Abstract views : 473 |

views : 336

231-241
Syamsul Rahman, Salengke Salengke, Abu Bakar Tawali, Meta Mahendradatta

10.22146/agritech.63255

Abstract views : 375 |

views : 169

250-259
Kirana Sanggrami Sasmitaloka, Winda Haliza, Ermi Sukasih, Shinta Dewi Ardhiyanti, Sri Widowati

10.22146/agritech.67011

Abstract views : 367 |

views : 251

260-271
Joseph Paquit, Jason Parlucha, Garry Marapao

10.22146/agritech.57482

Abstract views : 404 |

views : 184

272-282
Darmono Erma, Supriyadi Supriyadi, Umar Santoso

10.22146/agritech.64181

Abstract views : 332 |

views : 149

283-294
An Naafi Yuliati Lathifah, Adi Djoko Guritno, Guntarti Tatik Mulyati

10.22146/agritech.44799

Abstract views : 346 |

views : 218

295-308
Editorial