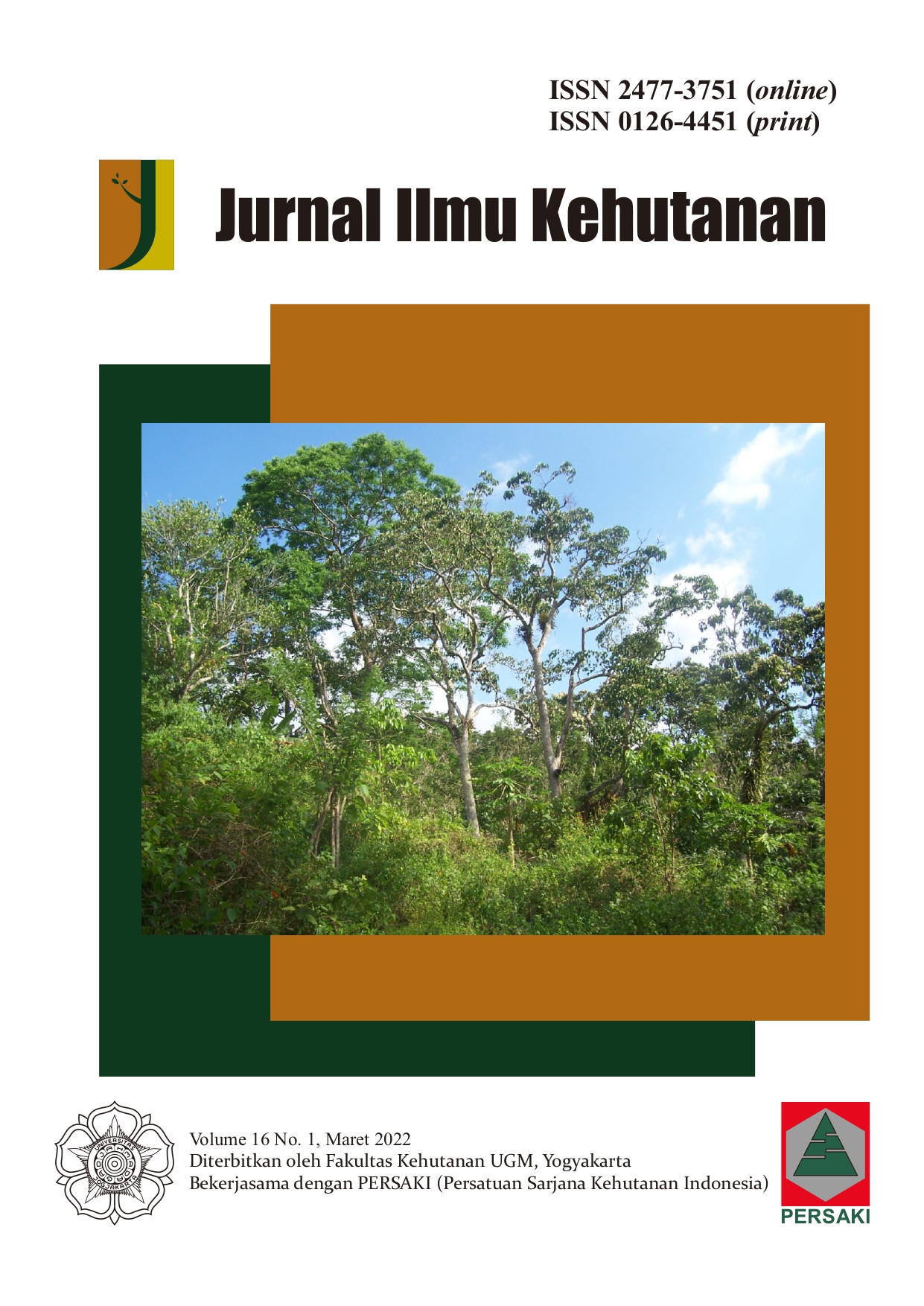 This work is licensed under a Creative Commons Attribution-NonCommercial-ShareAlike 4.0 International License.
Luas Optimal Kawasan Hutan dari Fungsi Ekonomi Hutan Serbaguna
Corresponding Author(s) : Prof. Wahyu Andayani
wandayani@ugm.ac.id
Jurnal Ilmu Kehutanan, Vol 16 No 1 (2022): Maret

Abstract
The multi-function forests establishment is an appropriate solution for the paradigm transition in forest management from timber management into ecosystem management. Inclusive economic and environmentally friendly business models become a necessity in forest management to ensure the sustainable functions of forests as life support systems. The multi-business in forestry regulated by Ministerial Decree -PerMen-LHK No.8/ 2021- is in line with the spirit of multi-function forests paradigm to increase forest lands productivity, not only timber but also non-timber forest products and environmental services. Although the government has formulated the multi-function forests development concept and its strategic plan several years ago, the forestry sector's contribution in economic valuation, such as national income (PDB—gross domestic product) and non-tax revenue (PNBP—non-tax state revenue) is relatively low. In this disruption era, this forest management transition becomes a necessity. The multi-function forests establishment could become a realistic management model to implement business diversification and innovation and optimize forestry competitiveness at each business level to accommodate social, economic, and environmental aspects of forest management.
Keywords
multi-function forests
multi-business in forestry
inclusive economy
economic valuation
optimization
References
Andayani W, Septiana RM, Riyanto S, Supriyatno N. 2020. Strategy to improving community economic through on-farm agroforestry using community forestry scheme in KPH Yogyakarta. IOP Conference Series: Earth and Environmental Science, 449, 012057. doi:10.1088/1755-1315/449/1/012057
Bull G, Schwab O, Jayasinghe P. 2007. Economic indicators and their use in sustainable forest management. BC Journal of Ecosystems and Management 8(2).
Butko G. 2021. Sustainable forest management as a basis for economic security. E3S Web of Conferences, 291. doi:10.1051/e3sconf/202129102031
Henry M, et al. 2021. A multi-purpose national forest inventory in Bangladesh: design, operationalisation and key results. Forest Ecosystems 8(1). doi:10.1186/s40663-021-00284-1
Houballah M, Mathias JD, Cordonnier T. 2021. An infrastructure perspective for enhancing multi-functionality of forests: a conceptual modeling approach. Earth's Future 9(1). doi:10.1029/2019EF001369
Posavec S, Keča L, Delić S, Stojanovska M, Malovrh ŠP. 2021. Comparative analysis of selected business indicators of state forest companies. Sumarski List 145:1–2. doi:10.31298/SL.145.1-2.1
Sobey R. 2008. Bi Doup Nui Ba National Park management assessment with emphasis on collaborative management with neighbouring farmers.