Indonesian Journal of Chemistry is a peer-reviewed, open access journal that publishes original research articles, review articles, as well as short communication in all areas of chemistry, including educational chemistry, applied chemistry, and chemical engineering. The paper published in this journal implies that the work described has not been, and will not be published elsewhere, except in abstract, as part of a lecture, review or academic thesis. Journal publish three issues (March, July and November) annually (one volume) and each issue consists of 15-20 articles.
Since 2012, Indonesian Journal of Chemistry has been indexed in SCOPUS, CAS, Google Scholar, IPI. Portal Garuda.
Journal ranking (2015) : SNIP: 0.300; IPP: 0.34; SJR: 0.157.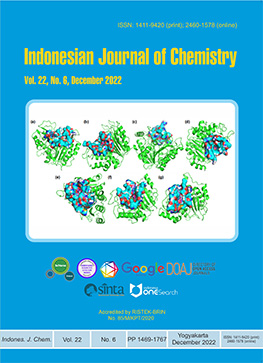 Announcements
Change of Reference Style

To give more information and make easily in checking the relevance, since Volume 17 Nomor 1 reference style in the article has been changed, in which the references have to be completed with the  article title. Therefore, all authors are requested  to adapt that change. 

An example:

Utari, U., Kusumandari, K., Purnama, B., Mudasir, M., Abraha, K., 2016, Surface morphology of Fe(III)-porphyrin thin layers as characterized by atomic force microscopy, Indones. J. Chem., 16(3), 233-238

Posted: 2017-03-14

Migration of Journal Web and Call for Papers

To improve and fasten services for users, since January 2017 Indonesian Journal of Chemistry have migrated from old: http://pdm-mipa.ugm.ac.id/ojs/index.php/ijc to new URL: https://jurnal.ugm.ac.id/ijc. Therefore, we invite all authors to submit your qualified manuscripts of original research articles, reviews, short communication in our Journal. Within two months (longest) from submission, the decision of acceptance or rejection has been made. Submission is suggested via online. 

 

Posted: 2017-01-02
Vol 17, No 1 (2017)
Accredited by DIKTI No : 58/DIKTI/Kep/2013
Date : 22 August 2013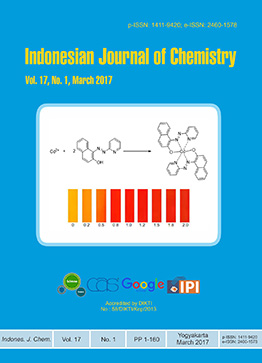 Table of Contents
Articles
| | | |
| --- | --- | --- |
| | Moersilah Moersilah, Dwi Siswanta, Roto Roto, Mudasir Mudasir | 1-6 |
| | | |
| --- | --- | --- |
| | Yuspian Nur, Eti Rohaeti, Latifah Kosim Darusman | 7-14 |
| | | |
| --- | --- | --- |
| | Muchtaridi Muchtaridi, Elvan Kamal, Anas Subarnas, Abdul Mutalib | 15-21 |
| | | |
| --- | --- | --- |
| | Mohammad Rofik Usman, Atiek Rostika Noviyanti, Diana Rakhmawaty Eddy | 22-29 |
| | | |
| --- | --- | --- |
| | Ratna Ediati, Amirul Mukminin, Nurul Widiastuti | 30-36 |
| | | |
| --- | --- | --- |
| | Dedri Syafei, Sri Sugiarti, Noviyan Darmawan, Mohammad Khotib | 37-42 |
| | | |
| --- | --- | --- |
| | Harsojo Harsojo, Lutfi Ayu Puspita, Dedi Mardiansyah, Roto Roto, Kuwat Triyana | 43-48 |
| | | |
| --- | --- | --- |
| | Mutia Devi Hidayati, Taslim Ersam, Kuniyoshi Shimizu, Sri Fatmawati | 49-53 |
| | | |
| --- | --- | --- |
| | Dion Notario, Sudibyo Martono, Zullies Ikawati, Arief Rahman Hakim, Fathul Jannah, Endang Lukitaningsih | 54-62 |
| | | |
| --- | --- | --- |
| | Budiana I Gusti M. Ngurah, Jumina Jumina, Chairil Anwar, Sunardi Sunardi, Mustofa Mustofa | 63-70 |
| | | |
| --- | --- | --- |
| | Ibrahim Dalli, Danni Ramdhani, Aliya Nur Hasanah | 71-78 |
| | | |
| --- | --- | --- |
| | Hanifullah Habibie, Rudi Heryanto, Mohamad Rafi, Latifah Kosim Darusman | 79-85 |
| | | |
| --- | --- | --- |
| | Marco Sandjaja, Maria Lucia Ardhani Dwi Lestari | 86-94 |
| | | |
| --- | --- | --- |
| | Sri Sudiono, Mustika Yuniarti, Dwi Siswanta, Eko Sri Kunarti, Triyono Triyono, Sri Juari Santosa | 95-104 |
| | | |
| --- | --- | --- |
| | Maria Ulfah, Sri Raharjo, Pudji Hastuti, Purnama Darmadji | 105-112 |
| | | |
| --- | --- | --- |
| | Kamran Ghasemzadeh, Milad Mohammad Alinejad, Milad Ghahremani, Rahman Zeynali, Amin Pourgholi | 113-118 |
| | | |
| --- | --- | --- |
| | Agus Setiabudi, Asep Wahyudin, Galuh Yuliani, Mauro Mocerino | 119-126 |
| | | |
| --- | --- | --- |
| | Eka Dian Pusfitasari | 127-138 |
Short Communication
| | | |
| --- | --- | --- |
| | Miftakhul Jannatin, Ganden Supriyanto, Pratiwi Pudjiastuti | 139-143 |
| | | |
| --- | --- | --- |
| | Wening Lestari, Rizna Triana Dewi, Leonardus Broto Sugeng Kardono, Arry Yanuar | 144-150 |
Review
| | | |
| --- | --- | --- |
| | Teni Ernawati, Maksum Radji, Muhammad Hanafi, Abdul Mun'im, Arry Yanuar | 151-160 |