Indonesian Journal of Chemistry is an International, peer-reviewed, open-access journal that publishes original research articles, review articles, and short communication in all chemistry areas, including applied chemistry. The journal is 

accredited

 by The Ministry of Research and Technology/National Agency for Research and Innovation (RISTEK-BRIN) 

No.: 85/M/KPT/2020 

(in First Rank), indexed by Scopus since 2012 and has a journal impact factor (JIF) score since 2022. In 2018 and 2019 (Volumes 18 and 19, respectively) Indonesian Journal of Chemistry published four issues (numbers) annually (February, May, August, and November). Due to the large number of qualified papers accepted, to speed up the publication of the scientific and valuable research results, since 2020 (Volume 20) Indonesian Journal of Chemistry has increased the frequency of issues to six numbers annually (February, April, June, August, October, and December).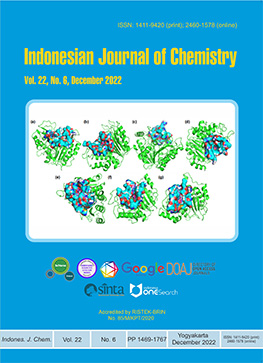 Announcements
What have we done to improve the quality of our journals?

As a consequence of being indexed on Scopus and ESCI, the manuscripts we received increased during the 2010-2019 period. Details were given in Fig. 1. This increase is a formidable challenge. On the one hand, we are under pressure from authors who demand short review times and short waiting times for publication. On the other hand, we must strictly maintain the quality of the articles we publish (Fig. 2).

 

Figure 1. Number of Manuscript Received vs Accepted (2010-2019)

 

Figure 2. Rate of Article Acceptance (%) (2010-2019)

The following are the steps we have taken to guarantee and improve the quality of the published article:

Since 2017 we have used the Open Journal System (OJS) on all article management functions and facilities to manage articles more conveniently. The editors can supervise each other through the system. Also, editors can quickly monitor the performance of reviewers and authors.
We implement a more stringent filter at an early stage to reject inappropriate manuscripts to proceed to the review process. We have determined a minimum standard for articles to continue the review process.
We conduct strict plagiarism checks on manuscripts that we deem appropriate to proceed to the review process using professional software.
We hold editor training and discussion forums to improve editors' ability to handle manuscripts and synchronize mindsets in decision-making.
We invite editors with proven expertise from various countries and they are willing to help us voluntarily
We invite scientists from various countries as reviewers. Therefore, we really thank you for their commitment to voluntarily reviewing the articles.
We evaluate the review results from reviewers. As a result, our review time is relatively long; the average for the 2015-2019 period is 4-5 months (Fig. 3).
We do the copyediting stage carefully for articles that have been accepted. This step is needed to prevent substantial errors that are missed in the review process. Copyediting is also very useful to improve the readability of articles, the feasibility of illustrations, the suitability of citations and references, etc. This process takes an average of 3-4 weeks.
We improve the quality of the layout of articles with stringent standards so that the appearance of each article in each volume becomes uniform. We always try to shorten the time for article layout while maintaining quality.
We carry out the proofreading stage by the author and editor as a final check uploading the article in an online system —the time required at this stage is, on average, 2-3 weeks.
Finally, we post it in the "articles in press" section. Author and editor still have a chance to make revisions if they find unnecessary errors.
We are taking into account the waiting time between articles accepted to publish, which is sharply increased in the 2015-2019 period (from 4.3 to 8.8 months), see Fig 2. Through careful calculation, we manage the number of articles for each year's publication. Therefore, we increased the number of articles gradually from 43, 51, 68, 100, and 120. In 2020, we plan to publish 150 articles, which is distributed into 6 issues. The distribution of countries of origin of the authors for the 2015-2019 period is shown in Fig. 5

 

Figure 3. Average review time in the period of 2015-2019 (in weeks)

 

Figure 4. Average of waiting time from accepted to published (in months)

 

Figure 5. Distribution of Authors' Countries of Origin (2015-2019)
Posted: 2020-07-08

Publication Frequency and call for paper

After publishing four issues since volume 18 (2018), the number of submitted papers increases significantly.  Therefore, to speed up qualified articles to be published internationally, Indonesian Journal of Chemistry publishes six issues (

numbers

) annually (February, April, June, August, October, and December) since 2020 (Volume 20). Therefore, we invite all authors to submit your qualified manuscripts of original research articles, reviews, short communication in our Journal. Within two months (longest) from submission, the decision of acceptance or rejection has been made. Submission is only via online.

Posted: 2019-12-17
Vol 23, No 5 (2023)
Accredited by RISTEK-BRIN No.: 85/M/KPT/2020 (April 1, 2020)

Table of Contents
Articles
Suriati Eka Putri, Diana Eka Pratiwi, Rachmat Triandi Tjahjanto, Nita Magfirah Ilyas, Dahlang Tahir, Abd Rahman, Heryanto Heryanto

10.22146/ijc.78875

Abstract views : 870 |

views : 405

1199-1211
Riyadh Hasan Mohammed Ali, Bashar Mudhaffar Abdullah, Rasha Ismail Ahmed

10.22146/ijc.79010

Abstract views : 615 |

views : 245

1212-1219
Ilma Nugrahani, Aditya Aditya

10.22146/ijc.79201

Abstract views : 600 |

views : 186

1220-1235
Bevi Lidya, Muhammad Yusuf, Umi Baroroh, Korry Novitriani, Bachti Alisjahbana, Iman Rahayu, Toto Subroto

10.22146/ijc.79301

Abstract views : 612 |

views : 158 |

views : 126

1236-1247
Indriana Kartini, Tutik Dwi Wahyuningsih, Adhi Dwi Hatmanto, Vina Aida Roza, Yehezkiel Steven Kurniawan

10.22146/ijc.80766

Abstract views : 658 |

views : 237

1248-1260
Santhy Wyantuti, Uji Pratomo, Yeni Wahyuni Hartati, Amelia Shafira, Ari Hardianto, Husein Hernandi Bahti

10.22146/ijc.80979

Abstract views : 409 |

views : 161

1261-1269
Karrar Majeed Obaid, Ahmed Saadoon Abbas, Yahya Fahim Al-Khafaji

10.22146/ijc.82417

Abstract views : 516 |

views : 179 |

views : 107

1270-1283
Mohd Rashidi Abdull Manap, Ahmad Fadly Jusoh, Lim Xiang Chuin, Nur Diana Farhana Muhamad Zulkifli, Qhurratul Aina Kholili, Fatin Abu Hasan, Danish Aiman Akmal Mohd Effendy, Ramizah Azis

10.22146/ijc.82499

Abstract views : 496 |

views : 120 |

views : 104

1284-1293
Adhitya Adhitya, Winda Rahmalia, Intan Syahbanu, Gusrizal Gusrizal, Adhitiyawarman Adhitiyawarman

10.22146/ijc.82754

Abstract views : 537 |

views : 181

1294-1303
Hendro Juwono, Anisun Zakiyah, Riki Subagyo, Yuly Kusumawati

10.22146/ijc.82895

Abstract views : 532 |

views : 188

1304-1314
Norman Yoshi Haryono, Rizqi Layli Khusufi, Delia Wahyu Pangesti, Evi Susanti, Rina Rifqie Mariana, Hartati Eko Wardani, Norazlinaliza Salim

10.22146/ijc.83626

Abstract views : 400 |

views : 146

1315-1323
Rehab Ghalib Hammoda, Naser Shaalan

10.22146/ijc.83730

Abstract views : 778 |

views : 237 |

views : 142

1324-1340
Farrah Nurkhaliza, Ahmad Fathoni, Muhammad Eka Prastya, Zetryana Puteri Tachrim, Abdul Aji, Agustina Sus Andreani

10.22146/ijc.83789

Abstract views : 732 |

views : 284

1341-1351
Tariq Hussein Mgheer, Ali Abdulraheem Kadhim, Zainab Abdalameer Hussein, Zaid Kaheel Kadhim, Muneer Abdul Aly Al-Da'amy, Abbas Jassim Atiyah, Salih Hadi Kadhim, Suma Jaafar Abbas

10.22146/ijc.83850

Abstract views : 1213 |

views : 302

1352-1360
Dewi Agustiningsih, Nuryono Nuryono, Sri Juari Santosa, Eko Sri Kunarti

10.22146/ijc.84282

Abstract views : 636 |

views : 201

1361-1374
Wesam Dheyab Kzar, Hasan Shamran Mohammed, Fatimah Swadi Zghair, Zahia Zizi

10.22146/ijc.84388

Abstract views : 524 |

views : 210

1375-1383
Hadeel Adil, Hamsa Thamer, Dina Saadi Ahmed, Raghda Alsayed, Muna Bufaroosha, Khalid Zainulabdeen, Hassan Hashim, Alaa Mohammed, Emad Yousif

10.22146/ijc.84552

Abstract views : 440 |

views : 149

1384-1393
Ty Viet Pham, Duc Viet Ho, Anh Tuan Le, Y Duy Ngo, Nhan Thi Thanh Dang, Thang Quoc Le, Bao Chi Nguyen

10.22146/ijc.84619

Abstract views : 650 |

views : 229 |

views : 130

1394-1405
Laela Mukaromah, Andi Haryanto, Yessi Permana, Aep Patah

10.22146/ijc.84669

Abstract views : 500 |

views : 202

1406-1414
Asmaa Ali Al-Serhan, "Ayat Allah" Al-Massaedh, Idrees Faleh Al-Momani

10.22146/ijc.85062

Abstract views : 414 |

views : 136 |

views : 83

1415-1435
Elyna Wahyu Trisnawati, Venty Suryanti, Edi Pramono, Indri Sri Cahyani, Diah Safriyani

10.22146/ijc.85726

Abstract views : 507 |

views : 174

1436-1444
Aswati Mindaryani, Vincent Sutresno Hadi Sujoto, Sandrina Christine Michelin Silalahi, Himawan Tri Bayu Murti Petrus, Edia Rahayuningsih

10.22146/ijc.87624

Abstract views : 439 |

views : 136

1445-1455
Short Communication
Ildefonso Baldiris-Navarro, Jorge Sanchez, Martha Torres Virviescas, Alvaro Realpe-Jimenez, Juan Fajardo-Cuadro

10.22146/ijc.82483

Abstract views : 671 |

views : 171

1456-1462
Lina Saadi, Shaimaa Adnan

10.22146/ijc.83052

Abstract views : 515 |

views : 196

1463-1471
Ranim Ibrahim, Sophie Barguil, Sondos Hesenow

10.22146/ijc.84607

Abstract views : 455 |

views : 148

1472-1478