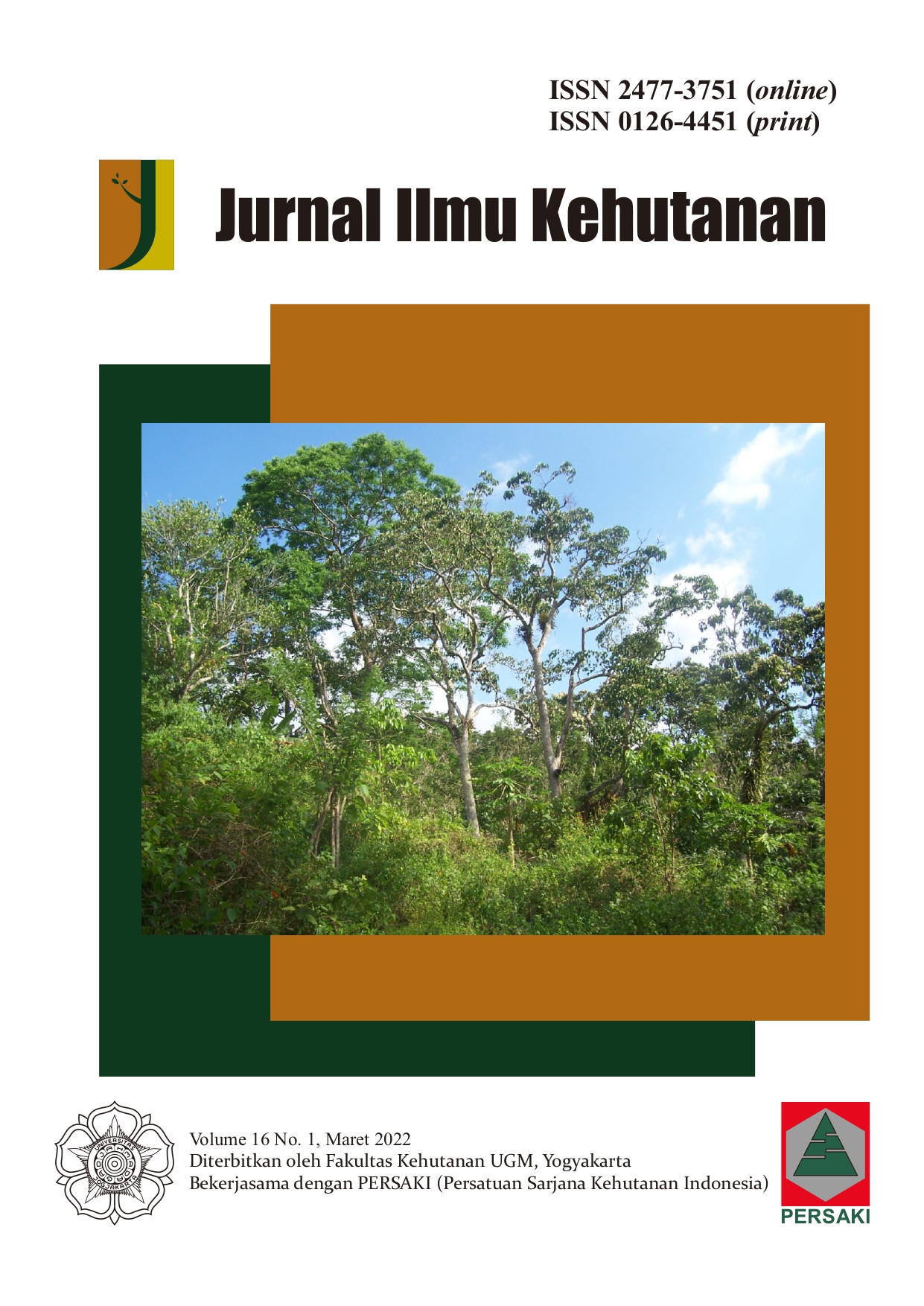 This work is licensed under a Creative Commons Attribution-NonCommercial-ShareAlike 4.0 International License.
The Effect of Tapioca Starch Adding on the Characteristics of Wood Pellets from Teak Branch Waste
Corresponding Author(s) : Santiyo Wibowo
santiyowibowo1973@yahoo.co.id
Jurnal Ilmu Kehutanan, Vol 16 No 1 (2022): Maret

Abstract
In the cultivation of teak plus Perhutani (JPP) plantations, there is a thinning cycle of plants at a certain age to produce optimal plant growth for other teak trees. The wood waste from thinning in the form of tree tips and branches/twigs is commonly only used as firewood. One of the efforts to diversify the use of thinned JPP wood is processing it into wood pellets. The raw material used is ten years old thinning teak from Perhutani KPH Pemalang, Central Java. The purpose of this study was to identify the effects of adding tapioca flour on the quality of wood pellets from teak branch waste. In this study, the manufacture of pellets was carried out with treatments without the addition of tapioca and the addition of 2.5%, 5%, 7.5%, and 10% w/w of tapioca adhesive. The results showed that the waste of teak branch can be used as raw material for wood pellets, with the characteristics of the water content 6.51-6.97%, volatile matter 76.01-77.37%, ash content 1.37-1.67%, fixed carbon 14.74-15.49%, density 1.14-1.31 g/cm3 and heat value 4192-4319.67 cal/g. The results showed that all parameters met SNI 8021-2014, except for the ash content in the control and 2.5% tapioca treatment.
Keywords
pellets
teak
waste
thinning
tapioca
Wibowo, S. (2022). The Effect of Tapioca Starch Adding on the Characteristics of Wood Pellets from Teak Branch Waste. Jurnal Ilmu Kehutanan, 16(1), 50-63. https://doi.org/10.22146/jik.v16i1.1807
Download Citation
Endnote/Zotero/Mendeley (RIS)
BibTeX
References
Adhikari, B. B., Chae, M., Zhu, C., Khan, A., Harfield, D., Choi, P., & Bressler, D. C. (2019). Pelletization of torrefied wood using a proteinaceous binder developed from hydrolyzed specified risk materials. Processes, 7(4), 1–12. https://doi.org/10.3390/pr7040229
Ahn, B. J., Chang, H., Soo Min Lee, D. H. C., Cho, S. T., Han, G., & Yang, I. (2014). Effect of binders on the durability of wood pellets fabricated from Larix kaemferi C . and Liriodendron tulipifera L . sawdust. Renewable Energy, 62, 18–23. https://doi.org/10.1016/j.renene.2013.06.038
Belonio, A. T. (2005). Rice Husk Gas Stove Handbook. In Bioenergylists.Org. http://bioenergylists.org/stovesdoc/Belonio/Belonio_gasifier.pdf
Caillat, S., & Vakkilainen, E. (2013). Large-scale biomass combustion plants: An overview. In Biomass Combustion Science, Technology and Engineering. Woodhead Publishing Limited. https://doi.org/10.1533/9780857097439.3.189
Cainenga, Z., Qun, Z., Guosheng, Z., & Bob, X. (2016). Energy revolution: From a fossil energy era to a new energy era. Natural Gas Industry B, 3(1), 1–11. https://doi.org/10.1016/j.ngib.2016.02.001
Fang, S., Zhai, X., Wan, J., & Tang, L. (2013). Clonal variation in growth, chemistry and calorific value of new poplar hybrids at nursery stage. Journal Biomass and Bioenergy, 54, 303–311. https://doi.org/10.1016/j.biombioe.2012.10.005
Fordiie, E. O. (2011). Durability of wood pellets (Issue April). The University Of British Columbia.
Forero-Nuñez, C. A. . b, Jochum, J. . d, & Vargas, F. E. S. . f g. (2015). Effect of particle size and addition of cocoa pod husk on the properties of sawdust and coal pellets [Efecto del tamaño de partícula y la adición de cáscara de cacao en las propiedades de los pellets de aserrín y carbón]. Ingenieria e Investigacion, 35(1), 17–23. https://doi.org/10.15446/ing.investig.v35n1.46157
Gageanu, I., Cujbescu, D., Persu, C., & Voicu, G. (2018). Impact of using additives on quality of agricultural biomass pellets. Engineering For Rural Development, 1632–1638. https://doi.org/10.22616/ERDev2018.17.N016
Gilvari, H., Cutz, L., Tiringer, U., Mol, A., de Jong, W., & Schott, D. L. (2020). The effect of environmental conditions on the degradation behavior of biomass pellets. Polymers, 12(4), 1–15. https://doi.org/10.3390/POLYM12040970
Guitarra, P., & Kartika, H. (2018, March). ESDM: Jika tak ada temuan baru, cadangan minyak bumi akan turun tahun depan. Kontan.Co.Id. https://industri.kontan.co.id/news/esdm-jika-tak-ada-temuan-baru-cadangan-minyak-bumi-akan-turun-tahun-depan
Hadiroseyani, Y., Puspitasari, A., & Budiardi, T. (2015). Peningkatan rasio C / N dengan penambahan tepung tapioka pada substrat budidaya Oligochaeta Increasing of C / N ratio with addition of tapioca starch in Oligochaetes culture substrate. Jurnal Akuakultur Indonesia, 14(2), 144–150.
Hansen, M. T., Jein, A. R., Hayes, S., & Bateman, P. (2009). English Handbook for Wood Pellet Combustion. https://pelletsatlas.info/wp-content/uploads/2015/09/Handbook_English_disclaimer.pdf
Hendra, D. (2012). Rekayasa pembuatan mesin pelet kayu dan pengujian hasilnya. Jurnal Penelitian Hasil Hutan, 30(2), 144–154.
Hindom, P. P., Mande, L. C., & Nurali, E. (2016). Pengaruh penambahan tepung tapioka pada pembuatan biskuit bebas gluten, bebas kasein berbahan baku tepung ubi jalar ungu (Ipomoae batatas L ). Penina. Cocos, 7(6), 1–12.
Keipi, T., Tolvanen, H., Kokko, L., & Raiko, R. (2014). The effect of torrefaction on the chlorine content and heating value of eight woody biomass samples. Biomass and Bioenergy, 66, 232–239. https://doi.org/10.1016/j.biombioe.2014.02.015
Kuokkanen, M., Vilppo, T., Kuokkanen, T., Stoor, T., & Niinimaki, J. (2011). Additives in wood pellet production – a pilot-scale study of binding agent usage. BioResources, 6(4), 4331–4355.
Kymäläinen, M., Mäkelä, M. R., Hildén, K., & Kukkonen, J. (2015). Fungal colonisation and moisture uptake of torrefied wood, charcoal, and thermally treated pellets during storage. European Journal of Wood and Wood Products, 73(6), 709–717. https://doi.org/10.1007/s00107-015-0950-9
Liu, Z., Jiang, Z., Cai, Z., Fei, B., YanYu, & Liu, X. (2013). Effects of carbonization conditions on properties of bamboo pellets. Renewable Energy, 51, 2–7. https://doi.org/10.1016/j.renene.2012.07.034
Lubis1, A. S., Romli1, M., Yani, M., & Pari, G. (2016). Mutu biopelet dari bagas, kulit kacang tanah dan pod kakao. Jurnal Teknologi Industri Pertanian, 26(1), 77–86.
Lukmandaru, G., Mohammad, A. R., Wargono, P., & Prasetyo, V. E. (2016). Studi mutu kayu jati di hutan rakyat gunungkidul. V. Sifat kimia kayu. Jurnal Ilmu Kehutanan, 10(2), 108–118.
Matangaran, J. R., & Anggoro, R. (2012). Limbah Pemanenan Jati Di Bayuwangi Jawa Timur. Perennial, 8(2), 88. https://doi.org/10.24259/perennial.v8i2.221
Miranda, T., Montero, I., Sepúlveda, F. J., Arranz, J. I., Rojas, C. V., & Nogales, S. (2015). A review of pellets from different sources. Materials, 8(4), 1413–1427. https://doi.org/10.3390/ma8041413
Obidzinski, S., Piekut, J., & Dec, D. (2016). The influence of potato pulp content on the properties of pellets from buckwheat hulls The in fl uence of potato pulp content on the properties of pellets from buckwheat hulls. Renewable Energy, 87(March), 289–297. https://doi.org/10.1016/j.renene.2015.10.025
Oh, S. W., Yang, I., Park, D. H., Lee, S. M., & Ahn, B. J. (2019). Lignin and sugars contents of liriodendron tulipifera l. sawdust immersed in acidic/alkaline solutions and the fuel characteristics of wood pellets fabricated with the sawdust. Wood Research, 64(2), 335–348.
Patel, J. P., & Parsania, P. H. (2018). Characterization, testing, and reinforcing materials of biodegradable composites. In Biodegradable and Biocompatible Polymer Composites (pp. 55–79). Elsevier Ltd. https://doi.org/10.1016/B978-0-08-100970-3.00003-1
Pirraglia, A., Gonzalez, R., Saloni, D., Wright, J., & Denig, J. (2012). Fuel properties and suitability of Eucalyptus benthamii and Eucalyptus macarthurii for torrefied wood and pellets. Bio Resources, 7(1998), 217–235.
Purohit, P., & Chaturvedi, V. (2018). Biomass pellets for power generation in India : a techno-economic evaluation. Environmental Science and Pollution Research (, 25, 29614–29632.
Roffael, E. (2016). Significance of wood extractives for wood bonding. Appl Microbiol Biotechnol (2016), 100, 1589–1596. https://doi.org/10.1007/s00253-015-7207-8
Rowell, R. M., Pettersen, R., Han, J. S., Rowell, J. S., & Tshabalala, M. A. (2005). 3 Cell Wall Chemistry. In R. M. Rowell (Ed.), Handbook of Wood Chemistry and Wood Composites, Second Edition (pp. 33–72). CRC Press. https://doi.org/10.1201/b12487-5
Sari, N. K. (2009). Pembuatan bioetanol dari rumput gajah dengan destilasi batch. Jurnal Teknik Kimia Indonesia, 8(3), 94–103.
Speight, J. G. (2005). Handbook of Coal Analysis (J. . Winefordner (ed.)). A Jhon Wiley & Sons. Inc. Publication.
Stahl, M., Berghel, J., Frodeson, S., Granström, K., & Renström, R. (2012). Effects on pellet properties and energy use when starch is added in the wood-fuel pelletizing process. Energy Fuels, 26, 1937–1945. https://doi.org/10.1021/ef201968r
Szymajda, A., & Laska, G. (2019). The effect of moisture and ash on the calorific value of cow dung biomass. Proceedings, 2019, ISMO 2019 Innovations-Sustainability-Modernity-Openness Conference (ISMO'19), 16–18. https://doi.org/10.3390/proceedings2019016004
Tarasov, D., Shahi, C., & Leitch, M. (2013). Effect of additives on wood pellet physical and thermal characteristics: A review. ISRN Forestry, 2013, 1–6. https://doi.org/10.1155/2013/876939
Usui, T., Konishi, H., Ichikawa, K., Ono, H., Kawabata, H., Pena, F. B., Souza, M. H., Xavier, A. A., & Assis, P. S. (2018). Evaluation of carbonisation gas from coal and woody biomass and reduction rate of carbon composite pellets. Advances in Materials Science and Engineering, 2018, 1–14. https://doi.org/https://doi.org/10.1155/2018/3807609
Wibowo, S., & Lestari, N. (2018). Effect of Peanut Shell Torrefaction on Qualities of The Produced. Reaktor, 18(4), 183–193.
Zajac, G., Szyszlak-Bargłowicz, J., Gołebiowski, W., & Szczepanik, M. (2018). Chemical characteristics of biomass ashes. Energies, 11, 1–15. https://doi.org/10.3390/en11112885