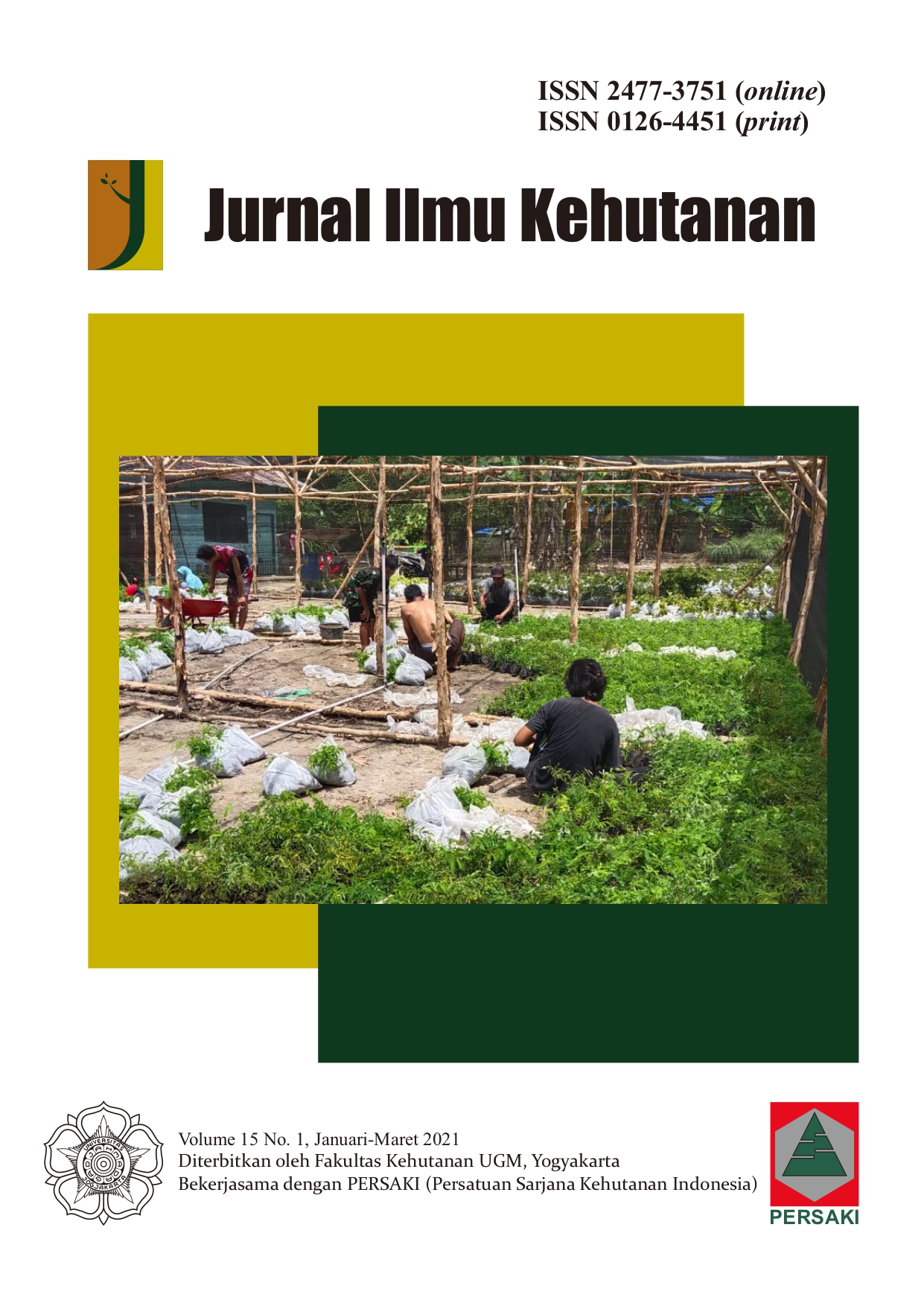 This work is licensed under a Creative Commons Attribution-NonCommercial-ShareAlike 4.0 International License.
Tourist Assessment of Tourist Destination Components: Attraction, Amenities, Accessibility, and Ancillary Service in Tourism Object of Liwa Botanical Garden
Corresponding Author(s) : Machya K. Tsani
machyakartika@gmail.com
Jurnal Ilmu Kehutanan, Vol 15 No 1 (2021): Maret

Abstract
The development of a tourist attraction must pay attention to the tourists'necessity. To fulfill these needs there are 4 main components that must be fulfilled. This study aims to determine the assessment of tourists to the 4 main components (attraction, amenities, accessibility, and ancillary service) on the natural attractions of the Liwa Botanical Garden. This research was carried out in the Liwa Botanical Garden located in Kubu Perahu Village, Balik Bukit District, Liwa City, West Lampung Regency. Data was collected for 100 tourists by accidental sampling. Data analysis using a likert scale and data scoring. The results showed that of the 4 components of tourist destinations in the KRL object, only the attraction component had adequate value. The three other components (accessibility, safety and ancillary services) are in the sufficient category so that it would be better if there were improvements to the indicators of the 3 other variables such as: addition of public transportation, control of parking areas, addition of food stalls, procurement of lodging for public, improvement of central services information, the addition of public toilets, provided a special place to buy souvenirs, giving pictures of the types of rubbish in the trash, and need to add a communication network spot so that tourists feel more comfortable and enjoy their visit.
Keywords
Tourist assessment
attraction
amenities
accessibility
ancillary service
References
Bahrudin A. 2017. Inovasi Daerah Sektor Pariwisata (Studi Kasus Inovasi Pembangunan Pariwisata Kab Purworejo Jawa Tengah). Mimbar Administrasi 1:50–69.
Cooper C, Fletcher J, Fyall A, Gilbert D, Wanhill S. 2008. Tourism: Principles and Practice, 4th edition. Pearson Education Limited, Harlow.
Darwis R, Hendraningrum RA, Adriani Y. 2016. Kelayakan Fasilitas Publik Dalam Kawasan Industri Wisata Belanja Di Kota Bandung : Studi Kasus Terhadap Toilet Dan Musola. Jurnal Kajian Bahasan dan Pariwisata 3:188–202.
Ernawati NM, Arjana IWB, Jendra W. 2019. Jasa Penginapan Pendukung Geowisata di Batur Bali. Jurnal Bisnis dan Kewirausahaan 15:13–21.
Fatimah RP, Normelani E, Adyatma S. 2018. Persepsi Pengunjung Terhadap Objek Wisata Budaya Candi Agung, Kecamatan Amuntai Tengah, Kabupaten Hulu Sungai Utara. Jurnal Pendidikan Geografi 5:13–17.
Hadiyanto DN, Zunariyah S. 2018. Pengembangan pariwisata berwawasan lingkungan budaya. Journal of Development and Social Change 1:53–64.
Isminingtias S. 2017. Dampak penataan parkir badan jalan terhadap estetika kota di kawasan niaga kota surabaya. Kebijakan dan Manajemen Publik 5:1–18.
Listiono. 2017. Instagram, wisata foto dan dampaknya terhadap peningkatan jumlah wisatawan di yogyakarta. Urecol Proceeding 5:903–907.
Murti HC, Sujali S. 2013. Persepsi Wisatawan Terhadap Pengembangan Obyek Wisata Batang Dolphin Center. Jurnal Bumi Indonesia 2:260–267.
Pinasthika N, Pradoto W. 2018. Potensi dan Tantangan Pengembangan Kawasan Kota Lama Semarang sebagai Destinasi Wisata dengan Pendekatan Smart Tourism. Teknik PWK (Perencanaan Wilayah dan Kota) 7:153–164.
Kementerian Pariwisata RI. 2019. Laporan Akuntabilitas Kinerja Kementerian Pariwisata Tahun 2018. Jakarta.
Sa'idah AN. 2017. Analisis Strategi Pengembangan Pariwisata Meningkatkan Pendapatan Asli Daerah (PAD) Kota Bandar Lampung. Universitas Islam Negeri Raden Inten.
Satria E. 2018. Analisa Strategi Promosi Dinas Pariwisata dan Kebudayaan dalam Meningkatkan Jumlah Kunjungan Wisatawan di Kabupaten Kerinci. Jurnal Ilmiah Ekonomi dan Bisnis 9:53–63.
Setiawan YN, Baiquni M. 2015. Penilaian Wisatawan terhadap Kualitas Obyek Wisata Gunungapi Semeru. Jurnal Bumi Indonesia 4:178–187.
Solihah SM. 2015. Koleksi , Status Dan Potensi Anggrek Di Kebun Raya Liwa. Warta Kebun Raya 13:15–23.
Sugiama AG. 2011. Ecotourism : Pengembangan Pariwisata berbasis konservasi alam. Guardaya Intimarta, Bandung.
Sugiyono. 2014. Metode Penelitian Manajemen. Alfabeta, Bandung.
Sulistyadi Y, Eddyono F, Entas D. 2019. Pariwisata Berkelanjutan Dalam Perspektif Pariwisata Budaya di Taman Hutan Raya Banten. Uwais Inspirasi Indonesia, Ponorogo.
Sunaryo B. 2013. Kebijakan Pembangunan Destinasi Pariwisata : Konsep dan aplikasinya di Indonesia. Gava Media, Yogyakarta.
Supriadi B, Roedjinandari N. 2017. Perencanaan dan Pengembangan Destinasi Pariwisata. Universitas Negeri Malang, Malang.
Supriyanto W, Iswandari R. 2017. Kecenderungan Sivitas Akademika dalam Memilih Sumber Referensi untuk Penyusunan Karya Tulis Ilmiah di Perguruan Tinggi. Berkala Ilmu Perpustakaan dan Informasi 13:79–86.
Tambunan N. 2009, January. Posisi Transportasi dalam Pariwisata. Majalah Ilmiah Panorama Nusantara:39–48. Jakarta.
Wiseza FC. 2017. Faktor-Faktor Yang Mendukung Pengembangan Obyek Wisata Bukit Khayangan Di Kota Sungai Penuh Provinsi Jambi. Nur El-Islam 4:89–106.