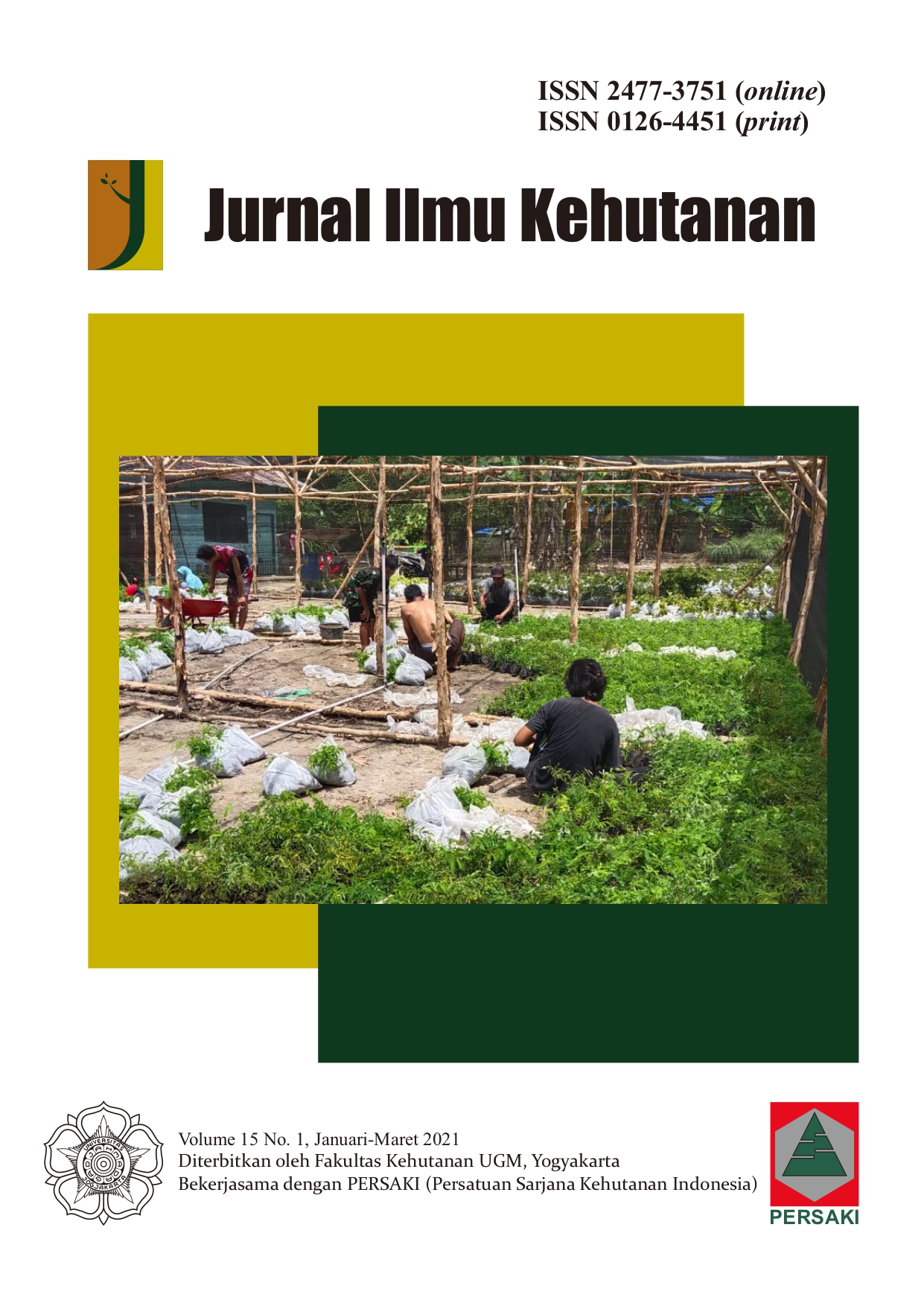 This work is licensed under a Creative Commons Attribution-NonCommercial-ShareAlike 4.0 International License.
An Evaluation of the Antifungal and Antioxidant Activity of Pinus merkusii Bark Ethyl Acetate Extract
Corresponding Author(s) : Ganis Lukmandaru
glukmandaru@gmail.com
Jurnal Ilmu Kehutanan, Vol 15 No 1 (2021): Maret

Abstract
Pinus merkusii is the only species in the Pinaceae family to grow in Southeast Asia, including Indonesia, and serves as a source of wood and oleoresins. During the utilization of this pine, the bark is discarded as residue, however, this residue is possibly a potential source of antifungal and antioxidant agents, due to the polyphenol contents. This study, therefore, aims to investigate the antifungal and antioxidant compounds present in the bark of P. merkusii. The ethyl acetate extracts of Pinus merkusii were fractionated to obtain five fractions (Fr. A- Fr. E) and the bioactivity of each fraction was observed. Subsequently, the growth inhibition against Phanerochaete chrysosporium, was evaluated for antifungal activity, while DPPH (1,1-diphenyl-2-picrylhydrazyl) method was used to ascertain antioxidant activity. According to the GC-MS analysis, the ethyl acetate fractions contain triterpenoids and steroids as the dominant compounds as well as minor amounts of mono-sesquiterpenoids and hydrocarbons. The highest growth inhibition exhibited by Fr. C- Fr. E (>60%) indicates triterpenoids and steroids act as a fungal inhibitors. Meanwhile, the five fractions exhibited low antioxidant activity because the steroids and triterpenoids present are possibly ineffective DPPH inhibitors. Also, the antifungal and antioxidant activity R2 values were discovered to correlate 0.3, indicating a low positive correlation.
Keywords
P. merkusii
bark extract
antifungal
steroids
triterpenoids
antioxidant
Masendra, M., Purba, B. A. V., & Lukmandaru, G. (2021). An Evaluation of the Antifungal and Antioxidant Activity of Pinus merkusii Bark Ethyl Acetate Extract . Jurnal Ilmu Kehutanan, 15(1), 102-110. https://doi.org/10.22146/jik.v15i1.1494
Download Citation
Endnote/Zotero/Mendeley (RIS)
BibTeX
References
Alfredsen G, Solheim H, Slimestad R. 2008. Antifungal effect of bark extracts from some European tree species. European Journal of Forest Research 127:387–393.
Baba SA, Malik SA. 2015. Determination of total phenolic and flavonoid content, antimicrobial and antioxidant activity of a root extract of Arisaema jacquemontii Blume. Journal of Taibah University for Science 9(4):449-454.
Bendary E, Francis RR, Ali HMG, Sarwat MI, El-Hady S. 2013. Antioxidant and structure–activity relationships (SARs) of some phenolic and anilines compounds. Annals of Agricultural Science 58(2): 173-181.
Cano A, Alcaraz O, Acosta M, Marino B, Arnao MB. 2002. On-line antioxidant activity determination: comparison of hydrophilic and lipophilic antioxidant activity using the ABTS**+ assay. Redox Reportt 7(2): 103- 109.
Fang JM, Tsai WY, Cheng YS. 1991. Serratene triterpene from Pinus armandii bark. Phytochemistry 30(4): 1333-1336.
Kiprono PC, Kaberia F, Keriko JM, Karanja JN. 2014. The in vitro anti-fungal and anti-bacterial activities of β-sitosterol from Senecio lyratus(Asteraceae). Zeitschriftfür Naturforschung C 55(5-6): 485–488.
Ku CS, Jang JP, Mun SP. 2007. Exploitation of polyphenol-rich pine barks for antioxidant activity. Journal of Wood Science 53: 524-528.
Lin, CY, Wu CL, Chang ST. 2007. Evaluating the potency of cinnamaldehyde as natural wood preservative. International Research Group Wood Preservation, Sweden IRG/WP07-30444.
Lukmandaru G, Ogiyama K. 2005. Bioactive compounds from ethyl acetate extract of teak wood (Tectona grandis L.). 6th International Wood Science Symposium, Bali, Indonesia 346- 350.
Lukmandaru G. 2013. Antifungal activities of certain components of teak wood extractives. Jurnal Ilmu Teknologi Kayu Tropis 11(1):11-18.
Masendra, Ashitani T, Takahashi K, Lukmandaru G. 2018a. Lipophilic extractives of inner and outer barks from six different Pinus species grown in Indonesia. Journal of Forestry Research 29(5):1329-1336.
Masendra, Ashitani T, Takahashi K, Lukmandaru G. 2018b. Triterpenoids and steroids from the bark of Pinus merkusii (Pinaceae). BioResources 13(3):6160-6170.
Masendra, Ashitani T, Takahashi K, Susanto M, Lukmandaru G. 2019. Hydrophilic extracts of the bark from six Pinus species. Journal of The Korean Wood Science and Technology 47(1):80-89.
Masendra, Purba BAV, Lukmandaru G. 2020. Methanol soluble extractives of Pinus merkusii bark and its antioxidant activity. IOP conference Series: Materials Science and Engineering 935, doi:10.1088/1757-899X/935/1/012042
Masendra, Purba BAV, Lukmandaru G. 2020b. Antifungal activity of triterpenoids and steroids isolated from Pinus merkusii bark against Phanerochaete chrysosporium. Wood Research Journal 11(2): 65-71.
Mihara R, Barry KM, Mohammed CL, Mitsunaga T. 2005. Comparison of antifungal and antioxidant activities of Acacia mangium and A. auriculiformis heartwood extracts. Journal of Chemical Ecology 31(4):789-804.
Norin T, Winell B. 1972. Extractives from the bark of scots pine, Pinus silvestris L. Acta Scandinavica 26: 2297-2304.
Rodriguez SA, Murray AP. 2010. Antioxidant activity and chemical composition of essential oil from Atriplex undulata. Natural Product Communication 5(11): 1841-1844.
Seki K, Orihashi K, Sato M, Kishino M, Saito N. 2012. Accumulation of constitutive diterpenoids in the rhytidome and secondary phloem of the branch bark of Larix gmeliniiVar. Japonica. Journal of Wood Science 58:437-445.
Sekine N, Ashitani T, Murayama T, Shibutani S, Hattori S, Takahashi K. 2009. Bioactivity of latifolin and its derivatives against termites and fungi. Journal of Agriculture Food Chemistry 57: 5707-5712.
Smith AL, Campbell CL, Walker DB,Hanover JW. 1989. Extracts from black locust as wood preservatives: extraction of decay resistance from black locust heartwood. Holzforshung 43(5):293-296.
Song QY, Qi WY, Li ZM, Zhao J, Chen JJ, Gao K. 2011. Antifungal activities of triterpenoids from the roots of Astilbemyriantha Diels. Food Chemistry 128:495-499.
Tascioglu C, Yalcin M, Sen S, Akcay C. 2013. Antifungal properties of some plant extract used as wood preservatives. International Biodeterioration & Biodegradation 85:23-28.
Wijayanto A, Dumarçay S, Gérardin-Charbonnier C, Sari RK, Syafii W, Gérardin P. 2015. Phenolic and lipophilic extractives in Pinus merkusii Jungh. et de Vries knots and stemwood. Industrial Crops and Products 69:466-471.
Wittstock U, Gershenzon J. 2002. Constitutive plant toxins and their role in defense against herbivores and pathogens. Current Opinion in Plant Biology 5(4):300–307.
Yamamoto H, Ookuba Y, Ikeda A, Kusano A, Tanaka K, Matsukawa S. 2011. Terpenes isolated from the bark and wood of Pinus luchuensis. Bulletin of the Faculty of Education, Ibaraki University. Natural science 60: 91-100.
Yessoufoua K, Elansary HO, Mahmoud EA, Skalicka-Wozniak K. 2015. Antifungal, antibacterial, and anticancer activities of Ficus drupacea L. stem bark extract and biologically active isolated compounds. Industrial Crops and Products 74:752- 758.