Humaniora is an academic, open access, and peer-reviewed journal founded and first published in 1989 by the Faculty of Cultural Sciences, Universitas Gadjah Mada, Indonesia. 
Focusing on culture as it is viewed from the Indonesian perspective, Humaniora provides a platform for the presentation, analysis, and criticism of provocative work, publishing articles that transcend disciplines and advance the study of humanities.
Issues are published three times per year (in February, June, and October), and since 2016, all articles are published exclusively in English. Submissions are open year-around. However, before submitting, please ensure that the manuscript fits within Humaniora's focus and scope, and is written in English and follows our author guidelines. Please note that only research articles or book reviews are accepted.
Humaniora has been simultaneously accredited by the Ministry of Research, Technology and Higher Education, the Republic of Indonesia in 2006, 2009, 2012, and 2017. The last accreditation is valid until 2023. The certificates are available in Journal History. Although the website still utilizes OJS 2, it has been customized to get responsive display and mobile friendly.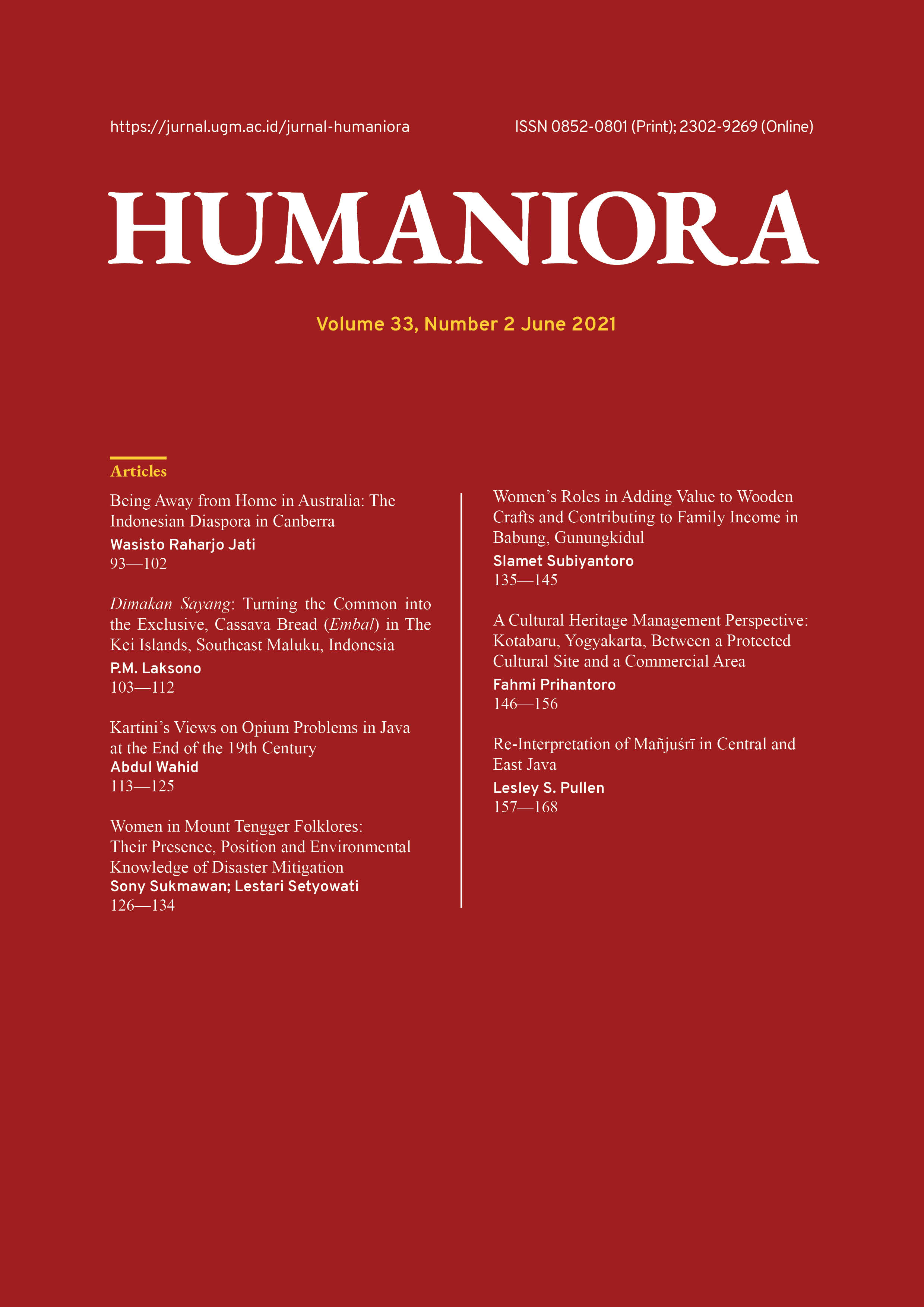 Announcements
Submission: Changes on Focus and Scope

Dear Authors

We'd like to inform you that we have just tightened up the Humaniora scope since it was too broad. Starting from February 2020, Humaniora will only publish articles focusing on Indonesian (or Indonesian-related) cultural studies. We have to take this decision and we are sorry for the impacted authors.
Posted: 2020-04-24

Issued Volume: The First 2020 Hot Plate Is Served!

Volume 32 (1), February 2020

As 2020 surely gets rolling on, Humaniora serves you very delicious writings at the very beginning of this 2020. We got something special that we feed you excellent articles particularly coming from socio-culture fields. Here you go!

Posted: 2020-01-31

Submission: Author Guidelines and Review Process

"Do not write any author's name in any part of the article." Please kindly look at the author guidelines to get a full understanding of the Humaniora's writing guidelines. Also, please be well-noticed about Humaniora's review flowchart.
Posted: 2019-01-21
Vol 32, No 2 (2020)
Table of Contents
Articles
Aprilia Firmonasari, Wening Udasmoro, Yohanes Tri Mastoyo

10.22146/jh.55450

Abstract views : 294 |

views : 199

135-150