Humaniora is an academic, open access, peer-reviewed journal founded and first published in 1989 by the Faculty of Cultural Sciences, Universitas Gadjah Mada, Indonesia with the E-ISSN number 2302-9269.
Focusing on the study of culture as it is viewed from the Indonesian perspective, Humaniora provides a platform for the presentation, analysis, and criticism of provocative works and publishes articles that transcend disciplines and advance the study of humanities.
Issues are published three times per year in February, June, and October, and since 2016, all articles have been published exclusively in English. Submissions are open year-around. However, before submitting an article, please ensure that the article fits into Humaniora's focus and scope, is written in English and follows our author guidelines. Please note that only research articles or book reviews are accepted.
Humaniora has been periodically accredited by the Ministry of Research, Technology and Higher Education, the Republic of Indonesia; Humaniora has been accredited since 2006, 2009, 2012, 2017, and 2020. Currenty, Humaniora is belonging to SINTA 2 Journal. The accreditation certificates and documents are available in Journal History. Although the website still utilizes OJS 2, it has been customized to get responsive display and mobile friendly.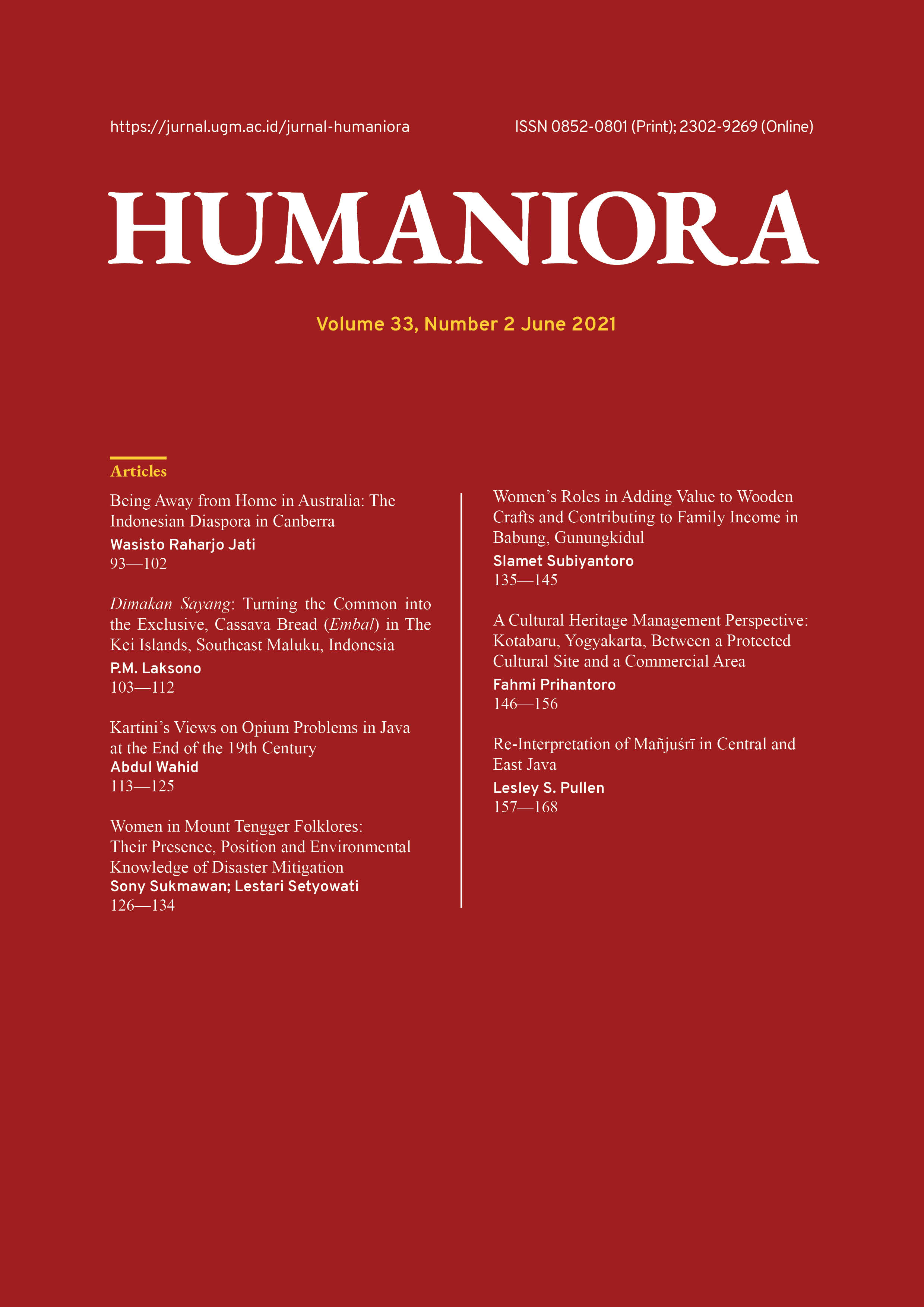 Announcements
Submission: FREE! Journal Article Writing Workshop

We are delighted to announce that Humaniora will conduct a journal article writing workshop. The basic requirement is possessing an excellent article covering extraordinary issues viewed from Indonesian perspectives or on Indonesia-related cultures. The article may originate from a diverse range of fields, such as history, anthropology, archaeology, tourism, media studies, literature, or linguistics as long as it is viewed with and is presented within the context of Indonesian culture. It must be written in good academic English. (See more)
Posted: 2021-04-08

Submission: Call for Articles

Dear Authors

We kindly encourage authors who possess excellent articles approached with Indonesian (or Indonesian-related) cultural perspective to publish in Humaniora. Please go to the page of the Online Submission to see the guidelines in detail. Looking forward to receiving your great articles soon.

Posted: 2020-04-24

Submission: Author Guidelines and Review Process

"Do not write any author's name in any part of the article." Please kindly look at the author guidelines to get a full understanding of the Humaniora's writing guidelines. Also, please be well-noticed about Humaniora's review flowchart.
Posted: 2019-01-21
Vol 33, No 3 (2021)
Table of Contents
Articles
Imam Nur Hakim, Chamma Fitri Putri Pradjwalita Koesfardani, I Dewa Gede Richard Alan Amory

10.22146/jh.66879

Abstract views : 71 |

views : 36

169-181
Priscila Asoka Kenasri, Lidwina Mutia Sadasri

10.22146/jh.68104

Abstract views : 59 |

views : 22

202-211
Muhammad Yunus Anis, Mangatur Nababan, Riyadi Santosa, Moh. Masrukhi

10.22146/jh.68070

Abstract views : 70 |

views : 5

221-230
Rina Supriatnaningsih, Tatang Hariri, Djodjok Soepardjo, Lisda Nurjaleka, Silvia Nurhayati

10.22146/jh.67978

Abstract views : 53 |

views : 13

231-240