Starting from 2015, each article in Humaniora receives a unique Digital Object Identifier (DOI).  
Since 2016, Humaniora is fully published in English. From this point on, the author's details also include the email address.
Another alteration has been made in the Vol. 28. No. 2 (June 2016). The paper's title thereupon is written using the title case or headline style capitalization. 
Humaniora has maintained a long tradition of contributing to scholarship on the Humanities of Indonesia. These studies in Humanities include a wide range of fields, of which the Journal seeks to encourage the expansion. Intending to increase attention toward Indonesian Humanities, signified precisely by the name Humaniora, this Journal acknowledges the patent diversity and extent of Indonesian Humanities, and their elements, and seeks to encourage work on this infinite range of facets within human diversity. The Journal notes that the Humanities is both one significant part of the overall Human Science spectrum, and concomitantly forever shifting, evolving, and merging with other fields, where Humanities is constantly evolving to accommodate a modern Indonesia.
As such, Humaniora calls for work on the Humanities, in all of their scopes, relevant to Indonesia, and at times, the comparative study of Indonesia with other regions. These studies, and observances, in the form of a concise journal paper, shall develop critical understandings of Indonesia, pertinent to its progressive and concurrently richly diverse Humanities.
The emphasis of the Journal is manifold: This emphasis includes the garnering, analysis, and dissemination of information pertaining to Indonesian Humanities, the accurate and thick description of observed and lived Humanities of Indonesia, the increase in quality of critique of Indonesian Humanities, the strengthening of critical approaches to Indonesian Humanities, the forging of interdisciplinary work, and hence new fields of scholarship, within the Indonesian Humanities, and the encouraging of innovative methodologies, and evolving permutations of these methodologies, for the investigation of the Humanities pertinent to Indonesia.
Humaniora has been simultaneously accredited by the Ministry of Research, Technology and Higher Education, the Republic of Indonesia in 2006, 2009, 2012, and 2017. The last accreditation is valid until 2023.
Recently, Humaniora has been indexed in Sinta (Science and Technology Index) by the Ministry of Research, Technology and Higher Education, the Republic of Indonesia with the score S2. Please have a look at the Sinta's website to get its details. 
Certificate of 2017
Certificate of 2012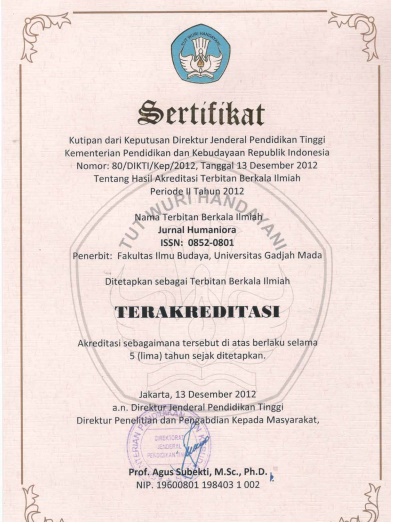 Certificate of 2009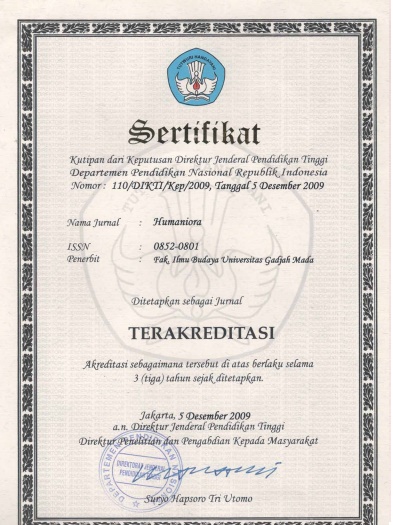 Certificate of 2006