Jurnal Psikologi is a peer-reviewed scientific journal in Psychology published by the Faculty of Psychology, Universitas Gadjah Mada (UGM). Jurnal Psikoloogi aims to facilitate interaction, discussion, and further the advancement of ideas among Indonesian psychological scientists.
Since 2015, Jurnal Psikologi has been published tri-annually, in April, August, and December, in order to facilitate rapid dissemination of research finding for its utilization by empirical-based practices or aspiration for further follow-up scientific investigation in Indonesia.
Jurnal Psikologi is available in printed-out and electronic version, with ISSN and National Accreditation Number as follows:
SK Akreditasi Nomor:

2E/KPT/2015 tanggal 1 Desember 2015 sampai dengan 30 November 2020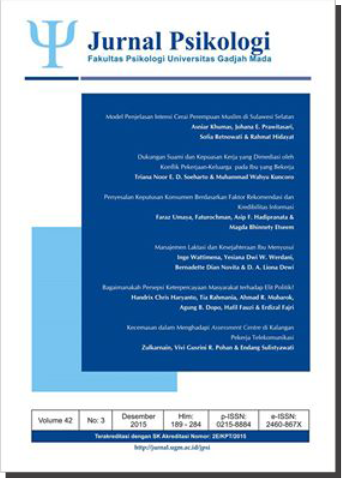 Announcements
Penulisan Afiliasi Bagi Penulis

Bagi para penulis yang register di Jurnal Psikologi, di wajibkan menuliskan Afiliasi dan Akun Google scholarnya, untuk mempermudah indexing artikel penulis.
Posted: 2017-07-28

Pemberitahuan Bagi Penulis Jurnal Psikologi

Kami informasikan bahwa bagi penulis yang berniat mensubmit naskah manuskripnya, di mohon untuk memperhatikan template yang telah di sediakan di link template, dan menuliskan form "Statment of Originality" yang ada di link. Silahkan unduh dan di gunakan sebagaimana mestinya, untuk mempercepat proses penelahaan. Terima Kasih

Posted: 2017-06-13

Template Journal dan Materi Pelatihan

Format Penulisan naskah pada Jurnal Psikologi UGM dapat dilihat dan diunduh dari file Template Journal

Materi Workshop Penulisan Artikel yang diselenggarakan pada tanggal. 25 November 2016 oleh Pemateri: Galang Lufityanto, M.Psi., Ph.D

Posted: 2016-11-28
More...
Vol 44, No 2 (2017)
Table of Contents
Articles
Antonius Handoko, - Subandi

10.22146/jpsi.22793

Abstract views : 1069 |

views : 779

97 – 106
Kadek Pramitha Sari, Magdalena S. Halim

10.22146/jpsi.25208

Abstract views : 571 |

views : 544

107 – 125
Wahyu Rahardjo, Ajeng Furida Citra, Maizar Saputra, Meta Damariyanti, Aprillia Maharani Ayuningsih, Marcia Martha Siahay

10.22146/jpsi.23659

Abstract views : 1476 |

views : 1415

139 – 152
Rita Eka Izzaty, Yulia Ayriza, Farida Agus Setiawati

10.22146/jpsi.27454

Abstract views : 1148 |

views : 825

153 – 164