Jurnal Psikologi is a peer-reviewed scientific journal in Psychology published by the Faculty of Psychology, Universitas Gadjah Mada (UGM). Jurnal Psikoloogi aims to facilitate interaction, discussion, and further the advancement of ideas among Indonesian psychological scientists.
Since 2015, Jurnal Psikologi has been published tri-annually, in April, August, and December, in order to facilitate rapid dissemination of research finding for its utilization by empirical-based practices or aspiration for further follow-up scientific investigation in Indonesia.

Manuscripts can be written in Indonesian or English by using good and correct grammar rules. Writing manuscripts in English is generally in the form of past tense.
Jurnal Psikologi is available in printed-out and electronic version, with ISSN and National Accreditation Number as follows:
SK Akreditasi Nomor:

2E/KPT/2015 tanggal 1 Desember 2015 sampai dengan 30 November 2020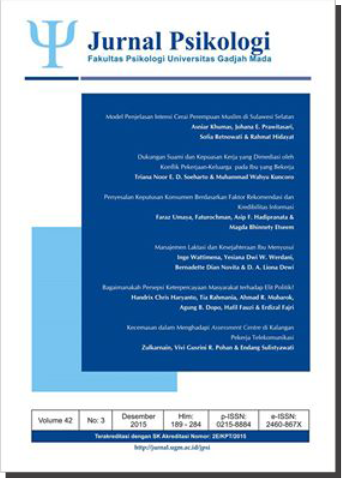 Announcements
No announcements have been published.
Vol 44, No 3 (2017)
Table of Contents
Articles
Suzanna Juwita, Sri Tiatri, Rahmah Hastuti

10.22146/jpsi.22456

Abstract views : 454 |

views : 282

167 – 176
Widyaning Hapsari, Lisnawati Ruhaena, Wiwien Dinar Pratisti

10.22146/jpsi.16929

Abstract views : 398 |

views : 230

177 – 184
Agnes Maria Sumargi, Alfonza Nugrahaning Kristi

10.22146/jpsi.25381

Abstract views : 635 |

views : 323

185 – 197
Lailatul Munawaroh, IJK. Sito Meiyanto

10.22146/jpsi.28217

Abstract views : 432 |

views : 235

198 – 210
Aquilina Tanti Arini, Ratna Juwita Ghazali, Arti Satiti, Mintarsih Mintarsih, Kwartarini W Yuniarti

10.22146/jpsi.26132

Abstract views : 232 |

views : 51

211 – 222
Alice Whita Savira, Rahmat Hidayat

10.22146/jpsi.28243

Abstract views : 318 |

views : 218

223 – 235