Welcome to the one and only art journal in Universitas Gadjah Mada. We would like to introduce you to "Journal Kajian Seni", the journal from Performing Arts and Visual Arts Studies, Graduate School, Universitas Gadjah Mada. Journal Kajian Seni was established in November 2014 and has been accredited Sinta 4 by Directorate General of Higher Education, Indonesian Ministry of Education with printed version of ISSN 2356-296X and the online version of ISSN : 2356-3001. We are an academic journal that examines performing arts and visual arts with approaches and perspectives. Our focus and scope are:
1. Performing Arts
Inter alia: Dance, Music, Ethnomusicology, Karawitan, Theatre, Puppet theatre, Performance Art, Television studies, film studies.
2. Visual Arts
Inter alia: Visual Art, Plastic Art, Design, Installation, performance art.
Then, for those of you, who research about arts with interdisciplinary and perspectives analysis, such as anthropology, history, archeology, cultural studies, philosophy, textual, contextual, social science, media science, and another social approach, we are are going to wait for your article. Our journal is published twice a year, November and April. If you need a step by step tutorial for online submission and our journal template, you download it on the right sidebar. If you still need assistance with further information, do not hesitate to contact us.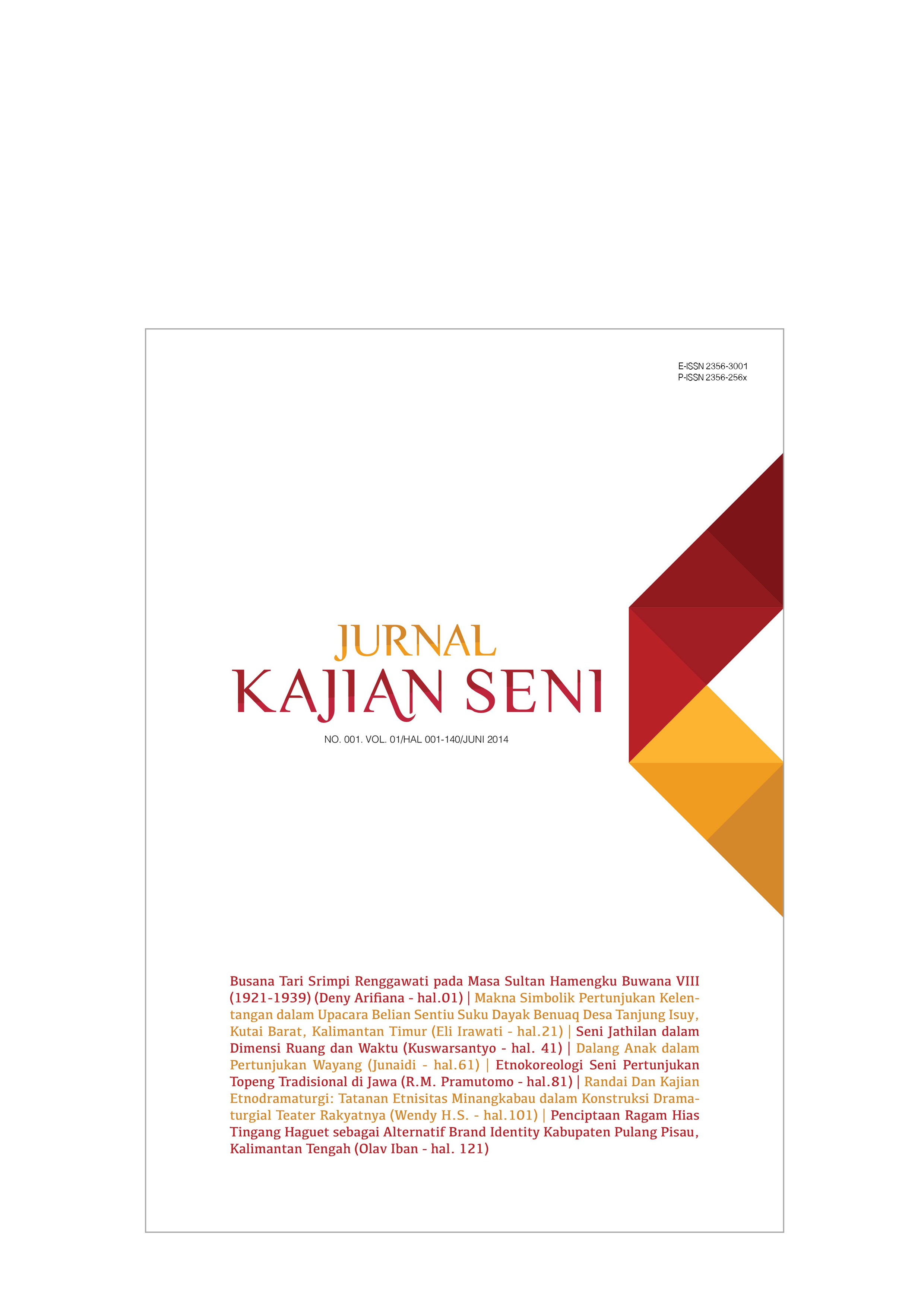 Announcements
Calls for Submissions

Jurnal Kajian Seni is leading interdisciplinary research in performing arts and visual arts studies. This journal is published by Performing Arts and Visual Arts Studies, Graduate School, Universitas Gadjah Mada.

JKS publishes annual issues on topics of performing arts and visual arts. We welcome issues on topics that significantly advance the research with focuses on arts.

The deadline for submitting your article is 30 February 2021 and September 2021. Please follow our author guidelines.

Posted: 2021-01-30
Vol 7, No 2 (2021): Jurnal Kajian Seni Vol 7 No 2 April 2021
Table of Contents
Articles
Dika Dzikriawan, Wiwik Sushartami, Aton Rustandi Mulyana

10.22146/jksks.64276

Abstract views : 317 |

views : 276

168-183
Abizar Algifari Saiful, Pande Made Sukerta

10.22146/jksks.62900

Abstract views : 243 |

views : 128

184-197
Yasin Surya Wijaya, Samsul Maarif

10.22146/jksks.64209

Abstract views : 231 |

views : 130

198-212
Asep Zery Kusmaya, Aton Rustandi Mulyana, St. Sunardi

10.22146/jksks.63262

Abstract views : 133 |

views : 75

213-234
Vujji El Ikhsan, Asril Muchtar, Wilma Sriwulan

10.22146/jksks.64930

Abstract views : 140 |

views : 69

235-248