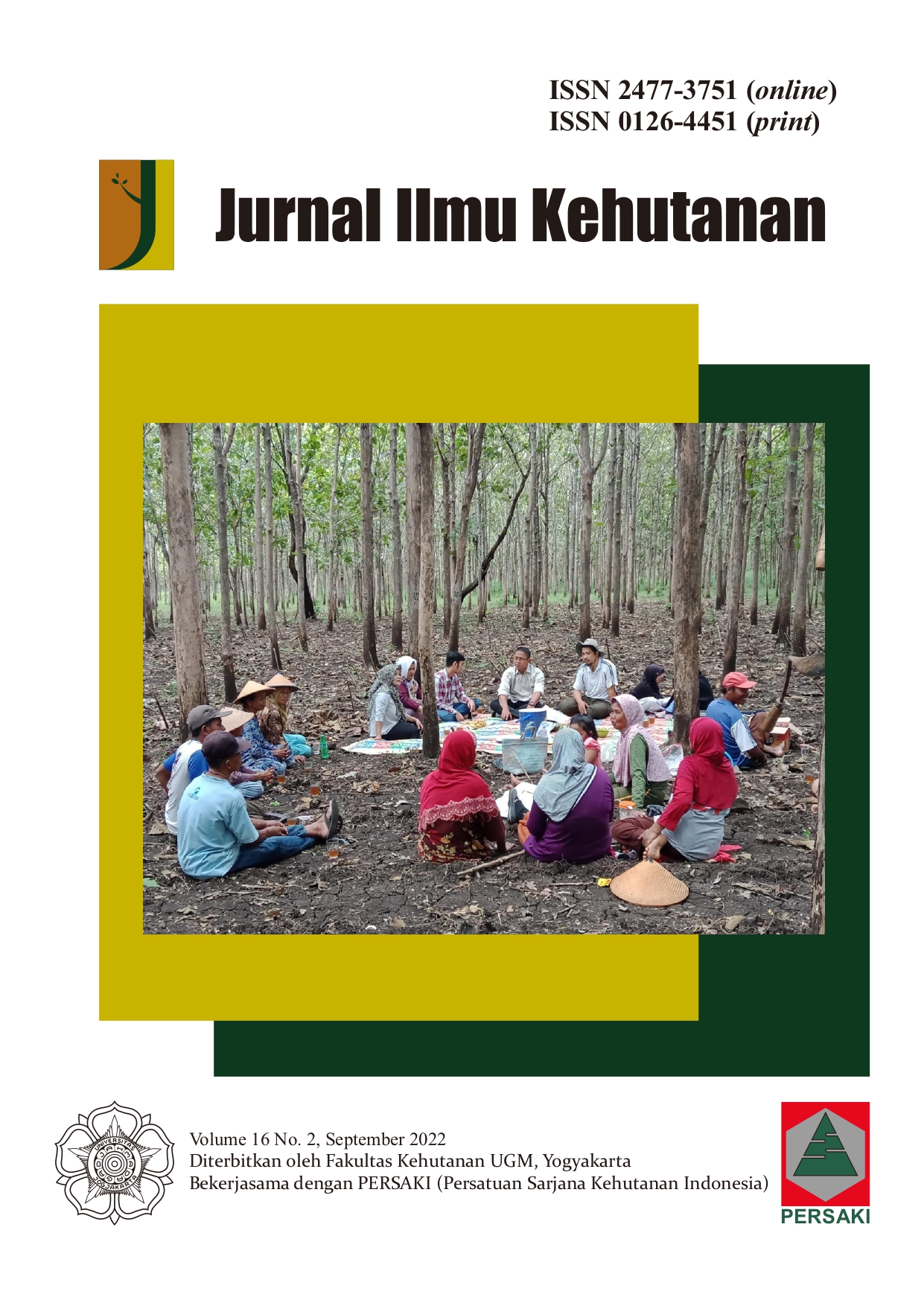 This work is licensed under a Creative Commons Attribution-NonCommercial-ShareAlike 4.0 International License.
Spatial Modeling of Land Suitability in Agroforestry Blocks of Gadjah Mada University's Teaching Forest
Corresponding Author(s) : Emma Soraya
esoraya@ugm.ac.id
Jurnal Ilmu Kehutanan, Vol 16 No 2 (2022): September

Abstract
The species' determination to rehabilitate and enhance the villagers' prosperity needs information on land characteristics, plants' growth requirements, and financial prospects. This study aimed to model the suitability of forest plants, fruit plants, and agriculture crops that are in-situ, desired by the community, and has prospecting financial return based on the biogeophysical characteristics of the Agroforestry Block of the Gadjah Mada University's Teaching Forest (KHDTK UGM). The land suitability resulted from matching land mapping unit (LMU) characteristics and the plant's growth requirements. The overlay of slope and soil maps generated LMUs. Soil samples were taken and analyzed to identify the characteristics of each LMU. This research suggested that the highest suitability of planting patterns would result in higher land productivity and community prosperity. The Agroforestry Block with the S2 suitability class covered only 26.64% of the area. The land characteristics that inhibit the suitability were solum depth, slope, texture, pH, N, P2O5, and drainage. This research suggested that agroforestry planting patterns in the S2 suitability class should combine timber species (teak and mahogany), Leguminosae (lamtoro and gamal) to improve land quality and as the source of cattle fodder, fruits (jack fruit and mango), and farm crops such as pineapple,..
Keywords
growth requirements
agroforestry
planting pattern
matching technique
land units
inhibiting factors
Soraya, E., Senawi, S., Wardhana, W., & Larasati, B. (2022). Spatial Modeling of Land Suitability in Agroforestry Blocks of Gadjah Mada University's Teaching Forest. Jurnal Ilmu Kehutanan, 16(2), 219-233. https://doi.org/10.22146/jik.v16i2.1820
Download Citation
Endnote/Zotero/Mendeley (RIS)
BibTeX
References
Agrowindo, n.d., Peluang usaha budidaya dan analisa usahanya. http://www.agrowindo.com/

Ahmad, F., Goparaju, L. and Qayum, A., 2017. Agroforestry suitability analysis based upon nutrient availability mapping: a GIS based suitability mapping. AIMS Agriculture and Food, 2(2), pp.201-220.

Ahmad, F., Uddin, M.M. and Goparaju, L., 2019. Agroforestry suitability mapping of India: geospatial approach based on FAO guidelines. Agroforestry Systems, 93(4), pp.1319-1336.

Alpian, Prayitno, T. A., Sutapa, J. P., & Budiadi, 2013. Biomass distribution of cajuput stand in Central Kalimantan swamp forest, Journal of Tropical Forest Management, 19(1), 1-10.

Anderson, A.L. and Rocek, T.R., 2018. GIS modeling of agricultural suitability in the highlands of the Jornada branch of the Mogollon culture of southcentral New Mexico. Journal of Archaeological Science: Reports, 22, pp.142-153.

Ardana, R. 2000. Desa Mengepung Hutan. Semiloka Pengelolaan Hutan Partisipatif Terintegrasi sebagai Implementasi PHBM di Randublatung, Blora. Randublatung, Blora.

Arisandi dan Andriani. 2006. Khasiat Tanaman Obat. Pustaka Buku Murah. Jakarta.

Baja, Adrianto Sumbangan. 2012. Perencanaan Tata Guna Lahan dalam Pengembangan Wilayah Pendekatan Spasial & Aplikasinya. Penerbit ANDI, Yogyakara.

Brimicombe, Allan. 2010. GIS, Environmental Modeling and Engineering . Boca Raton, FL: CRC Press; 378 pp.

Budiadi, Ishii HT, Sunarto, ., Kanazawa Y. 2005. Variation in Kayu Putih (Melaleuca leucadendron Linn) Oil Quality under Different Farming System in Java, Indonesia. Eurasian Journal Forestry Research, 8(1), 15-20.

Cahyono, T.D., Z. Coto, F. Febrianto. 2008. Analisis Nilai Kalor dan Kelayakan Ekonomi Kayu sebagai Bahan Bakar Substitusi Batubara di Pabrik Semen. Forum Pasca Sarjana. www.academia.edu.

Carr, M.H. and Zwick, P.D., 2007. Smart land-use analysis: the LUCIS model land-use conflict identification strategy. ESRI, Inc..

Chasanah, Laili, Sasongko L., Aris, Subantoro, Renan. 2017. Analisis Kelayakan Usahatani Ubi Jalar (Ipomoea batatas) Varietas Cilembu di Desa Kepundung Kecamatam Reban Kabupaten Batang. MEDIAGRO Vol. 14, No. 2. Fakultas Pertanian Universitas Wahid Hasyim. Semarang.

Dedeoğlu, M. and Dengiz, O., 2019. Generating of land suitability index for wheat with hybrid system aproach using AHP and GIS. Computers and Electronics in Agriculture, 167, p.105062.

Diniyati, Dian, A. Budiman, Santoso H. B. 2013.Analisis Finansial Agroforestri Sengon di Kabupaten Ciamis (Studi Kasus di Desa Ciomas Kecamatan Panjalu). Jurnal Penelitian Agroforestry Vol. 1 No.1. Balai Penelitian Teknologi Agroforestri. Banjar.

Efendi, Djohar. 2016. Kajian Kelayakan Model Pembangunan Hutan Tanaman Rakyat Pola Mandiri Berbasis Agroforestri. Jurnal Hutan Tropis Vol. 4 No 2. Balai Pemantauan Pemanfaatan Hutan Produksi (BH2HP). Banjarbaru.

El Baroudy, A. A. 2016. Mapping and evaluating land suitability using a GIS-based model. Catena, 140, 96-104.

Ellis, E.A., Nair, P.K.R., Linehan, P.E., Beck, H.W. and Blanche, C.A., 2000. A GIS-based database management application for agroforestry planning and tree selection. Computers and electronics in agriculture, 27(1-3), pp.41-55.

Elonard, Ardian. 2015. Optimasi Jagung dan Kedelai Hitam dengan Sistem Agroforestri Kayu Putih di Gunung Kidul. Agrivet. 19:7 – 12.

Fuad, F. H. & Astraatmaja, R. 2000. Sertifikasi Hutan Perum Perhutani: Insentif bagi Sustainable Forest Management, Sekadar Hadiah, atau Blunder? Available: http://www.arupa.or.id/papers/07.htm

Gray C, Simanjuntak P, Sabar LK, Maspaitela PFL, dan Varley RCG. 1997. Pengantar Evaluasi Proyek. Gramedia. Jakarta

Hardjowigeno, S. & Widiatmaka. 2015. Evaluasi kesesuaian lahan dan perencanaan tataguna lahan. Gadjah Mada University Press.

Hidayah, Ismatul. 2012. Analisis Kelayakan Finansial Teknologi Usahatani Kedelai Setelah Padi Sawah di Desa Waekasar Kecamatan Mako, Kabupaten Buru. AGRIKA Vol 6. BPTP Maluku.

Kartikawati, Noor Khomsah, Anto, Rimbawanto, Mudji, S., Liliana B., dan Prastyono. 2014. Budidaya dan Prospek Pengembangan Kayu Putih. Balai Besar Penelitian Bioteknologi dan Pemuliaan Tanaman Hutan. Jakarta.

Koentjoro, BS, Sitanggang, IS, & Makarim, AK (2015). Model Simulasi dan Visualisasi Prediksi Potensi Hasil dan Produksi Kedelai di Jawa Timur. Jurnal Penelitian Pertanian Tanaman Pangan, 34(3), 195.

Li, H. and Zhang, X., 2017. A spatial explicit assessment of food security in Africa based on simulated crop production and distribution. Journal of Cleaner Production, 147, pp.628-636.

Maleki, F., Kazemi, H., Siahmarguee, A., & Kamkar, B. 2017. Development of a land use suitability model for saffron (Crocus sativus L.) cultivation by multi-criteria evaluation and spatial analysis. Ecological Engineering, 106, 140-153.

Mardani, M., Nur, T.M. and Satriawan, H., 2017. Analisis usaha tani tanaman pangan jagung di Kecamatan Juli Kabupaten Bireuen. Jurnal Sains Pertanian, 1(3), p.210883.

Mendoza, G. A. 2000. GIS-based multicriteria approaches to land use suitability assessment and allocation. United States Department of Agriculture Forest Service General Technical Report NC, 89-94.

Muizah, R., Supardi, S. and Awami, S.N., 2013. Analisis pendapatan usahatani ubi kayu (Manihot esculenta crantz)(studi kasus Desa Mojo Kecamatan Cluwak Kabupaten Pati). Mediagro, 9(2).

Nabati, J., Nezami, A., Neamatollahi, E. and Akbari, M., 2020. GIS-based agro-ecological zoning for crop suitability using fuzzy inference system in semi-arid regions. Ecological Indicators, 117, p.106646.

Nugraha, Gugie. 2016. Analisis Usaha Budidaya Tanaman Porang. Penyuluh Kehutanan BDLHK Kadipaten. Bogor.

Pasaribu, M., Christina, Prasmatiwi, F., E, Murniati, Ktut. 2016. Analisis Kelayakan Finansial Usahatani Kakao di Kecamatan Bulak Kabupaten Tanggamus. JIIA Vol. 4. Fakultas Agribisnis Universitas Lampung. Lampung.

Peluso, N. L. 1992. Rich forests, poor people: Resource control and resistance in Java, Univ of California Press.

Prihatman, Kemal. 2015. Sistim Informasi Manajemen Pembangunan di Perdesaan. Bappenas. Jakarta.

Rachmawati, I. 2011. Konservasi Tanah dan Air secara Partisipatif dengan Pendekatan Model Agroforestri Lokal. Prosiding Semiloka, Surakarta. Pusat Penelitian dan Pengembangan Konservasi dan Rehabilitasi. Bogor.

Rahmawaty, R., Frastika, S., Rauf, A., Batubara, R. and Harahap, F.S., 2020. Land suitability assessment for Lansium domesticum cultivation on agroforestry land using matching method and geographic information system. Biodiversitas Journal of Biological Diversity, 21(8).

Ramamurthy, V., Reddy, G.O. and Kumar, N., 2020. Assessment of land suitability for maize (Zea mays L) in semi-arid ecosystem of southern India using integrated AHP and GIS approach. Computers and Electronics in Agriculture, 179, p.105806.

Randolph, J. 2004. Environmental land use planning and management. Island Press.

Rayes, M.L. 2007. Metode inventarisasi sumber daya lahan. Andi. Yogyakarta.

Ritung S, K.Nugroho, A.Mulyani dan E.Suryani. 2011. Petunjuk teknis evaluasi lahan untuk komoditas pertanin (Edisi revisi). Balai Besar Penelitian dan Pengembagan Sumberdaya Lahan, Badan Penelitian dan Pengembangan Pertanian, Bogor. 168 hal.

Riyanto, Slamet. 2012. Prakiran kelayakan Finansial Pembangunan Tegakan Jati Plus Perhutani (JPP) di Kesatuan Pemangkuan Hutan Randublatung. Jurnal Ilmu Kehutanan. Fakultas Kehutanan Universitas Gadjah Mada. Yogyakarta.

Sadono, R., Soeprijadi, D. and Wirabuana, P.Y.A., 2019. Variasi Sifat Kimia Tanah Pada Sistem Agroforestri di Kawasan Hutan Tanaman Kayu Putih. Jurnal Ilmu Lingkungan, 17(2), pp.205-211.

Santoso, H. 2001. Sengketa pengelolaan sumberdaya hutan: Studi perlawanan masyarakat desa hutan di Perum Perhutani KPH Randublatung. Master, Universitas Kehutanan.

Santoso, H. 2004. Perlawanan di Simpang Jalan, Yogyakarta, Damar.

Senawi, B. Larasati, W.T. Widayanti, T. Yuwono, Rohman, S.A.
Subrata, H.H. Nurjanto, A. Syahbudin, dan J. Sulistyo. 2018. Zonasi Tata Guna Lahan Rasional KHDTK UGM Untuk Rehabilitasi Ekosistem Hutan dan Peningkatan Kesejahteraan Masyarakat Desa Hutan. BPPTN, Fakultas Kehutanan UGM, Yogyakarta.

Senawi. 2007. Pemodelan Spasial Ekologis untuk Optimalisasi Penggunaan Lahan Daerah Aliran Sungai Bengawan Solo Hulu. Disertasi. Program Pascasarjana UGM, Yogyakarta.

Senawi. 2012. Dasar-Dasar Tata Ruang. Buku Ajar. Lab. SISPH Fakultas Kehutanan UGM, Yogyakarta.

Soraya, E. 2017. Model manajemen modern hutan rakyat: Perlukah? Dalam Maryudi, A. and Nawir, A.A., 2018. Hutan Rakyat di Simpang Jalan. UGM PRESS.

Stoilova I, A Krastanov dan A Stoyanova. 2007. Food Chemistry Antioxidant Activity of a Ginger Extract (Zingiber officinale). Food Chemistry 102: 764-770.

Subagio, A.A., Mansur, I. and Sari, R.K., 2018. Pemanfaatan Kompos Tandan Kosong Kelapa Sawit untuk Meningkatkan Pertumbuhan Tanaman Kayu Putih (Melaleuca cajuputi) di Lahan Pasca Tambang Batubara. Silvikultur Tropika-Journal of Tropical Silviculture Science and Technology, 9(03), pp.160-166.

Sujianto dan Agus Wahyudi. 2015. Analisis Kelayakan dan Finansial dalam Penyediaan Benih Bermutu Jahe Merah. Bul. Littro, Vol 26. Balai Penelitian Tanaman Rempah dan Obat. Bogor.

Supriatna, Ade dan Wayan Sudana. 2018. Analisis Usahatani Mangga Gedong (Mangifera sp) Studi Kasus di Kabupaten Cirebon, Jawa Barat. Jurnal Pengkajian dan Pengembangan Teknologi Pertanian Vol 11, No 3. Jawa Barat.

Suryanto, P., Tohari, Putra, E., & Alam, T., 2017. Minimum soil quality determinant for rice and 'kayu putih' yield under hilly areas, Journal of Agronomy, 16, 115-123.

Taghizadeh A, A Shirpoor, A Farshid and R Saadatian. 2007. The Effect of Ginger on Diabetic Nephropathy, Plasma Antioxidant Capacity andLipid Peroxidation in Rats. Food Chemistry 101: 148-153.Widianto, K. Hariah, D. Suharjito, dan M.A., Sardjono. 2003. Fungsi dan Peran Agroforestri.World Agroforesty Centre (ICRAF). Bogor

Wakka A. Kadir dan Nur Hayati. 2010. Analisis Finansial Pola Agroforestri pada KHDTK Borisallo, Kabupaten Gowa, Sulawesi Selatan. Jurnal Ekonomika-Bisnis Vol 02. Balai Penelitian Kehutanan Makassar.

Widodo, Budi. 2013. Revitalisasi pengelolaan hutan jati di Jawa. Disertasi. Program Pascasarjana UGM, Yogyakarta.

Woentina, Kevin. 2015. Analisis Kelayakan Usahatani Nanas di Desa Doda Kecamatan Kinovaro Kabupaten Sigi. Jurnal Agrotekbis 3 (2). Universitas Tadolako. Palu.

Yuhono, J. T., & Suhirman, S. (2006). Analisis Sosial Ekonomi Usaha Tani Konservasi pada Lahan Miring dengan Pola Tanam Jambu Mete, Kemiri, Melinjo dan Jati di Kabupaten Lombok Barat. Buletin Penelitian Tropika, XVII (1), 22–29.