The Effects of Media and Blanching Time on the Antioxidative Properties of Curcuma aeruginosa Roxb.
Dwiyati Pujimulyani

Faculty of Agroindustry, University of Mercu Buana Yogyakarta, Yogyakarta, 55753, Indonesia

Sulkhan Windrayahya

Irnawati Irnawati

Kampus Hijau Bumi Tridharma, Anduonou, Kambu, Kendari, Kambu, Kota Kendari, Sulawesi Tenggara 93132
Keywords:
Black saffron, Blanching, Antioxidant activity, Total phenolic content.
Abstract
Black saffron (Curcuma aeruginosa Roxb.) belongs to the family of Zingiberaceae is one of rhizomes widely used as raw material in Indonesian Traditional Medicines. Black saffron (BS) contains some bioactive compounds responsible for certain biological activities including antioxidant. Blanching has been reported to increase the antioxidant activity of BS. This study aims to formulate BS containing high antioxidant activity. This research was performed by varying blanching medium (citric acid and aquadest) and blanching time (0; 2.5; 5; 7.5 and 10 min). The fabrication stage of BS powder included peeling, cleaning, blanching, slicing drying, grinding, and sieving. After that, the treated BS was analyzed for the antioxidant activity, total phenolic, total flavonoid, tannin, crude fiber, and water contents. BS powder subjected to blanching process showed better antioxidant activity than that without blanching process. Blanching using citric acid media 0.05% for 5 min showed the best antioxidant activities, as indicated by high contents of total phenolic, total flavonoid, and tannins. Powdered BS is potential to be used as materials to be applied as fortifying agents in food products.
References
Akarchariya N, Sasithorn S, Jakaphun J, Sunee C. 2017. Chemical Profiling and Antimicrobial Activity of Essential Oil from Curcuma Aeruginosa Roxb., Curcuma Glans K. Larsen & J. Mood and Curcuma Cf. Xanthorrhiza Roxb. Collected in Thailand. Asian Pac J Trop Biomed 7(10):881–85.
Ananingsih, Victoria K, Gracia A, Robertus PYN. 2017. The Impact of Pretreatment on the Quality of Turmeric Dried by Solar Tunnel Dryer. Jurnal Ilmu Pertanian Indonesia 22(2):79–86.
Andrina S, Churiyah C, Nuralih N. 2017. Anti-Inflammatory Effect of Ethanolic Extract of Curcuma Aeruginosa Roxb Rhizome, Morinda Citrifolia Fruit and Apium Graveolens Leaf on Lipopplysaccharide-Induce RAW 264.7 Cell Lines. Indonesian J Cancer Chemop 6(3):84.
Arivazhagan P, Thangaswamy T, Chinnakkannu P. 2000. Antioxidant Lipoate and Tissue Antioxidants in Aged Rats. J Nutr Biochem 11(3):122–27.
Arvianasari E, Rosalia AS, Dwiyati P. 2020. The Effect of Concentration of Citric Acid and Blanching Time on the Antioxidation Properties of White Turmeric. Int J Adv Sci Technol 29(7):1647–53.
Busuttil-Griffin F, Shoemake C, Attard E, Azzopardi LM. 2015. Crude Fibre Determination of Malva sylvestris L. and Evaluation of its Faecal Bulking and Laxative Properties in Rats. Int J Biology 7(4): 1-8
Cheng Z, Lan S, Jeffrey M, Kequan Z, Marla L, Jun JY, Liangli Y. 2006. Effects of Postharvest Treatment and Heat Stress on Availability of Wheat Antioxidants. J Agric Food Chem 54(15):5623–29.
Ghafoor K, Fahad AJ, Mehmet MO, Nurhan U, Elfadıl EB, Isam AMA. 2020. Total Phenolics, Total Carotenoids, Individual Phenolics and Antioxidant Activity of Ginger (Zingiber Officinale) Rhizome as Affected by Drying Methods. LWT Food Sci technol. 126:109354.
İzli G. 2017. Total Phenolics, Antioxidant Capacity, Colour and Drying Characteristics of Date Fruit Dried with Different Methods. Food Sci Technol 37(1):139–47.
Khumaida N, Sintho WA, Adi S, Latifa NA. 2019. In Vitro Multiplication and Acclimatization of Black Galingale (Curcuma aeruginosa Roxb.). J Appl Pharm Sci 9(4):110–16.
Khumaida N, Muhamad S, Maria B, Waras N. 2019. Phenolic and Flavonoid Content in Ethanol Extract and Agro-Morphological Diversity of Curcuma aeruginosa Accessions Growing in West Java, Indonesia. Biodiversitas 20(3):656–63.
Kassim MJ, Hussin MH, Achmad A, Dahon NH, Suan TK, Hamdan HS. 2013. Determination of Total Phenol, Condensed Tannin and Flavonoid Contents and Antioxidant Activity of Uncaria Gambir Extracts. J Chem Inform Modeling 53(1):1689–99.
Muhammad NWF, Nurrulhidayah AF, Hamzah MS, Rashidi O, Rohman A. 2020. Physicochemical Properties of Dragon Fruit Peel Pectin and Citrus Peel Pectin: A Comparison. Food Res 4:266–73.
Noreña CZ, Renata TR. 2018. Effect of Blanching on Enzyme Activity and Bioactive Compounds of Blackberry. Brz Arch Biol Technol 61(0):1–13.
Nugrahaningtyas KD, Sabirin M, Tutik DW. 2005. Isolasi Flavono Dari Rimpang Temu. Biofarmasi 3(1):32–38.
Pujimulyani D, Raharjo S, Marsono Y, Santoso U. 2012. The effect of blanching on antioxidant activity and glycosides of white saffron (Curcuma mangga Val.). Int Food Res J 19(2): 617-621.
Pujimulyani D, Raharjo S, Marsono Y, Santoso U. 2010. Aktivitas Antioksidan Dan Kadar Senyawa Fenolik Pada Kunir Putih (Curcuma mangga Val.) Segar Dan Setelah Blanching. Agritech 30(2).
Pujimulyani D, Santoso U, Luwihana SD, Maruf A. 2020. Orally Administered Pressure-Blanched White Saffron (Curcuma mangga Val.) Improves Antioxidative Properties and Lipid Profiles in Vivo. Heliyon 6(6): e04219.
Pujimulyani D, Yulianto WA, Astuti S, Arumwardana S, Rizal R. 2018. Antidiabetic and Antioxidant Potential of Curcuma mangga Val Extract and Fractions. Asian J Agri Biol 6(2):162-168.
Puupponen-Pimiä R, Häkkinen ST, Aarni M, Suortti T, Lampi A-M, Eurola M, Piironen V, Nuutila AM, Oksman-Caldentey KM. 2003. Blanching and Long-Term Freezing Affect Various Bioactive Compounds of Vegetables in Different Ways. J Sci Food Agric 83(14):1389–1402.
Rohman A, Rafi M, Alam G, Muchtaridi M, Windarsih A. 2019. Chemical Composition and Antioxidant Studies of Underutilized Part of Mangosteen (Garcinia Mangostana L.) Fruit. J Appl Pharm Sci 9(8): 47-52.
Rohman A, Can AT, Irnawati, Rafi M, Lukitaningsih E, Fadzilah NA. 2020. Principal Component Analysis of Antioxidant Activities, Total Phenolic Contents, and Total Flavonoid Contents of Turmeric (Curcuma Longa L.). Int J Pharm Res 12: 2966-2972.
Rohman A, Widodo H, Lukitaningsih E, Windarsih A, Rafi M, Nurrulhidayah AF. 2020. Review on In vitro Antioxidant Activities of Curcuma Species Commonly Used as Herbal Components in Indonesia. Food Res 4(2): 286–93.
Simoh S, Shin SY, Abd Rahim F, Ahmad MA, Zainal A. 2018. Comparative Analysis of Metabolites and Antioxidant Potentials from Different Plant Parts of Curcuma aeruginosa Roxb. Sains Malaysiana 47(12):3031–41.
Thiex N. 2009. Evaluation of analytical methods for the determination of moisture, crude protein, crude fat, and crude fibre in distillers dried grains with soluble. J AOAC Int 92(1): 61-73.
Yang M, Qing S, Li LQ, Huang YQ, Cheung HY. 2015. Phytochemical Profiles, Antioxidant Activities of Functional Herb Abrus Cantoniensis and Abrus Mollis. Food Chem 177: 304–12.
Yen HF, Hsieh CT, Hsieh TJ, Chang FR, Wang CK. 2015. In Vitro Anti-Diabetic Effect and Chemical Component Analysis of 29 Essential Oils Products. J Food Drug Anal 23(1):124–29.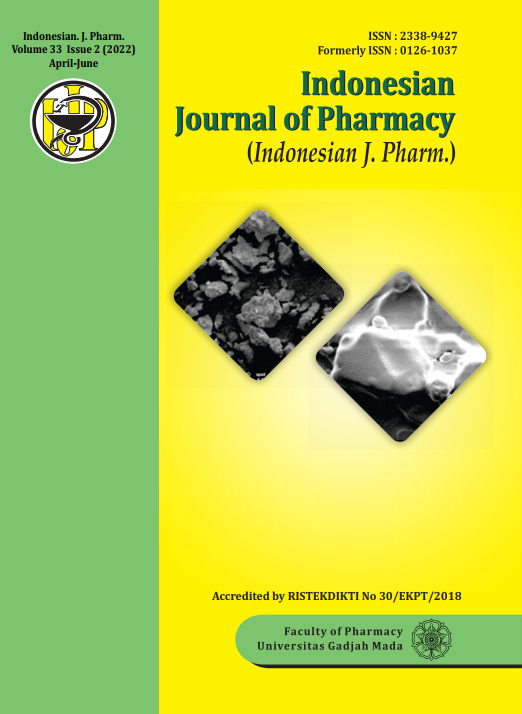 How to Cite
Pujimulyani, D., Windrayahya, S., & Irnawati, I. (2022). The Effects of Media and Blanching Time on the Antioxidative Properties of Curcuma aeruginosa Roxb. Indonesian Journal of Pharmacy, 33(2), 244–250. https://doi.org/10.22146/ijp.3634