Preparation and Characterization of Pregelatinized Sago Starch (PSS) from Native Sago Starch (NSS) (Metroxylon sp.) and its Evaluation as Tablet Disintegrant and Filler-Binder on Direct Compression Tablet
T.N. Saifullah Sulaiman

Laboratory of Pharmaceutical Technology, Department of Pharmaceutics, Faculty of Pharmacy, Universitas Gadjah Mada, Sekip Utara 55281, Yogyakarta, Indonesia

Wahyono Wahyuono

Department of Pharmaceutical Biology, Faculty of Pharmacy, Universitas Gadjah Mada, Sekip Utara 55281, Yogyakarta, IndonesiaUniversitas Gadjah Mada

Angi Nadya Bestari

Laboratory of Physical Pharmacy, Department of Pharmaceutics, Faculty of Pharmacy, Universitas Gadjah Mada, Sekip Utara 55281, Yogyakarta, Indonesia

Farida Nur Aziza

Laboratory of Pharmaceutical Technology, Department of Pharmaceutics, Faculty of Pharmacy, Universitas Gadjah Mada, Sekip Utara 55281, Yogyakarta, Indonesia
Keywords:
pregelatinized sago starch, native sago starch, physicochemical properties, tablet
Abstract
Starches are biodegradable and relatively inexpensive natural biopolymers which are widely used in the food and pharmaceutical industries. Sago starch is one of the starches which can be potentially used as the excipient in pharmaceutical formulation. The purpose of this study was to modify and to characterize the physical and chemical properties of native sago starch (Metroxylon sp) (NSS) and pregelatinized sago starch (PSS). NSS was evaluated to be confirmed with the requirement, including microscopic analyses, amylum identification, ash content, amylum acidity, loss on drying, solubility in water, solubility in ethanol, and chemical content of Pb, Cd, Hg. Physically evaluated for both types of sago starch were particle size, moisture content, flow rate, angle of repose, tapped density, compactibility, water absorption rate, and water absorption capacity. Fourier transform infrared spectroscopy (FT-IR) was used to characterize and evaluate PSS and NSS's chemical properties. Chemical content (Pb, Cd, Hg) and microbial content (yeast mold figures, number of bacteria, Escherichia coli, Staphylococcus aureus, Pseudomonas aeruginosa, Salmonella sp., Shigella sp.) of PSS are also identified. The results of this study showed that PSS exhibited different values of those determined parameters compared to that of NSS on particle size, moisture content, flow rate, the angle of repose, tapped density, water absorption rate, and water absorption capacity. In conclusion, PSS has better flow properties because it has a larger particle size than the NSS. PSS also has a larger water absorption rate and water absorption capacity than the NSS because PSS can interact with water easier than NSS. There is no bacterial content in PSS which means PSS follows the regulatory requirement. PSS had a good effect on weight uniformity, hardness, and disintegration time of the tablets. It makes PSS can be potentially used as the excipient in solid dosage form formulation.
References
Abdorreza, M. N., Cheng, L.H., Karim, A.A. (2011). Effects of plasticizers on thermal properties and heat sealability of sago starch films. Food Hydrocolloids, 25(1), 56-60. https://doi.org/10.1016/j.foodhyd.2010.05.005.
Achor M., Oyeniyi J., Musa M., Gwarzo M. (2015). Physicochemical Properties of Cassava Starch Retrograded in Alcohol. J. Appl. Pharm. Sci., 126–131.
Assefa, F., Dilebo, J., Gabriel, T., Brhane, Y., & Wondu, K. (2020). Characterization and Tablet Property Evaluation of Pregelatinized Starch of Teff (Eragrostis tef ). Asian Journal of Pharmaceutical Research and Development, 8(5), 18-23. https://doi.org/https://doi.org/10.22270/ajprd.v8i5.819.
Bhardwaj, TR., Kanwar, M., Lal, R., Gupta, A. 2000. Natural gums and modified natural gums as sustained-release carriers. Drug Dev Ind Pharm, 26(10), 1025-38. https://doi.org/10.1081/ddc-100100266.
Camire, ME., Camire, A., Krumhar, K. (1990). Chemical and nutritional changes in foods during extrusion. Critical Reviews in Food Science and Nutrition, 29(1), 35-57. https://doi.org/ 10.1080/10408399009527513.
Carstensen JT., Chan PC. (1997). Flow Rate and Angle of Repose Wet Processed Granulations. J. Pharm. Sci., 66, 1235-1238.
Delia, Nica-Badea. (2015). Determination of Potentially Toxic Heavy Metals (Pb, Hg, Cd) in Popular Medicinal Herbs in the Coal Power Plant Area. Revista de Chimie-Bucharest, 66(8), 1132-1136.
Din, Z., Xiong, H., Fei, P. (2017). Physical and chemical modification of starches: A review, Critical Reviews in Food Science and Nutrition. 57:12, 2691-2705. https://doi.org/ 10.1080/10408398.2015.1087379.
Dreu R., Toschkoff G., Funke A., Altmeyer A., Knop K., Khinast J., Kleinebudde P. (2016). Evaluation of the tablets' surface flow velocities in pan coaters. Eur. J. Pharm. Biopharm., 106, 97–106.
Eckelman CA.. 1998. The shrinking and swelling of wood and its effect on furniture. Purdue University Cooperative Extension Service.
Fanani Z., Miksusanti M., Desnelli D. (2010). Biodegradation of Polyblend Polypropylene-Palm Oil-Amylum BY Bacillus subtilis And Clostridium botulinum. Indones. J. Chem., 3, 160–165.
Fu, Z., Wang, L., Li, D., Adhikari, B. (2012). Effects of partial gelatinization on structure and thermal properties of corn starch after spray drying. Carbohydrate Polymers, 88(4), 1319-1325.
Fudholi, A., Bestari, AN. 2019. Formulasi & Teknologi Sediaan Tablet. Istana Agency. Yogyakarta.
Fudholi, A., Marchaban, Sulaiman, TNS., Kuswahyuning, R., Martien, R., Bestari, AN., Sa'adah, M., Khadijah, Aziza, FN. 2021. Seri Buku Petunjuk Praktikum Teknologi Farmasi Formulasi dan Teknologi Sediaan Padat. Fakultas Farmasi UGM. Yogyakarta.
Gaikwad, A., Tamizhrasi, S., Sorti, A., Gavali, P., & Mehare, G. (2010). Formulation In Vitro Characterization of Polymethacrylic Acid Nanoparticle Containing Furosemide. Int J. Pharm Res, 2(1), 300-304.
Hoover, R., Hughes, T., Chung, H.J., Liu, Q. (2010). Composition, molecular structure, properties, and modification of pulse starches: A review, Food Research International. 43(2).
Horwitz W., AOAC International (Eds.). 2006. Official methods of analysis of AOAC International, 18. ed., current through rev. 1. ed. AOAC International, Gaithersburg, Md.
Indonesian Pharmacopeia. 2020. Indonesia Pharmacopeia, VI. ed. Indonesia.
Kankate, D., Panpalia, S.G., Kumar, KJ., Kennedy, JF. (2020). Studies to predict the effect of pregelatinization on excipient property of maize and potato starch blends, International Journal of Biological Macromolecules. 164, 1206-1214.
Karanam, V.R., Reddy, H.P., Raju, BVS., Rao, JC., Kavikishore, PB., Vijayalakshmi, M. (2008). Detection of Indicator Pathogens from Pharmaceutical Finished Products and Raw Materials using Multiplex PCR and Comparison with Conventional Microbiological Methods, J Ind Microbiol Biotechnol, 35, 1007-1018.
Krisyanella, K., Susilawati, N., Rivai, H. (2017). Pembuatan Dan Karakterisasi Serta Penentuan Kadar Flavonoid Dari Ekstrak Kering Herba Meniran (Phyllanthus niruri L.). Jurnal Farmasi Higea. 5(1), 9-19.
Miyazaki, M., Van Hung, P., Maeda, T., Morita, N. (2006). Recent advances in application of modified starches for breadmaking. Trends in Food Science & Technology, 17(11), 591-599.
Nsawir, BJ., Mouafo, HT., Baomog, AMB., Adjele, JJB, Noni, LD. 2020. Determination of Heavy Metals (Pb, Cd and Hg) in Crude and Refined Edible Salt at Production Level in Cameroon - A Risk Assessment, Annals of Thyroid Research. Austin Publishing Group.
Octavia, MD., Halim, A., Indriyani, R. (2012). Pengaruh Besar Ukuran Partikel Terhadap Sifat-Sifat Tablet Metronidazol. Jurnal Farmasi Higea, 4(2).
Parwiyanti, FP., Wijaya A., Malahayati, N., Lidiasari, E. (2015). Swelling Power Dan Kelarutan Pati Ganyong (Canna edulis, Kerr.) Termodifikasi Melalui Heat- Moisture Treatment Dan Penambahan Gum Xanthan Untuk Produk Roti. Agritech, 36(3), 335-343. http://dx.doi.org/10.22146/agritech.16606.

Piotrowski, D., Golos, A., Grzegory, P. (2014). Shrinkage and mechanical properties of defrosted strawberries dried by convective, vacuum and convective- vacuum methods. Acta Agrophysica, 21(2), 193-204.
Putra, I.G.N.A.D, Murwanti, R., Rohman, A., Sulaiman, T.N.S. (2018). Physical and Chemical Properties of Native and Fully Pregelatinized Cassava Starch (Manihot esculenta Crantz), Indonesian J. Pharm, 29(3), 145-156. https://doi.org/10.14499/indonesianjpharm29iss3pp145.
Qazi, IM., Rakshit, SK., Tran T., Ullah J., Khan Z. (2014). Effect of blending selected tropical starches on pasting properties of rice flour. Sarhad j. Agric, 30(3), 357‒368.
Sacchetti, G., Pinnavaia, G.G., Guidolin, E., Rosa, M.D. (2004). Effects of extrusion temperature and feed composition on the functional, physical and sensory properties of chestnut and rice flour-based snack-like products. Food Research International, 37(5), 527-534.
Šantl, Maja., Ilić, Ilija., Vrečer, Franc., Baumgartner, Saša. (2011). A compressibility and compactibility study of real tableting mixtures: The impact of wet and dry granulation versus a direct tableting mixture. International Journal of Pharmaceutics, 414 (1–2),131-139.
Siswanto, A., Soebagyo, SS. (2006). Optimasi formula sediaan tablet lepas lambat teofilin dengan bahan matrik HPMC, Na CMC, dan xanthan gum. Majalah Farmasi Indonesia, XVII (3).
United States Pharmacopeial Convention. 2021. The United States Pharmacopeia: the national formulary.
Wong, C.W., Muhammad, S.K.S., Dzulkifly, M.H., Saari, N., Ghazali, H.M. (2007). Enzymatic production of linear long-chain dextrin from sago (Metroxylon sagu) starch. Food Chemistry, 100 (2), 774-780.
World Health Organization. 2011. Revision of Monograph on Tablets, Final Text for addition to The International Pharmacopeia.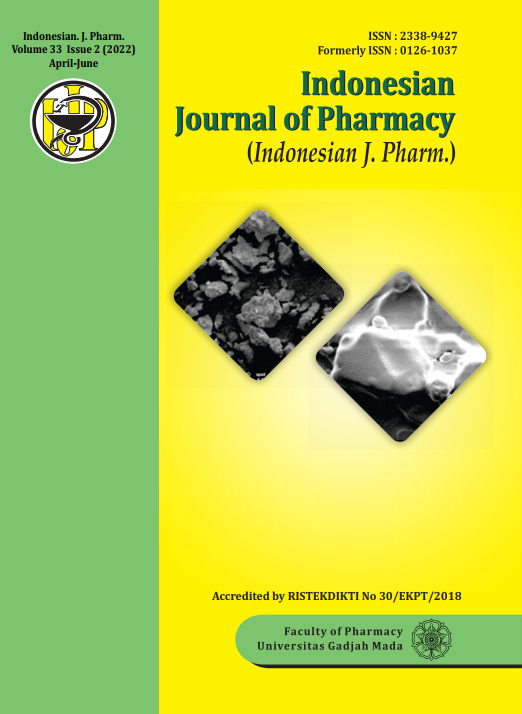 How to Cite
Sulaiman, T. S., Wahyuono, W., Bestari, A. N., & Aziza, F. N. (2022). Preparation and Characterization of Pregelatinized Sago Starch (PSS) from Native Sago Starch (NSS) (Metroxylon sp.) and its Evaluation as Tablet Disintegrant and Filler-Binder on Direct Compression Tablet. Indonesian Journal of Pharmacy, 33(2), 251–260. https://doi.org/10.22146/ijp.3543