The Characteristic, Antibacterial Activities, and Hydrogel Formulation of Nanosilver Biosynthesis using Curcuma longa L. Juice
Dian Eka Ermawati

Universitas Sebelas Maret

Safira Rahma Novachiria

Department of Pharmacy, Mathematics and natural Science Faculty, Sebelas Maret University, Surakarta, Central Java, Indonesia

Berliana Rizka Ramadhan

Department of Pharmacy, Mathematics and natural Science Faculty, Sebelas Maret University, Surakarta, Central Java, Indonesia

Saptono Hadi

Department of Pharmacy, Mathematics and natural Science Faculty, Sebelas Maret University, Surakarta, Central Java, Indonesia
Keywords:
nanosilver, biosynthesis, turmeric juice, antibacterial, hydrogel
Abstract
Turmeric juice contains of aldehyde groups as bioreductor. Silver ion can be done as nanosilver by green synthesis method using plant extracts. Biosynthesis nanosilver can induce the antibacterial activity. Nanosilver then developed for topical product to treat acnes. The aims of this study are to determine the characteristics and antibacterial activity of nanosilver and the effect of it is concentration on the physical and chemical properties of gel.  Nanosilver biosynthesis was prepared by mixing turmeric juice and AgNO3 solution for 24 hours at 25 ºC, then analyzed. Gel is made in variations concentration of nanosilver. Gel was evaluated including pH, viscosity, and dispersibility test during storage for 12 days at 25 ºC. Nanosilver biosynthesis with ratio of 5:38 mL was the best formula with absorption peak at 407 nm, round shape, particle size of 17.96 nm, and has broad spectrum antibacterial activity with strong category. FTIR spectra showed exist of interaction with spesific peaks. The concentration of nanosilver can affect to physical and chemical properties of gel, but all formulas meet the requirements and did not significantly change during 12 days at 25 ºC.
References
Adnan, J., (2017). Formulasi gel ekstrak daun beluntas (PluceaindicaLess) dengan Na-CMC sebagai basis gel. Journal of Pharmaceutical Science and Herbal Technology. 1: 41-44.
Ahluwalia, V., Elumalai, S., Kumar, V., Kumar, S. and Sangwan, R.S. (2018). Nano silver particle synthesis using Swertia paniculata herbal extract and its antimicrobial activity. Microbial pathogenesis. 114: 402-408.
Ahmed, Shakeel, Mudasir Ahmad, Babu Lal Swami, and Saiqa Ikram., 2016. A Review on Plants Extract Mediated Synthesis of Silver Nanoparticles for Antimicrobial Applications: A Green Expertise. Journal of Advanced Research/. 7(1): 17–28.
Allen, V., L. (2002). The Art, Science and Technology of Pharmaceutical compounding 2nd Ed. American Pharmaceutical Association, Washinton D.C.
Alsammarraie, Fouad K. et al. (2018). Green Synthesis of Silver Nanoparticles Using Turmeric Extracts and Investigation of Their Antibacterial Activities. Colloids and Surfaces B: Biointerfaces 171: 398–405.
Davis, W. W., and T. R. Stout. (1971). Disc Plate Method of Microbiological Antibiotic Assay. II. Novel Procedure Offering Improved Accuracy. Applied microbiology 22(4): 666–70.
El Khoury, Elsy, Mohamad Abiad, Zeina G. Kassaify, and Digambara Patra. (2015). Green Synthesis of Curcumin Conjugated Nanosilver for the Applications in Nucleic Acid Sensing and Anti-Bacterial Activity. Colloids and Surfaces B: Biointerfaces 127: 274–80.
Fahimirad, Shohreh, Fatemeh Ajalloueian, and Mansour Ghorbanpour. (2019). Synthesis and Therapeutic Potential of Silver Nanomaterials Derived from Plant Extracts. Ecotoxicology and Environmental Safety 168 (October 2018): 260–78.
Falugah, Fathia, Jimmy Posangi, and Paulina Yamlean. (2019). Uji Efek Antibakteri Jamur Endofit pada Tumbuhan Sereh ( Cymbopogon citratus ) pada Bakteri Uji Staphylococcus Aureus dan Escherichia Coli : Skripsi. Program Studi Farmasi FMIPA UNSRAT Manado 8(3): 292–302.
Gutowski, I. (2010). The Effects of pH and Concentration on The Rheology of Carbopol Gels. Simon Fraser University, Kanada.
Haryani, Yuli et al. (2016). Pemanfaatan Ekstrak Air Rimpang Jahe Merah (Zingiber Officinale Linn. Var. Rubrum) pada Biosintesis Sederhana Nanopartikel Perak. Chimica et Natura Acta 4(3): 151.
Jadhav, K., Dhamecha, D., Bhattacharya, D. and Patil, M. (2016). Green and ecofriendly synthesis of silver nanoparticles:characterization,biocompatibility studies and gel formulation for treatment of infections in burns. Journal of Photochemistry and Photobiology B : Biology, 155: 109-115.
Khezri, K., Saeedi, M. and Dizaj, S.M. (2018). Application of nanoparticles in percutaneous delivery of active ingredients in cosmetic preparations. Biomedicine and Pharmacotherapy, 106: 1499-1505.
Kurian, M, B Varghese, T S Athira, and S Krishna. (2016). Novel and Efficient Synthesis of Silver Nanoparticles Using Curcuma Longa and Zingiber Officinale Rhizome Extracts. Int. J. Nanosci. Nanotechnol 12(3): 175–81.
Martin, A., J. Swarbrick, dan A. Cammarata. (2012). Farmasi Fisik. Jakarta, UI Press.
Masakke, Y. and Rasyid, M. (2015). Biosintesis Partikel-nano Perak Menggunakan Ekstrak Metanol Daun Manggis (Garcinia mangostana L.), Sainsmat : 4.
Pulit-Prociak, J., Grabowska, A., Chwastowski, J., Majka, T.M. and Banach, M. (2019). Safety of the application of nanosilver and nanogold in topical cosmetic preparations, Colloids and Surfaces B: Biointerfaces; 183.
Putra, I Made Agus Sunadi. (2015). Uji Aktivitas Antibakteri Ekstrak Etanol Daun Sirsak (Annonae Muricata L.) Dengan Metode Difusi Agar Cakram Terhadap Escherichia Coli. Jurnal Ilmiah Medicamento 1(1): 15–19.
Prathna, T. C., N. Chandrasekaran, Ashok M. Raichur, and Amitava Mukherjee., 2011. Biomimetic Synthesis of Silver Nanoparticles by Citrus limon (Lemon) Aqueous Extract and Theoretical Prediction of Particle Size. Colloids and Surfaces B: Biointerfaces. 82(1): 152–59.
Rahayu, Siti, Nunung Kurniasih, and Vina Amalia. (2015). Ekstraksi Dan Identifikasi Senyawa Flavonoid Dari Limbah Kulit Bawang Merah Sebagai Antioksidan Alami. al-Kimiya 2(1): 1–8.
Sathishkumar, M., Sneha, K., Yun, Y.-S. (2010). Immobilization of silver nanoparticles synthesized using Curcuma longa tuber powder and extract on cotton cloth for bactericidal activity. Bioresour. Technol, 101: 7958–7965.
Shameli, Kamyar et al. (2012). Green Biosynthesis of Silver Nanoparticles Using Curcuma Longa Tuber Powder. International Journal of Nanomedicine 7: 5603–10.
Shankar, S. Shiv, Akhilesh Rai, Absar Ahmad, and Murali Sastry. (2004). Rapid Synthesis of Au, Ag, and Bimetallic Au Core-Ag Shell Nanoparticles Using Neem (Azadirachta Indica) Leaf Broth. Journal of Colloid and Interface Science 275(2): 496–502.
Soleimani, Fatemeh Feiz, Tayebeh Saleh, Seyed Abbas Shojaosadati, and Reza Poursalehi. (2018). Green Synthesis of Different Shapes of Silver Nanostructures and Evaluation of Their Antibacterial and Cytotoxic Activity. BioNanoScience 8(1): 72–80.
Waidha, Aamir Iqbal et al. (2014). Synthesis and Characterization of Silver Nano Rod like Structures by Green Synthesis Method Using Curcumin Longa. International Journal of ChemTech Research 7(3): 1504–8.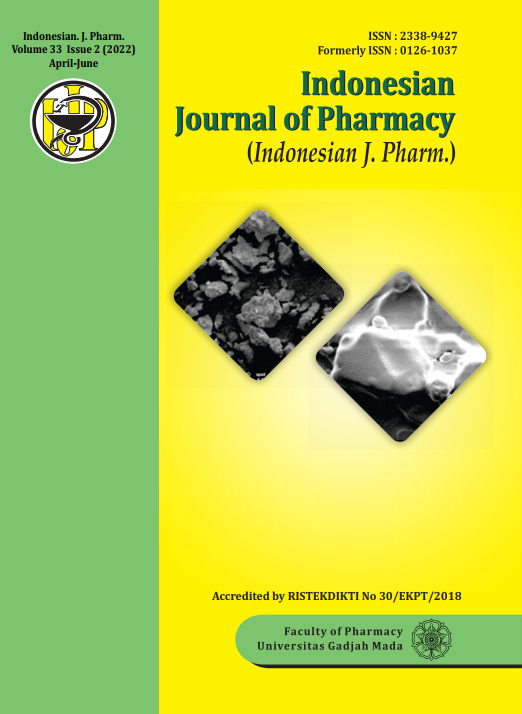 How to Cite
Ermawati, D. E., Novachiria, S. R., Ramadhan , B. R., & Hadi, S. (2022). The Characteristic, Antibacterial Activities, and Hydrogel Formulation of Nanosilver Biosynthesis using Curcuma longa L. Juice. Indonesian Journal of Pharmacy, 33(2), 234–243. https://doi.org/10.22146/ijp.1161