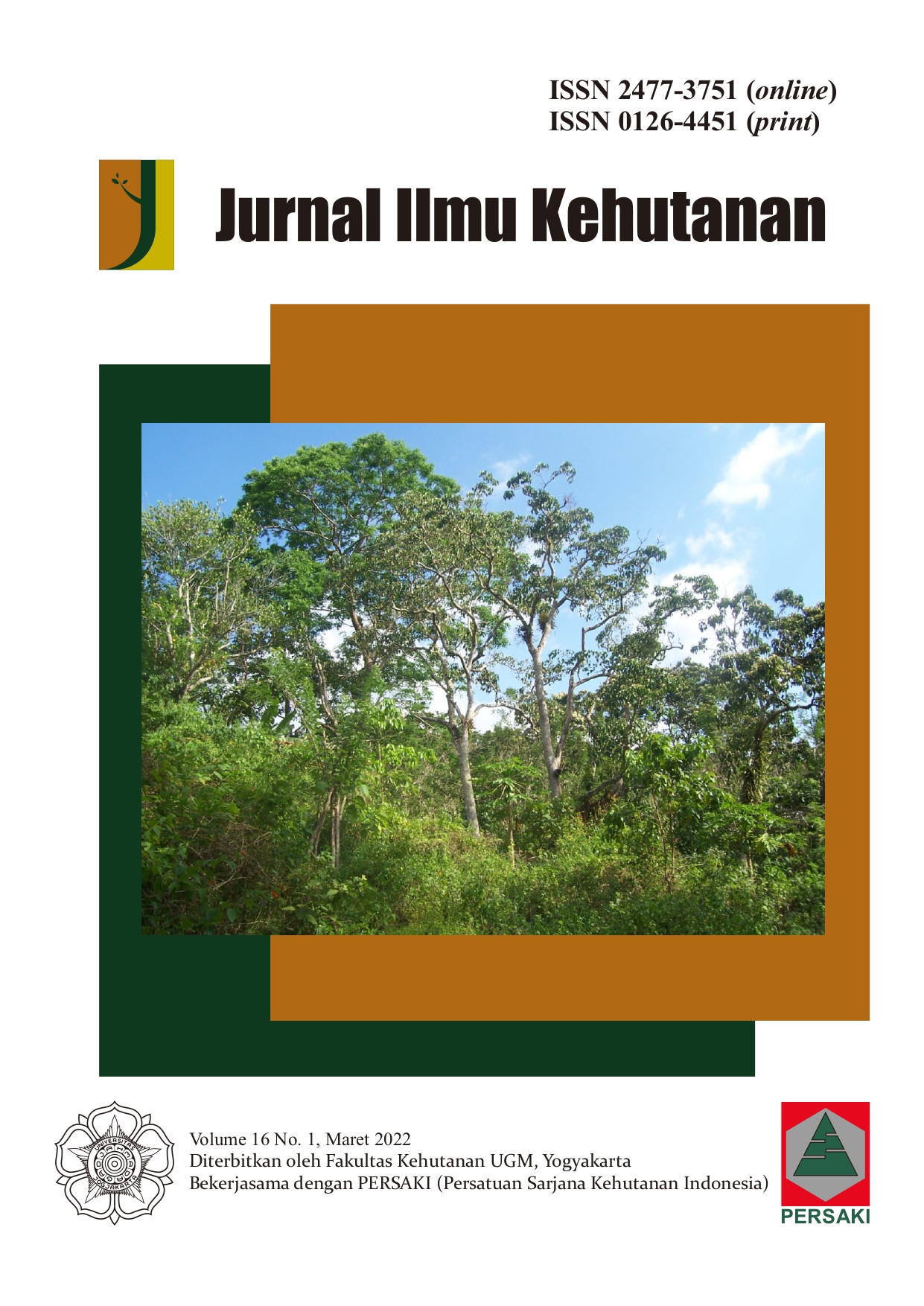 This work is licensed under a Creative Commons Attribution-NonCommercial-ShareAlike 4.0 International License.
Rattan Distribution Pattern in the Protected Forest of Sassa Village, North Luwu District
Corresponding Author(s) : Witno witno
witnosanganna@gmail.com
Jurnal Ilmu Kehutanan, Vol 16 No 1 (2022): Maret

Abstract
The Sassa Village Protection Forest has several rattan types in several forest areas. As a plant belonging to the Arecaceae tribe, rattan has a distribution pattern that varies according to where it grows. The distribution pattern describes the distribution of individuals in a population, such as clustered, random or regular patterns. This study aimed to determine the distribution pattern of rattan in the Protected Forest of Sassa Village, Baebunta District. Data was collected by placing plots using purposive sampling with technical data analysis in the form of density and frequency of rattan species and distribution patterns using the Morishita index. The results of this study obtained two distribution patterns of rattan based on the type, namely the uniform distribution pattern found in the kind of rattan Lambang (Calamus ornatus Blume), Pahit rattan (Calamus usitatus Blanco), Susu rattan (Daemonorop robusta Warb). The clumped distribution pattern consists of Jermasin rattan (Calamus ecojolis Becc), Saloso rattan (Calamus sp.) Tohiti rattan (Calamus inops Beccari).
Keywords
Distribution pattern
Morishita index
protection forest
witno, W., Maria, maria, & Cimbrins, F. (2022). Rattan Distribution Pattern in the Protected Forest of Sassa Village, North Luwu District. Jurnal Ilmu Kehutanan, 16(1), 74-83. https://doi.org/10.22146/jik.v16i1.3440
Download Citation
Endnote/Zotero/Mendeley (RIS)
BibTeX
References
Abdurachman A, Jasni J, Pari R, Satiti ER. 2017. Penggolongan 23 Jenis Rotan Indonesia Berdasarkan Kerapatan Dan Kuat Tarik Sejajar Serat. J Penelit Has Hutan. 35(1):43–52. doi:10.20886/jphh.2017.35.1.43-52.
Abywijaya IK, Hikmat A, Widyatmoko D. 2014. Keanekaragaman dan Pola Sebaran Spesies Tumbuhan Asing Invasif di Cagar Alam Pulau Sempu, Jawa Timur. J Biol Indones. 10(2):221–235.
Anggriana P, Dewi BS, Winarno GD. 2018. Populasi dan Pola Sebaran Burung Kuntul Besar (Egretta alba) di Lampung Mangrove Center. J Sylva Lestari. 6(3):73. doi:10.23960/jsl3673-80.
Hilwan, Iwan dan Irfani E. 2018. Pola penyebaran dan regenerasi jenis Saninten (Castanopsis argentea Blume) di Resort Selabintana, Taman Nasional Gunung Gede Pangrango. Silvikultur Trop - J Trop Silvic Sci Technol. 9(1):53–59.
Jumiati, Hariyadi B, Murni P. 2012. Studi Etnobotani Rotan Sebagai Bahan Kerajinan Anyaman Pada Suku Anak Dalam (SAD) di Dusun III Senami, Desa Jebak, Kabupaten Batanghari, Jambi. Biospecies. 5(1):33–41.
Kalima T, Jasni J. 2010. Tingkat Kelimpahan Populasi Spesies Rotan Di Hutan Lindung Batu Kapar, Gorontalo Utara. J Penelit Hutan dan Konserv Alam. 7(4):439–450. doi:10.20886/jphka.2010.7.4.439-450.
Kunut AA, Sudhartono A, Toknok B. 2014. Keanekaragaman jenis rotan (Calamus spp.) di kawasan hutan lindung wilayah kecamatan Dampelas Sojol kabupaten Donggala. War Rimba. 2(2):102–108.
Natalia D, Umar H, Sustri. 2014. Pola Penyebaran Kantung Semar (Nepenthes tentaculata Hook.F) Di Gunung Rorekautimbu Kawasan Taman Nasional Lore Lindu. War Rimba. 2(1):35–44.
P.35/Menhut-II/2007. 2007. Peraturan Menteri Kehutanan Nomor : P.35/Menhut-II/2007 Tentang Hasil HHutan Bukan Kayu.
Pertiwi annisa dian, Safitri nur fadillah asmi, Azahro dita arista. 2019. Penyebaran vegetasi semak, herba, dan pohon dengan metode kuadrat di Taman Pancasila. Proceeding Biol Educ. 3(1):185–191. http://journal.unj.ac.id/unj/index.php/pbe/article/view/13104.
Ramadanil, Grisnayanti. 2021. POLA DISTRIBUSI DAN KERAPATAN ROTAN (Daemonorops robusta Warburg) DI HUTAN PEGUNUNGAN SEKITAR NOKILALAKI KECAMATAN PALOLO KABUPATEN SIGI SULAWESI TENGAH. Biocelebes. 15(1):12–20. doi:10.22487/bioceb.v15i1.15557.
Suhesti E, Hadinoto. 2015. KABUPATEN KAMPAR ( Studi Kasus : Kecamatan Kampar Kiri Tengah ). J Kehutan. 10(2):16–26.
Tellu AT. 2004. Identification keys on rattans (Calamus spp.) from Central Sulawesi based on anatomical structure of stems. Biodiversitas J Biol Divers. 6(2):113–117. doi:10.13057/biodiv/d060209.
Widodo W. 2014. Populasi dan Pola Sebaran Burung di Hutan Wanawisata Galunggung, Tasikmalaya, Jawa Barat. Biosaintifika J Biol Biol Educ. 6(1):29–38. doi:10.15294/biosaintifika.v6i1.2932.
Witno. Nining Puspaningsih. Budi Kuncahyo. 2019. Pola Sebaran Spasial Biomassa Di Areal Revegetasi Bekas Tambang Nikel. J Penelit Kehutan Bonita. 1(2):1–9.https://ojs.unanda.ac.id/index.php/bonita/article/view/308.