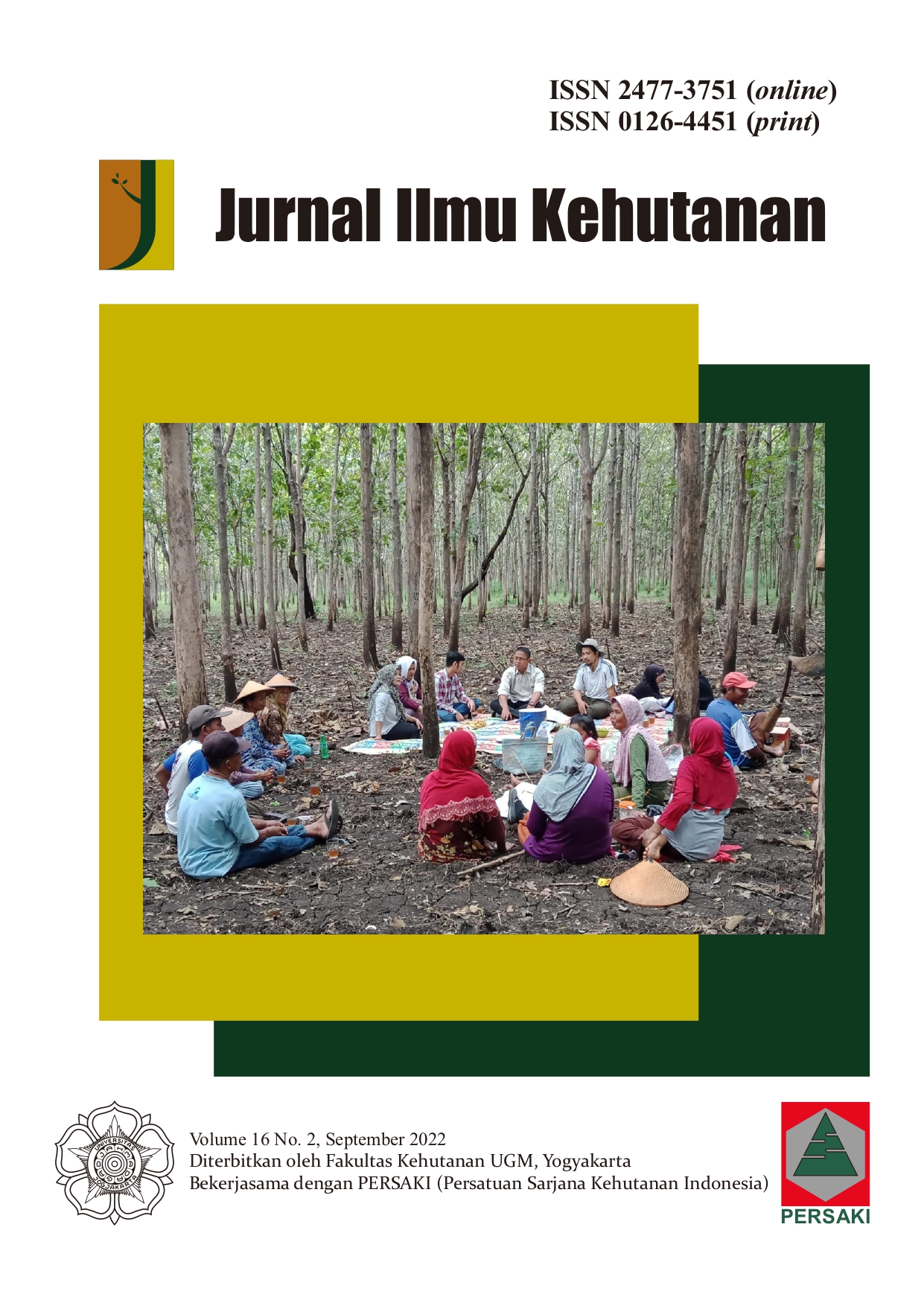 This work is licensed under a Creative Commons Attribution-NonCommercial-ShareAlike 4.0 International License.
Factors Affecting Forest and Land Fires in the Media Frame for Future Disaster Mitigation
Corresponding Author(s) : Rosalina Kumalawati
rosalina.kumalawati@ulm.ac.id
Jurnal Ilmu Kehutanan, Vol 16 No 2 (2022): September

Abstract
Forest and land fires were national and international disasters that caused crucial environmental problems and were a local and global concern. This research was conducted to determine the factors that affected forest and land fires in the media frame for future disaster mitigation in addition to the existing restoration efforts such as rewetting, revegetation, and community economic revitalization to minimize its impact. Data were collected from 2012 to 2021 through the framing method and analyzed using content analysis. The results showed that the factors affecting forest and land fires from September 2019 to June 2021 were associated with human activity and natural events. The dominant human activities were land preparation for agriculture and settlements, illegal logging, and lack of public awareness. Meanwhile, the natural factors were the dry season, lightning strikes, and areas with less intensive management, such as non-residential areas.
Keywords
forest and land fires
media framing
disaster mitigation
Kumalawati, R., Yuliarti, A., Septiana, M., Syaifuddin, Murliawan, K., & Anggraeni , R. N. (2022). Factors Affecting Forest and Land Fires in the Media Frame for Future Disaster Mitigation. Jurnal Ilmu Kehutanan, 16(2), 142-151. https://doi.org/10.22146/jik.v16i2.2153
Download Citation
Endnote/Zotero/Mendeley (RIS)
BibTeX
References
Aryadi M, Satriadi T, Syam'ani. 2017. Kecenderungan Kebakaran Hutan dan Lahan dan Alternatif Pengendalian Berbasis Kemitraan di PT. Inhutani II Kotabaru. Jurnal Hutan Tropis 5:222–235.
Asteria D. 2016. Optimalisasi Komunikasi Bencana Di Media Massa Sebagai Pendukung Manajemen Bencana. Jurnal Komunikasi Ikatan Sarjana Komunikasi Indonesia 1:1.
Cahyono SA, P Warsito S, Andayani W, H Darwanto D. 2015. Faktor-Faktor Yang Mempengaruhi Kebakaran Hutan Di Indonesia Dan Implikasi Kebijakannya. Jurnal Sylva Lestari 3:103.
Dani JA, Mediantara Y. 2020. Covid-19 dan Perubahan Komunikasi Sosial. Persepsi: Communication Journal 3:94–102.
de Diego J, Rúa A, Fernández M. 2019. Designing a Model to Display the Relation between Social Vulnerability and Anthropogenic Risk of Wildfires in Galicia, Spain. Urban Science 3:32.
Deasy A, Adilla Y, Adyatma S. 2016. Faktor Penyebab Kerentanan Kebakaran Berdasarkan persepsi Masyarakat Di Kelurahan Melayu Kecamatan Banjarmasin Tengah 3.
Deuze, M., & McQuail D. 2020. McQuail's media and mass communication theory.
Dr. Deasy Arisanty MS, Dr. Mohamad Zaenal Arin Anis MH, M.Pd. DHPNP, Syarifuddin, M.Pd.Muhammad Muhaimin, S.Pd. MS. 2019. Kebakaran Lahan Gambut.
Eriyanto. 2012. Analisis Framing; Konstruksi, Ideologi, dan Politik Media.
Erwinsyah. 2018. Pengolahan Sumber Daya Alam dan dampaknya Terhadap Lingkungan ( Studi Kasus Kebakaran hutan dan limbah industri sawit ). Prosiding Seminar Dosen Hasil …:40–51.
Fernandez-González F, Loidi J, Moreno-Saiz JC. 2014. Evaluación Preliminar de los Impactos en España por Efecto del Cambio Climático: 5. Impactos sobre la biodiversidad vegetal:249–302.
Gunawan H, Afriyanti D. 2019. Potensi Perhutanan Sosial dalam Meningkatkan Partisipasi Masyarakat dalam Restorasi Gambut. Jurnal Ilmu Kehutanan 13:227.
Hadrianti, N., Hendrakusumah E. 2019. Identifikasi Faktor-Faktor Penyebab Kebakaran Hutan di Kabupaten Tanjung Jabung Timur.
Hapsari SUH. 2012. Spasialisasi Kelompok Media Mnc.
Irwandi, Jumani, Ismail. 2016. Upaya Penanggulangan Kebakaran Hutan Dan Lahan Di Desa Purwajaya Kecamatan Loa Janan Kabupaten Kutai Kertanegara Kalimantan Timur XV:201–210.
Jayani DH., Widowati H. 2009. Berapa Pengguna Internet di Indonesia?
JICA. 2017. Survei Pengumpulan Data Mengenai Pengendalian Kebakaran Hutan & Lahan Gambut dan Restorasi Lahan Gambut di Indonesia.
Jönsson AM. 2011. Framing environmental risks in the Baltic Sea: A news media analysis.
Kumalawati, Rosalina. Dianita Anjarini E. 2019. Penyebab kebakaran hutan dan lahan gambut di kabupaten barito kuala provinsi kalimantan selatan. Prosiding Seminar Nasional diselenggarakan Pendidikan Geografi FKIP UMP 1:263–275.
Kumalawati R, Nasruddin, Anggraeni rizky nurita. 2021a. Pemetaan Sebaran Hotspot Data Modis Aqua Dan Terra 6.
Kumalawati R, Nasruddin E. 2019. Strategi Penanganan Hotspot untuk Mencegah Kebakaran di Kabupaten Barito Kuala Kalimantan Selatan. Seminar Nasional Lingkungan Lahan Basah 4:351–356.
Kumalawati R, Nasruddin, Elisabet. 2019. Strategi Penanganan Hotspot Untuk Mencegah Kebakaran di Kabupaten Barito Kuala Kalimantan Selatan 4:351–356.
Kumalawati R, Yuliarti A, Anggraeni RN, Murliawan KH. 2021b. Sebaran Hotspot Tahun 2012-2021 di Kalimantan Selatan 2:1–10.
Kumalawati R, Yuliarti A, Anggraeni RN, Murliawan KH. 2021c. The potential mapping of land fire using SNPP VIIRS as a basis for environmental damage mitigation. Evergreen 8:524–534.
Larasati B, Kanzaki M, Purwanto RH, Sadono R. 2019. Fire Regime in a Peatland Restoration Area: Lesson from Central Kalimantan. Jurnal Ilmu Kehutanan 13:210.
Loren A, Ruslan M, Yusran FH, Rianawati F. 2015. Analisis Faktor Penyebab Kebakaran Hutan dan Lahan Serta Upaya Pencegahan Yang Dilakukan Masyarakat di Kecamatan Basarang Kabupaten Kapuas Kalimantan Tengah 11:1–9.
M. Danang Anggoro, Awang SA, Santoso P, Faida LRW. 2017. Jurnal Ilmu Kehutanan. Jurnal Ilmu Kehutanan 11:29–42.
Masganti, Wahyunto, Ai Dariah, Nurhayati RY. 2014. Characteristics and Potential Utilization of Degraded Peatlands in Riau Province. Jurnal Sumberdaya Lahan 8:59–66.
Moore KD. 2014. Effective instructional strategies: From theory to practice.
Muliawanti L. 2018. Jurnalisme Era Digital: Digitalisasi Jurnalisme Dan Profesionalitas Jurnalisme Online. LENTERA: Jurnal Ilmu Dakwah dan Komunikasi 2:79–98.
Mulyana E. 2019. Bencana Kabut Asap Akibat Kebakaran Hutan Dan Lahan Serta Pengaruhnya Terhadap Kualitas Udara Di Provinsi Riau Februari – Maret 2014. Jurnal Sains dan Teknologi Indonesia 16:1–7.
Nasution SD, Rianawati F, Susilawati. 2019. Faktor Penyebab Kebakaran Hutan Di Tahura Sultan Adam Kalimantan Selatan. Jurnal Sylva Scienteae 02:423–431.
Nurfatriani F, Nurrochmat DR, Salminah M. 2019. Opsi Skema Pendanaan Mitigasi Perubahan Iklim di Sektor Kehutanan. Jurnal Ilmu Kehutanan 13:98.
Pamungkas C. 2017. Global village dan Globalisasi dalam Konteks ke-Indonesiaan. Jurnal Global & Strategis 9:245.
Pratomo Y. (n.d.). APJII: Jumlah Pengguna Internet di Indonesia Tembus 171 Juta Jiwa. 2019.
Pujileksono S. (n.d.). Metode Penelitian Komunikasi Kualitatif. 2015.
Putsanra D V. 2019. Apa Itu Karhutla yang Sebabkan Kabut Asap di Sumatera & Kalimantan?
Qirom MA. 2016. Kedudukan BRG dalam Restorasi Lahan Gambut.
Qirom MA, Yuwati TW, Santosa PB, Halwany W, Rachmanadi D. 2018. Carbon Stocks Potential of Peatand Forests Typologies in Central Kalimantan. Jurnal Ilmu Kehutanan 12:196.
Sabani W, Rahmadewi DP, Rahmi KIN, Priyatna M, Kurniawan E. 2019. Utilization of MODIS data to analyze the forest/land fires frequency and distribution (case study : Central Kalimantan Province). IOP Conference Series: Earth and Environmental Science 243.
Santi S. 2012. Frame Analysis: Konstruksi Fakta dalam Bingkai Berita.
Sujoko A, Apriliani C, A.R F. 2020. Bencana Kabut Asap dalam Bingkai Media Online. Jurnal Ilmu Komunikasi 17:224.
Sulistyo J, Marsoem SN, Listyanto T, Bhekti Pertiwi YABP. 2020. Sifat Ketahanan Api dan Degradasi Panas Tiga Jenis Kayu Dilapisi Arang Kayu Sengon. Jurnal Ilmu Kehutanan 14:28.
Susanti A, Karyanto O, Affianto A, Ismail, Pudyatmoko S, Aditya T, Haerudin, Nainggolan HA. 2017. Understanding the Impacts of Recurrent Peat Fires in Padang Island – Riau Province, Indonesia. Jurnal Ilmu Kehutanan 11:29–42.
Wooster MJ, Perry GLW, Zoumas A. 2011. Fire, drought and El Niño relationships on Borneo during the pre-MODIS era (1980–2000). Biogeosciences Discussions 8:975–1013.