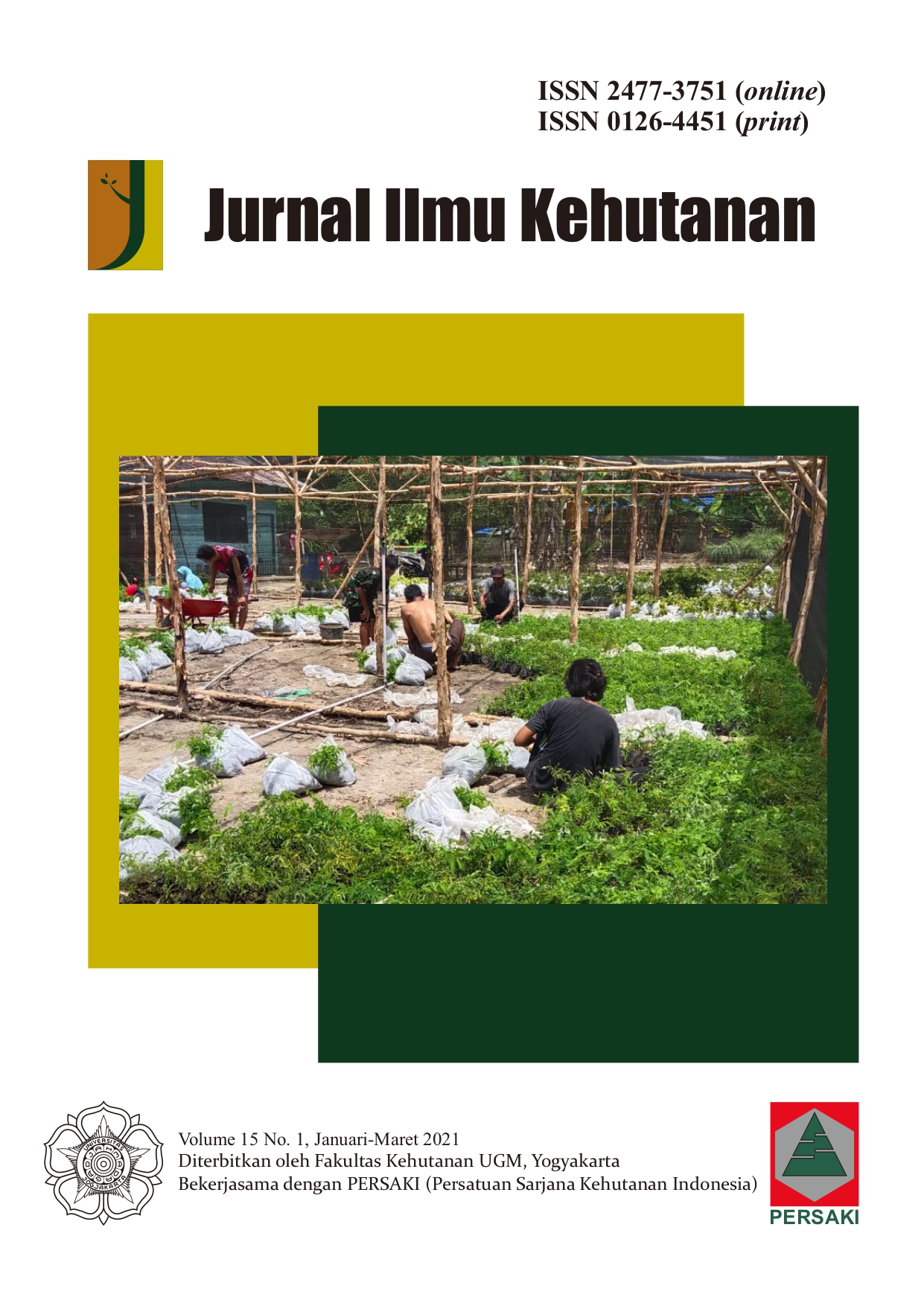 This work is licensed under a Creative Commons Attribution-NonCommercial-ShareAlike 4.0 International License.
Autecology of Begonia in Several Locations of Flores Island
Corresponding Author(s) : Sutomo Sutomo
sutomo.uwa@gmail.com
Jurnal Ilmu Kehutanan, Vol 15 No 1 (2021): Maret

Abstract
Human activities in forest areas such as over-harvesting of Begonia species without being balanced with their cultivation activities can threaten the existence of Begonia in nature. Autecological studies of species in their natural habitat are the initial activities for the conservation of plant species. The purpose of this study was to study the distribution of Begonia on Flores and environmental/ microclimate characteristics in several locations on Flores Island. The 10x10 m plots were placed with purposive sampling with a minimum interval of 50 m. Multivariate analysis using Canonical Corespondence Analysis (CCA) was employed to determine the effect of microclimatic factors on the composition of vegetation. Begonia kelimutensis is endemic in Kelimutu National Park, Flores lives at an altitude of 1,527 asl, at soil pH 5,8 and soil moisture of 75%, with a slope of 10 ° on the forest floor and light intensity 4,640 klux. In addition, five types of Begonia that we estimate have not been identified and two of them are identified as Begonia sumbawaensis Girm. and Begonia brangbosangensis Girm. Begonia kelimutuensis is distributed at a higher altitude than Begonia brangbosangensis. B. sumbawaensis is influenced by the slope factor while B. longifolia tends to be related to the air humidity factor. B. kelimutuensis is also often found living with Macaranga sp., and Litsea sp. B. brangbosangensis, also found near Homalanthus sp. and Calliandra callothyrsus.
Keywords
Begonia kelimutuensis
Flores
autecology
multivariate analysis
References
BCCVL 2017 Biodiversity and Climate Change Virtual Laboratory. Retrieved 07/07/2018, from http://bccvl.org.au/
Babaasa, D., Eilu, G., Kasangaki, A., Bitariho, R., & McNeilage, A. 2004. Gap characteristics and regeneration in Bwindi Impenetrable National Park, Uganda. African Journal of Ecology, 42(3), 217-224.
Brewer, JS. 2016. Natural canopy damage and the ecological restoration of fire-indicative groundcover vegetation in an oak-pine forest. Fire Ecology, 12(2), 105-126.
Efendi, M., Azizah, N., Supriyatna, A., & Destri, D. 2017. Keragaman jenis dan preferensi ekologi begonia liar di kawasan remnant forest Kebun Raya Cibodas. Berita Biologi, 16(3), 233-241.
Girmansyah, D. 2016. Three new species of Begonia (Begoniaceae) from Sumbawa Island, Indonesia. Garden's Bulletin Singapore, 68(1), 77-86.
Hughes, M. 2008. An annotated checklist of Southeast Asian Begonia. Edinburgh: Royal Botanic Garden Edinburgh.
Hughes, M., & Girmansyah, D. 2011. Searching for Sumatran Begonia described by William Jack: following in the footsteps of a 19th century Scottish botanist. Garden's Bulletin Singapore, 63(1&2), 83-96.
IUCN. 2018. The IUCN Red List of Threatened Species. Retrieved 17-09-2018, 2018, from www.iucnredlist.org
Lepš, J., & ˇSmilauer, P. 2003. Multivariate analysis of ecological data using CANOCO. Cambridge: Cambridge University Press.
Pietsch, TW. 2019. Charles Plumier (1646-1704) and his drawings of French and Caribbean fishes: Paris: Publications scientifiques du Museum.
Satyanti, A., & Siregar, HM. 2012. Microclimate preference and habitat of begonia in Bedugul, Bali. Biotropia, 19(2), 80-91.
Sutarno, S. 2009. Autekologi Begonia spp. (Begoniaceae) dan manfaatnya bagi Suku Afrak di Daerah Mokwam Manokwari. Tesis. Bogor: Institut Pertanian Bogor.
Sutomo, & Fardilla, D. 2013. Autecology of traditional medicine plant of Selaginella doederleinii Hieron in Some Areas of Mount Pohen Forest Batukahu Nature Reserve Bedugul, Bali. Jurnal Penelitian Hutan dan Konservasi Alam, 10(2), 153-161.
Tebbit, MC. 2005. Begonias: cultivation, identification, and natural history. California: Timber Press
Undaharta, NKE & Sutomo. 2016. Autekologi Begonia di Sebagian Kawasan Taman Nasional Gunung Merapi. Jurnal Biologi Universitas Udayana, 20(1), 29-34.
Undaharta, NKE, Sutomo, Tirta, IG & Ardaka, IM. 2012. Autecology begonia di sebagian Kawasan Taman Nasional Manusela Maluku. Jurnal PHKA, 9(1), 1-11.