Jurnal Perlindungan Tanaman Indonesia with registered number ISSN 1410-1637 (print) dan ISSN 2548-4788 (online) is a scientific journal that publishes full-fledged research, short notes, reviews of scientific works, and other scientific features relevant to plant protection discipline. This journal is published by Department of Crop Protection, Faculty of Agriculture, Universitas Gadjah Mada, Yogyakarta in collaboration with Indonesian Entomological Society (Perhimpunan Entomologi Indonesia, PEI) and Indonesian Phytopathological Society (Perhimpunan Fitopatologi Indonesia, PFI). 
Based on the Decree of the General Director of Strengthening the Research, Technology and Higher Education of the Republic of Indonesia No. 32a/E/KPT/2017, Jurnal Perlindungan Tanaman Indonesia  was designated as an Accredited Scientific Journal with category "B" from 26 April 2017 to 26 April 2022.
Since December 2016, Open Journal Systems (OJS) has been applied for all business process in Jurnal Perlindungan Tanaman Indonesia. Therefore, the submitting authors are required to register in advance and upload the manuscript online. The editing process of the manuscript could be monitored through OJS. Authors, readers, editorial board, editors, and peer review may obtain the real-time status of the manuscript. A hard copy of the journal may also be purchased through the system. Jurnal Perlindungan Tanaman Indonesia publishes semi-annually, i.e. on July and December. Several other procedural changes may be found in the Journal History.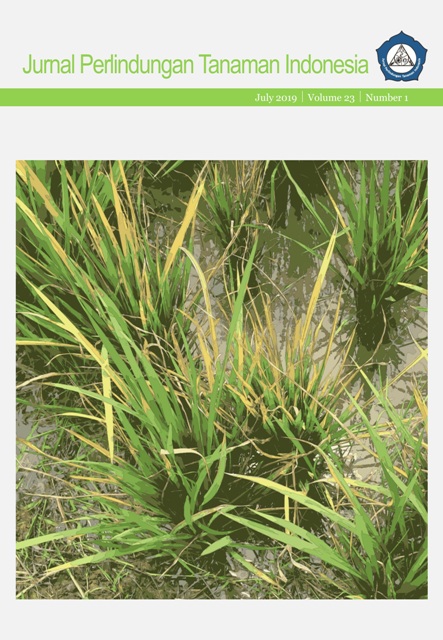 Announcements
Jurnal Perlindungan Tanaman Indonesia Terindeks DOAJ

Mulai tanggal 3 Juli  2017, Jurnal Perlindungan Tanaman Indonesia telah terindeks di Directory of Open Access Journals (DOAJ).
Posted: 2017-08-30

Berlangganan/Pembelian Jurnal Perlindungan Tanaman Indonesia

Pembelian Jurnal Perlindungan Tanaman Indonesia versi cetak dilayani di kantor redaksi JPTI gedung A2 lt. 3 (sayap selatan), Departemen Hama dan Penyakit Tumbuhan, Fakultas Pertanian UGM. Untuk langganan atau pembelian jarak jauh silakan mengisi  form 

di sini

atau mengunduh form

di sini

. Form langganan dan bukti bayar silakan dikirim ke alamat e-mail: jpti@faperta.ugm.ac.id atau jptiugm8@gmail.com

Posted: 2017-02-08
Vol 21, No 1 (2017)
Table of Contents
Review
Research Articles
Heri Widarta, Sedyo Hartono, Sri Sulandari, Cahyo Hertanto, Erna Anastasia

10.22146/jpti.19363

Abstract views : 94 |

views : 141

10-15
Hermawati Cahyaningrum, Nur Prihatiningsih, Soedarmono Soedarmono

10.22146/jpti.17743

Abstract views : 83 |

views : 62

16-22
Aulia Nusantara, Y. Andi Trisyono, Suputa Suputa, Edhi Martono

10.22146/jpti.16635

Abstract views : 98 |

views : 52

23-29
Dian Rahmawati, Fransiscus Xaverius Wagiman, Tri Harjaka, Nugroho Susetya Putra

10.22146/jpti.22659

Abstract views : 45 |

views : 32

30-37
Tri Wulan Widya Lestari, Arman Wijonarko, Wayan Murdita, Suputa Suputa

10.22146/jpti.23606

Abstract views : 85 |

views : 41

38-46
Short Note
Sri Heriza, Ade Noferta, Nanang Aligandi

10.22146/jpti.18420

Abstract views : 107 |

views : 67

47-50
Putri Laeshita, Triwidodo Arwiyanto

10.22146/jpti.23171

Abstract views : 28 |

views : 46

51-53