Jurnal Perlindungan Tanaman Indonesia with registered number ISSN 1410-1637 (print) dan ISSN 2548-4788 (online) is a scientific journal that publishes full-fledged research, short notes, reviews of scientific works, and other scientific features relevant to plant protection discipline. This journal is originally published by Department of Plant Protection, Faculty of Agriculture, Universitas Gadjah Mada, Yogyakarta in collaboration with Indonesian Entomological Society (Perhimpunan Entomologi Indonesia, PEI) and Indonesian Phytopathological Society (Perhimpunan Fitopatologi Indonesia, PFI). Jurnal Perlindungan Tanaman Indonesia publishes semi-annually, i.e. July and December.
Jurnal Perlindungan Tanaman has been designated as an Accredited Scientific Journal since April 26, 2017, and it's valid for five years, based on the Decree of the General Director of Strengthening the Research, Technology and Higher Education of the Republic of Indonesia  No. 32a/E/KPT/2017. Several other procedural changes may be found in the Journal History.
Since December 2016, Jurnal Perlindungan Tanaman Indonesia has been starting to apply open journal system (OJS) for business process. Authors who want to submit manuscript are required to register and have to obey the writing guideline (please check into the article template for details information). The editing process of the manuscript could be monitored through OJS.  A hard copy of the journal may also be purchased through the system (please fill in the journal order form here).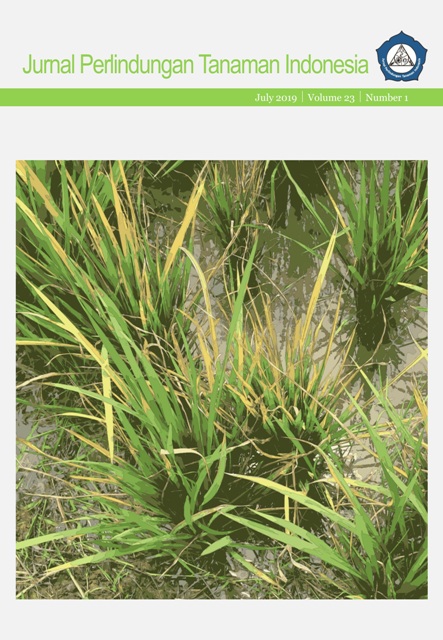 Announcements
Contributor's Fee for 2019

The editor's board had decided in its meeting of December 20th, 2018 that a new contributor's fee will be in effect as of January 15th, 2019. For each title of an accepted manuscript, the publication fee to be paid is IDR 1,500,000 

Posted: 2019-01-21

Jurnal Perlindungan Tanaman Indonesia has been indexed on DOAJ

Jurnal Perlindungan Tanaman Indonesia has been indexed by the Directory of Open Access Journals (DOAJ) effective July 3rd, 2017

Posted: 2017-08-30

Subscribing/purchasing the Jurnal Perlindungan Tanaman Indonesia hard copy(ies)

Posted: 2017-02-08
Vol 22, No 2 (2018)
Table of Contents
Research Articles
Bambang Trianom, Triwidodo Arwiyanto, Tri Joko

10.22146/jpti.32217

Abstract views : 554 |

views : 527

124-131
Endang Warih Minarni, Agus Suyanto, Kartini Kartini

10.22146/jpti.28886

Abstract views : 519 |

views : 795

132-142
Nova Laili Wisuda, Subur Sedjati

10.22146/jpti.28158

Abstract views : 379 |

views : 651

143-149
Agus Susanto, Wahyu Daradjat Natawigena, Lindung Tri Puspasari, Neng Inne Nur Atami

10.22146/jpti.27001

Abstract views : 495 |

views : 1027

150-159
Hasan Ashari Oramahi, Elvi Rusmiyanto P. Wardoyo, Kustiati Kustiati

10.22146/jpti.33113

Abstract views : 488 |

views : 416

160-166
Iqna Khayatina Rusli, Arif Wibowo, Christanti Sumardiyono

10.22146/jpti.25715

Abstract views : 361 |

views : 381

167-172
Franciskus Parasian, Y. Andi Trisyono, Edhi Martono

10.22146/jpti.25769

Abstract views : 342 |

views : 285

173-180
Nurviani Nurviani, Susamto Somowiyarjo, Sri Sulandari, Siti Subandiyah

10.22146/jpti.31595

Abstract views : 422 |

views : 359

181-185
Noldy R. E. Kotta, Y. Andi Trisyono, Arman Wijonarko

10.22146/jpti.24750

Abstract views : 263 |

views : 254

186-192
Linda Linda, Witjaksono Witjaksono, Suputa Suputa

10.22146/jpti.25280

Abstract views : 232 |

views : 255

193-200
Riska Awalia Putri, Sri Sulandari, Christanti Sumardiyono, Triwidodo Arwiyanto

10.22146/jpti.31241

Abstract views : 537 |

views : 754

201-209
Adhyatma Noor Rizal, Nugroho Susetya Putra, Suputa Suputa

10.22146/jpti.26191

Abstract views : 244 |

views : 274

210-216
Fatmawati Kalau, Franciscus Xaverius Wagiman, Witjaksono Witjaksono

10.22146/jpti.24820

Abstract views : 208 |

views : 293

217-223
Emerensiana Uge, Sri Sulandari, Sedyo Hartono, Susamto Somowiyarjo

10.22146/jpti.25453

Abstract views : 521 |

views : 383

224-232
Short Communication
Siwi Indarti, Arif Wibowo, Siti Subandiyah, Miftahul Ajri

10.22146/jpti.35321

Abstract views : 426 |

views : 463

233-237