JLA (Jurnal Lingua Applicata) is an academic, open access, peer-reviewed journal first published in 2017 by the Departemen Bahasa, Seni dan Manajemen Budaya (DBSMB), Sekolah Vokasi UGM, which manages several Diploma majors in foreign languages.
The objective of JLA is to provide comprehensive knowledge of the applicative aspects of foreign languages in its real-life practices, especially in academic and workspace settings.
JLA invites authors to submit research article or book review manuscripts, written in Bahasa Indonesia or English, in the field of applied foreign language studies, especially in English, Japanese, Mandarin, and Korean, as well as Indonesian for foreign speakers. JLA is issued twice a year, in March and September. Submissions are opened year-around. Before submitting, please ensure that the manuscript fits within the focus and scope of JLA and follow the author guidelines.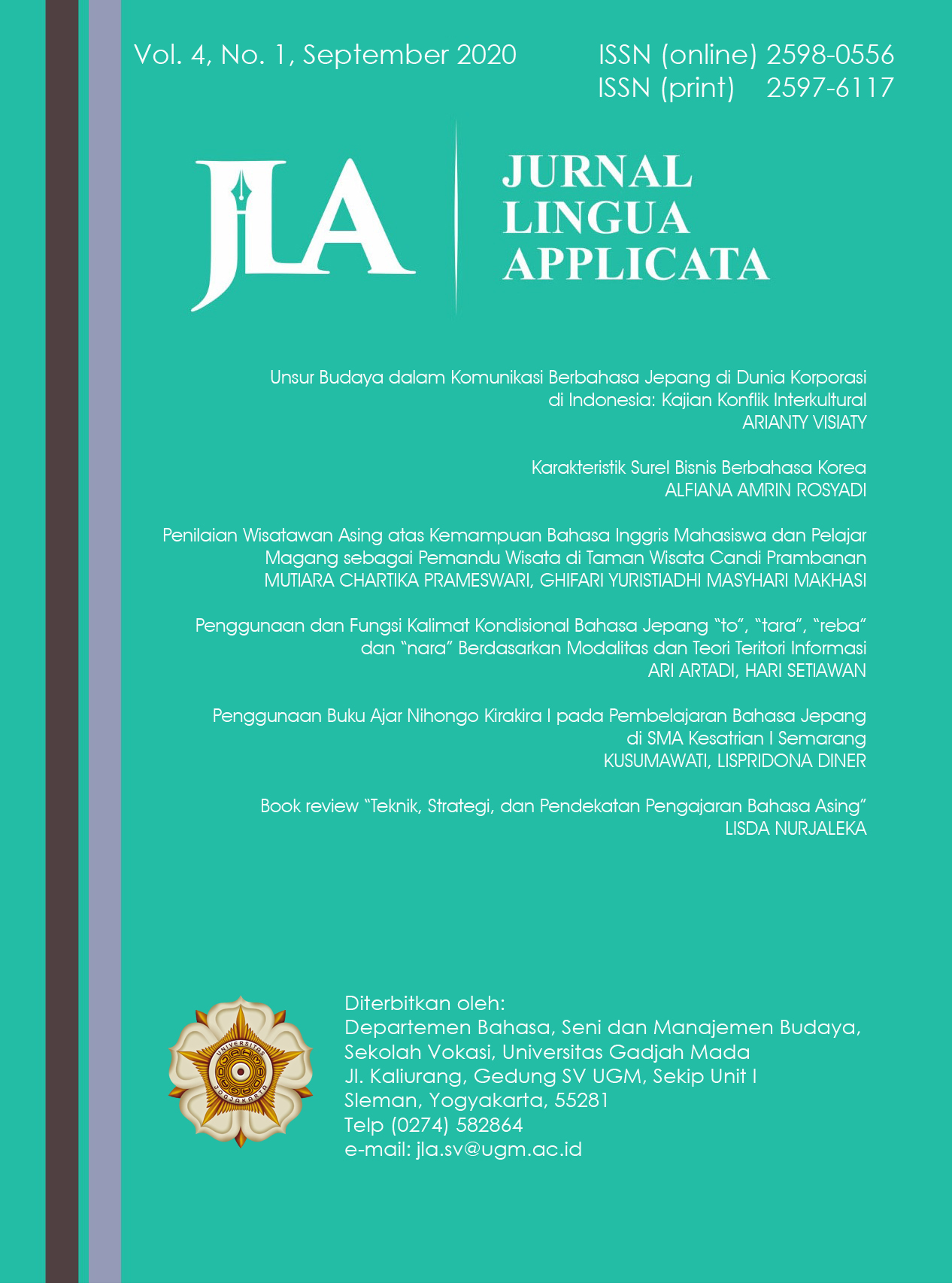 Announcements
New Edition JLA

This volume marks the beginning of the transformation of JLA (Jurnal Lingua Applicata). It is started with the restructuration of the editorial board. Our editorial board, as well as journal reviewers, consists of foreign languages experts in various areas of applied linguistics. There are two main goals that the new editorial board strive to achieve. The first one is to prepare JLA (Jurnal Lingua Applicata) for national journal accreditation. It is done by improving the management and business governance of JLA (Jurnal Lingua Applicata). The second one is to prepare the migration of journal hosting from open Journal System (OJS) 2 to OJS 3. We have published two volumes of the journal from 2017 and this edition will be the last one hosted in OJS 2. This change is expected to provide the authors, editors and our readers with more user-friendly interface and easy access to the online journal.

This edition is headed off with a study by Theresia Avila Rencidiptya Gitanati Firstantin, analyzing the fluency of Korean language learners in reading Korean language texts. The second study by Wury Dwiwardani and Lufi Wahidati, looking at suitability between soft skills competencies of Japanese language program graduates and workplace demands. The third study by Gede Satya Hermawan also analyzes Japanese as a foreign language from learner's perspective of time. The fourth one by Cisya Dewantara Nugraha and Dian Ayu Septiani Wiwitan, exploring the incorporation of motor aspects in a competence-based syllabus for second grade English class in SD Muhammadiyah Jagalan. The fifth one by Frida Anis Handayani and Eritrina Putri Ekantari, describing some examples of errors found in several Mandarin language dictionaries using the approaches of lexicology and lexicography. The last by Alfelia Nugky Permatasari and Yuni Wachid Asrori, exploring some difficulties faced by Korean language learners in answering TEVocS English test at Vocational College UGM. The scope of research in this edition is extremely diverse, covering the theory and practice of applied linguistics in learning Japanese, Korean, Mandarin, and English.

As Editor-in-Chief of this journal, I would like to express deepest gratitude to the members of editorial board, reviewers, and authors for their hard work and commitment. We hope that this journal will make a significant contribution to the research development in applied linguistics field in Indonesia.

Posted: 2019-12-17

Call For Paper

Tentang Jurnal

JLA (Jurnal Lingua Applicata) adalah jurnal yang dikolah oleh Departemen Bahasa, Seni dan Manajemen Budaya (DBSMB) Sekolah Vokasi dan diterbitkan oleh Universitas Gadjah Mada. Jurnal ini memuat artikel ilmiah seputar pembelajaran dan penerapan bahasa asing di lingkungan akademik maupun profersional.

JLA (Jurnal Lingua Applicata) mengundang segenap akademisi, penelitian maupun praktisi yang berminat untuk menyumbangkan karya ilmiah seputar bahasa asing terapan.

Jadwal publikasi:

Semester Ganjil 2019/2020
Semester Genap 2019/2020

Tema Penulisan:"Bahasa Asing dan Aplikasinya di Dunia Industri dan Edukasi" kemudian submisi artikel klik disini

Narahubung:
Dwi Noviana

dwinovianapurnamasari@ugm.ac.id

Posted: 2019-10-22
Vol 3, No 1 (2019)
Table of Contents
Articles
Ummul Hasanah, Mery Kharismawati

10.22146/jla.52060

Abstract views : 169 |

views : 165

10-19
Saidatun Nishfullayli, Wahyu Handayani Setyaningsih

10.22146/jla.50356

Abstract views : 198 |

views : 212

20-32
Lufi Wahidati, Dinar Rahmawati

10.22146/jla.55862

Abstract views : 174 |

views : 198

41-52
Front Matter
| | | |
| --- | --- | --- |
| | Front Matter JLA Vol.03 No.01 Tahun 2020 | |
Back Matter
| | | |
| --- | --- | --- |
| | Back Matter JLA Vol. 03 No. 01 Tahun 2019 | |