JLA (Jurnal Lingua Applicata) is an academic, open access, peer-reviewed journal first published in 2017 by the Departemen Bahasa, Seni dan Manajemen Budaya (DBSMB), Sekolah Vokasi UGM, which manages several Diploma majors in foreign languages.
The objective of JLA is to provide comprehensive knowledge of the applicative aspects of foreign languages in its real-life practices, especially in academic and workspace settings.
JLA invites authors to submit research article or book review manuscripts, written in Bahasa Indonesia or English, in the field of applied foreign language studies, including but not limited to English, Japanese, Mandarin, and Korean, as well as Indonesian for foreign speakers. JLA is issued twice a year, in March and September. Submissions are opened year-around. Before submitting, please ensure that the manuscript fits within the focus and scope of JLA and follow the author guidelines.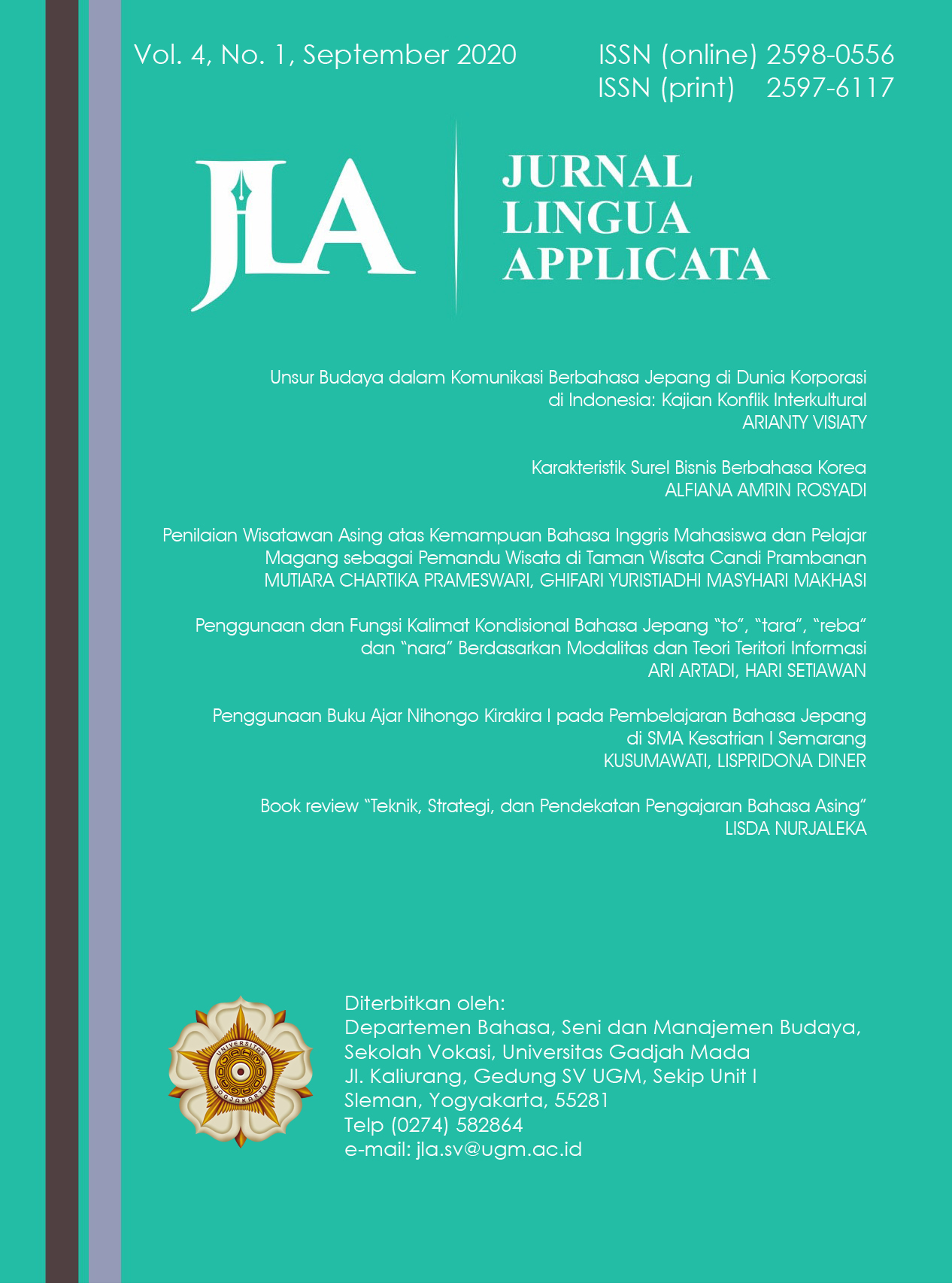 Announcements
Call for Articles Vol.4 No.2 (2021)

We kindly encourage authors who possess excellent articles discussing the current issues in the field of applied linguistics and second/foreign language learning and teaching, as well as Indonesian language for foreign speakers, and its application in the academic and professional fields, to publish in JLA (Jurnal Lingua Applicata). Please go to the page of the Online Submission to see the guidelines in detail. Looking forward to receiving your great articles soon.

Submission deadline: December 31, 2020

Announcement of accepted articles: January 31, 2021

Publish: March 2021

Posted: 2020-07-30
More...
Vol 3, No 2 (2020)
Table of Contents
Articles
Yuangga Kurnia Yahya, Umi Mahmudah, Luthfi Muhyiddin

10.22146/jla.57232

Abstract views : 49 |

views : 15

57-70
Iva Hanani, Suray Agung Nugroho

10.22146/jla.57392

Abstract views : 31 |

views : 8

71-86
Agnes Siwi Purwaning Tyas, Georgius Benardi Darumukti

10.22146/jla.57678

Abstract views : 12 |

views : 7

87-103
Jayanti Megasari, Ashanti Widyana

10.22146/jla.56812

Abstract views : 29 |

views : 11

122-131
Front Matter
| | | |
| --- | --- | --- |
| | Front Matter (Front Cover, Editorial Team, and Table of Contents) | |
Back Matter
| | | |
| --- | --- | --- |
| | Back Matter (Author Guidelines, Acknowledgement, and Back Cover) | |