Agro Ekonomi, AE, with registered number ISSN 0215-8787 (print), ISSN 2541-1616 (online) is a scientific journal published by Department of Agricultural Socio-Economics Universitas Gadjah Mada jointly with PISPI (Perhimpunan Sarjana Pertanian Indonesia).. It is at the national level that covers a lot of common problems or issues related to the agricultural and natural resource policies, agribusiness and agricultural extension & communication sciences. It published regularly twice a year (June and December).
Agro Ekonomi , AE is a media for dissemination information of thinking and research from lecturers, researchers, students, and practitioners who are interested to produce the scientific work in the agricultural and natural resource policies, agribusiness and agricultural extension & communication sciences. The focus and scopes of the articles in this journal are : (1) The macro approach of agricultural socio economic as a system which comprehensive and integrated from subsystems up-stream, subsystems on-farm, subsystems down-stream, subsystems support and the impact of their interrelationships with government policy, international economics, agricultural marketing, environmental resources, agricultural extension and communication, agricultural sociology, farmer institutions, and community empowerment; (2) The micro approach includes the study in the development of agribusiness (finance, farm management, functional and technical aspects) and agricultural local institutional.
Agro Ekonomi,  AE hopes can help agricultural socio-economic practitioners, policy makers, lecturers, students, and others to understand the condition of agriculture in Indonesia, especially on social and economic aspects; be able to provide benefits for the development of agricultural socio-economic sciences, and to increasing public welfare in Indonesia.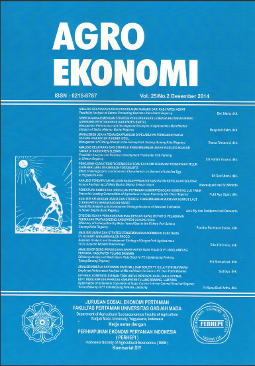 Announcements
New Template

From July 2018, Agro Ekonomi has a new template. So, please the authors can read and follow it.
Posted: 2018-07-12
More...

Only Receives Articles Using English and Reference Applications

Agro Ekonomi started from January 2018 only receives articles using English. The manuscripts which submitted has certified by proofreaders or translator (Authors must upload the certificate in the supplementary file column). 

The references should use a reference application management such as 

Mendeley, EndNote, or Zotero
Posted: 2018-01-26
More...
Vol 28, No 2 (2017): DESEMBER 2017
Table of Contents
Articles
Candarisma Dhanes Noor Viana, Slamet Hartono, Lestari Rahayu Waluyati

10.22146/jae.25939

Abstract views : 1503 |

views : 840

157-169
Avivah Rahmaningtyas, Slamet Hartono, Any Suryantini

10.22146/jae.26129

Abstract views : 547 |

views : 498

189-204
Arif Wahyu Widada, Masyhuri Masyhuri, Jangkung Handoyo Mulyo

10.22146/jae.26245

Abstract views : 462 |

views : 399

205-219
Fitry Purnamasari, Lestari Rahayu Waluyati, Masyhuri Masyhuri

10.22146/jae.26823

Abstract views : 387 |

views : 301

220-236
Wahyu Adhi Saputro, Masyhuri Masyhuri, Any Suryantini

10.22146/jae.27595

Abstract views : 409 |

views : 337

237-251
Mastur Mastur, Masyhuri Masyhuri, Lestari Rahayu Waluyati

10.22146/jae.27759

Abstract views : 262 |

views : 190

252-271
Olivia Esteevani Wibisono, Lestari Rahayu Waluyati, Dwidjono Hadi Darwanto

10.22146/jae.24787

Abstract views : 300 |

views : 213

272-288
Mercky Haryo, Amzul Rifin, Bunasor Sanim

10.22146/jae.26034

Abstract views : 291 |

views : 270

289-308
Prischa Lulan, Dwidjono Hadi Darwanto, Slamet Hartono

10.22146/jae.26071

Abstract views : 347 |

views : 249

309-322