Berita Kedokteran Masyarakat (BKM) Public Health and Community Medicine is a scientific journal in the field of Public Health, published by the Master Program in Public Health, Faculty of Medicine, Public Health, and Nursing (FKKMK) Gadjah Mada University in collaboration with the Association of Indonesian Community Medicine and Public Health (PDK3MI), Minister of Information of the Republic of Indonesia No. 1143 / SK / Ditjen.PPG / STT / 1987 and the Indonesian Society of Public Health Experts (IAKMI).
Journal of Community Medicine News (BKM) is a scientific journal that contains research articles published four months since it was published in 1985, then since 2016 (Volume 32) BKM is published every month / 12 times a year.
Articles published in this journal have gone through a blind review process by one / two of the reviewer / partner bebestari. The reviewer then makes a decision based on a recommendation with several possibilities: rejected, major revision, minor revision, or accepted.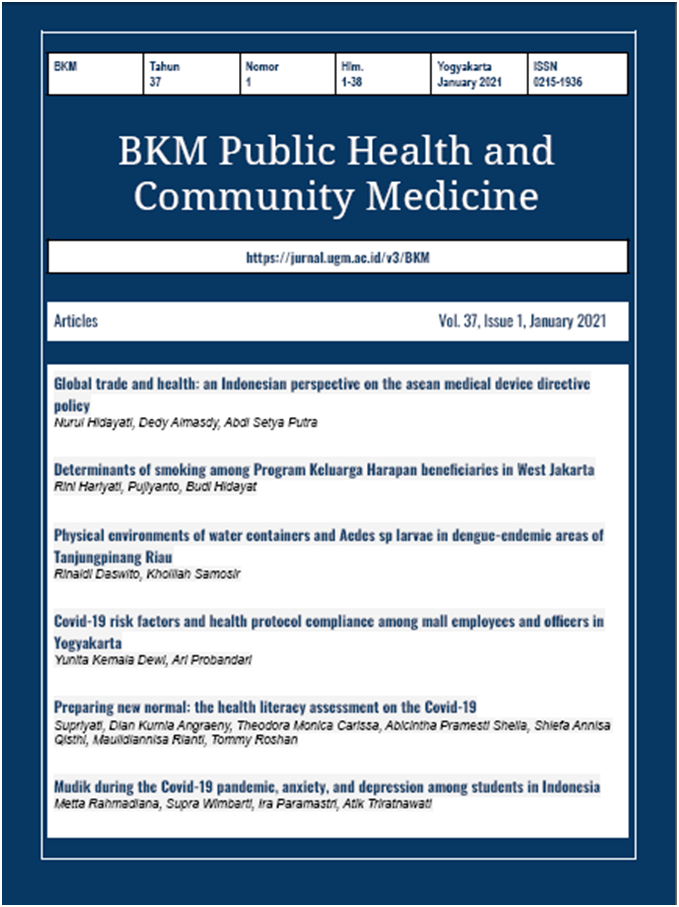 Announcements
No announcements have been published.
Vol 35, No 10 (2019)
Table of Contents
Indigeneous and Remote Health
Fury Maulina, Mardiati Mardiati

10.22146/bkm.49386

Abstract views : 314 |

views : 255
Epidemiology
Rilla Venia Lalu, Hari Kusnanto

10.22146/bkm.47173

Abstract views : 263 |

views : 176
Wafiyyah Rizki Wiariyanti, E. Elsa Herdiana Murhandarwati, Anis Fuad

10.22146/bkm.47232

Abstract views : 135 |

views : 74
Maternal and Child Health
Lia Arsyina, Ayu Amalia Rahmi, Ayudhia Rachmawati, Dortua Lince Sidabalok, Nada Amirah, Redi Yudha Irianto, Evi Martha, Bambang Wispriyono

10.22146/bkm.48531

Abstract views : 193 |

views : 180
Abdullah Abdullah, Eugenius Phyowai Ganap

10.22146/bkm.46889

Abstract views : 153 |

views : 97