Berita Kedokteran Masyarakat adalah jurnal ilmiah di bidang Kesehatan Masyarakat yang diterbitkan oleh Prodi S2 Ilmu Kesehatan Masyarakat Fakultas Kedokteran, Kesehatan Masyarakat, dan Keperawatan (FKKMK) Universitas Gadjah Mada yang bekerja sama dengan Perhimpunan Dokter Kedokteran Komunitas dan Kesehatan Masyarakat Indonesia (PDK3MI)  dengan STT SK. Menteri Penerangan Republik Indonesia No. 1143/SK/Ditjen.PPG/STT/1987 dan Ikatan Ahli Kesehatan Masyarakat Indonesia (IAKMI).
Jurnal Berita Kedokteran Masyarakat (BKM) merupakan jurnal ilmiah yang memuat artikel penelitian (research article) yang diterbitkan empat bulan sekali sejak terbit tahun 1985, kemudian sejak tahun 2016 (Volume 32) BKM diterbitkan setiap bulan/ 12 kali dalam satu tahun.
Artikel yang terbit di jurnal ini telah melalui proses review secara blind review oleh satu/ dua orang reviewer/ mitra bebestari. Para reviewer kemudian membuat keputusan berdasarkan rekomendasi dengan beberapa kemungkinan: ditolak, revisi mayor, revisi minor, atau diterima. 
Berita Kedokteran Masyarakat terlah terindeks di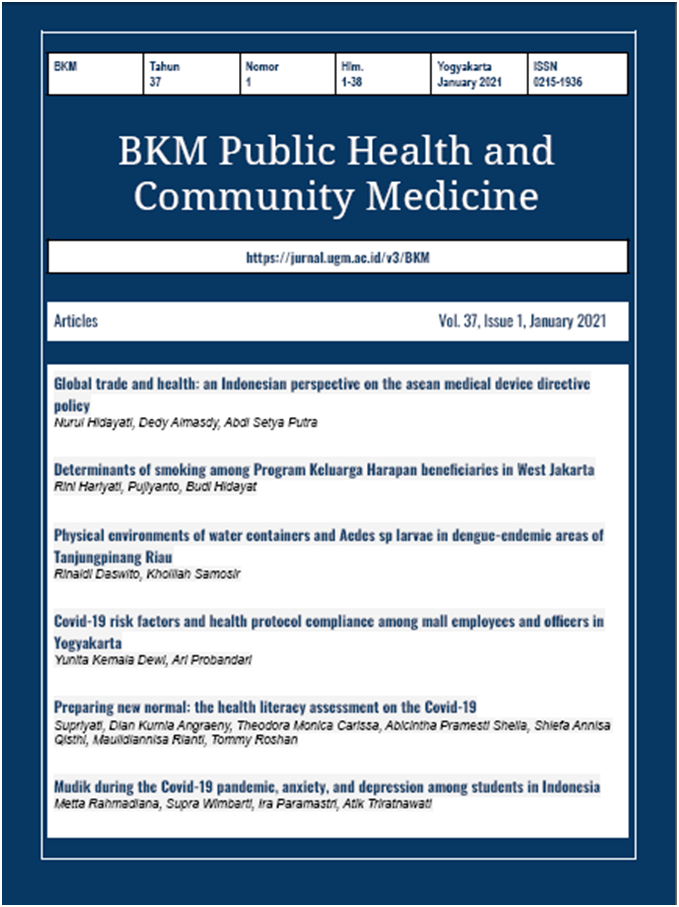 Announcements
Info: Last call - Invitation to 6th International Public Health Symposium 2019

We are extending the final deadline for abstract submission to 

tomorrow, 3rd Nov 2019.
Posted: 2019-11-02
More...

Info: Extended Abstract Submission: The 6th UGM International Public Health Symposium

Abstract submission is extended to Saturday, November 2, 2019.

Kindly submit your paper through: https://epaper.uasc.ugm.ac.id/Events/detail/35

Posted: 2019-09-19
More...
Vol 35, No 10 (2019)
Table of Contents
Indigeneous and Remote Health
Fury Maulina, Mardiati Mardiati

10.22146/bkm.49386

Abstract views : 110 |

views : 104
Epidemiology
Rilla Venia Lalu, Hari Kusnanto

10.22146/bkm.47173

Abstract views : 104 |

views : 65
Wafiyyah Rizki Wiariyanti, E. Elsa Herdiana Murhandarwati, Anis Fuad

10.22146/bkm.47232

Abstract views : 30 |

views : 23
Maternal and Child Health
Lia Arsyina, Ayu Amalia Rahmi, Ayudhia Rachmawati, Dortua Lince Sidabalok, Nada Amirah, Redi Yudha Irianto, Evi Martha, Bambang Wispriyono

10.22146/bkm.48531

Abstract views : 43 |

views : 64
Abdullah Abdullah, Eugenius Phyowai Ganap

10.22146/bkm.46889

Abstract views : 36 |

views : 15