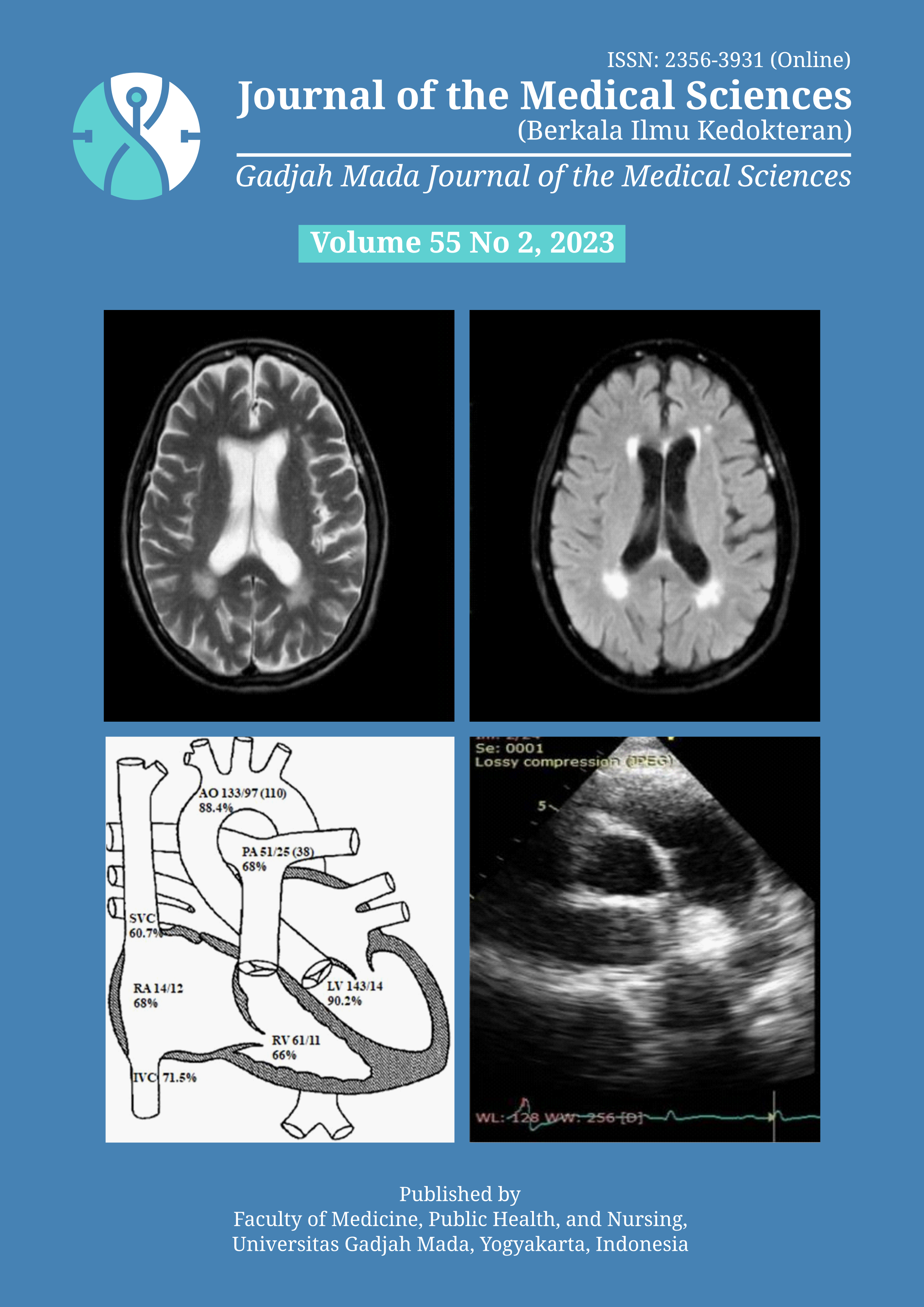 Journal of the Medical Sciences (Berkala Ilmu Kedokteran) or Gadjah Mada Journal of the Medical Sciences (JMedSci) is an international, open-access, and double-blind peer-reviewed journal, multidisciplinary journal dedicated to the publication of original research articles, reviews articles, case reports, and book reviews in all area of medical sciences from basic to clinical sciences.

JMedSci has been published since 1973 quarterly on January, April, July, and October and accepts high-quality manuscripts featuring well-design studies with clearly analyzed and logically interpreted results. A strong preference is given to studies that have significant contributions to the field of medical sciences and related fields.  

JMedSci aims to promote the translational of basic research into clinical studies and of clinical evidence into practice. JMedSci publishes studies that substantially enhance our standing of disease etiology and physiology; the development of prognostic and diagnostic technologies; trials that test the efficacy of specific interventions and those that compare different treatments. JMedSci invites authors to submit articles in the fields of biomedical sciences including biomedical genetics, bioinformatics, cardiovascular medicine, endocrinology, gastroenterology, geriatrics, infectious diseases, medical oncology, physiology, pharmacology and toxicology, and phytomedicine medicine.

JMedSci is published by the Faculty of Medicine, Public Health and Nursing, Universitas Gadjah Mada, Yogyakarta, Indonesia, and abstracted and indexed in DOAJ, Crossref, Google Scholar, Sinta, Indonesia One Search. JMedSi is nationally accredited by the Director General of Research and Development of the Ministry of Research, Technology, and Higher Education, Republic of Indonesia, Decree No. 36/E/KPT/2019, valid until 2024.


Journal of the Medical Sciences (Berkala Ilmu Kedokteran)
Available online at https://jurnal.ugm.ac.id/bik
Email: jmedscie@ugm.ac.id

Published by Universitas Gadjah Mada
ISSN: 2356-3931 (Online)

From January 1st, 2021, accepted articles will be charged with the article processing charge (APC) of $50, while the submission fee remains free.
Announcements
No announcements have been published.
Vol 55, No 3 (2023)
Table of Contents
Articles
Sari Wahyuni, Agustina Ida Pratiwi, Sofia Mawaddah, Retno Setyo Iswati

Abstract views : 456 |

views : 363
Pasid Harlisa, Indah Wahyu Puspitasari, Suryani Yuliyanti

Abstract views : 42 |

views : 25
Surawijaya Bakhtiar Kaslam, Usi Sukorini, Teguh Triyono

Abstract views : 373 |

views : 114
Vina Yanti Susanti, Vita Yanti Anggraeni, Adrianus Akbar, Benedreky Leo

Abstract views : 488 |

views : 131
Fidi Bhawana Jaya, Mas Rizky Anggun Adipurna Syamsunarno, Edhyana Sahiratmadja

Abstract views : 299 |

views : 36
Alius Cahyadi, Angelina Yuwono, Stephanie Widodo Subagio, Maria Riastuti Iryaningrum

Abstract views : 427 |

views : 186