Jurnal Filsafat is a scientific journal that first published in 1990 by the Faculty of Philosophy, Universitas Gadjah Mada, as a forum for scientific communication, development of thinking and research in philosophy. Jurnal Filsafat is published twice a year, in February and August with ISSN: 0853-1870 (print), and ISSN 2528-6811 (online).
Jurnal Filsafat has been certified as an Accredited Scientific Journal at Rank 2, issued by The Ministry of Research, Technology, and Higher Education of the Republic of Indonesia (The Ministry Decree No. 200/M/KPT/2020, December 23rd, 2020). This Reaccreditation applied to starting in Vol. 30 No. 1, 2020 until Vol. 34 No. 2, 2024.
The Editorial Team of Jurnal Filsafat accepts manuscript in the field of philosophy which has never been published in other media. Editorial Team has the right to edit the manuscript as far as not changing the substance of its contents.
Jurnal Filsafat Address: Notonagoro Building, 2nd Floor, Faculty of Philosophy, Universitas Gadjah Mada, Yogyakarta; Jl. Olahraga Bulaksumur, Yogyakarta, 55281; Email: jurnal-wisdom@ugm.ac.id; Website: jurnal.ugm.ac.id/wisdom; Phone: (0274) 515368
To start your submission manuscript, please refers Author Guidelines below.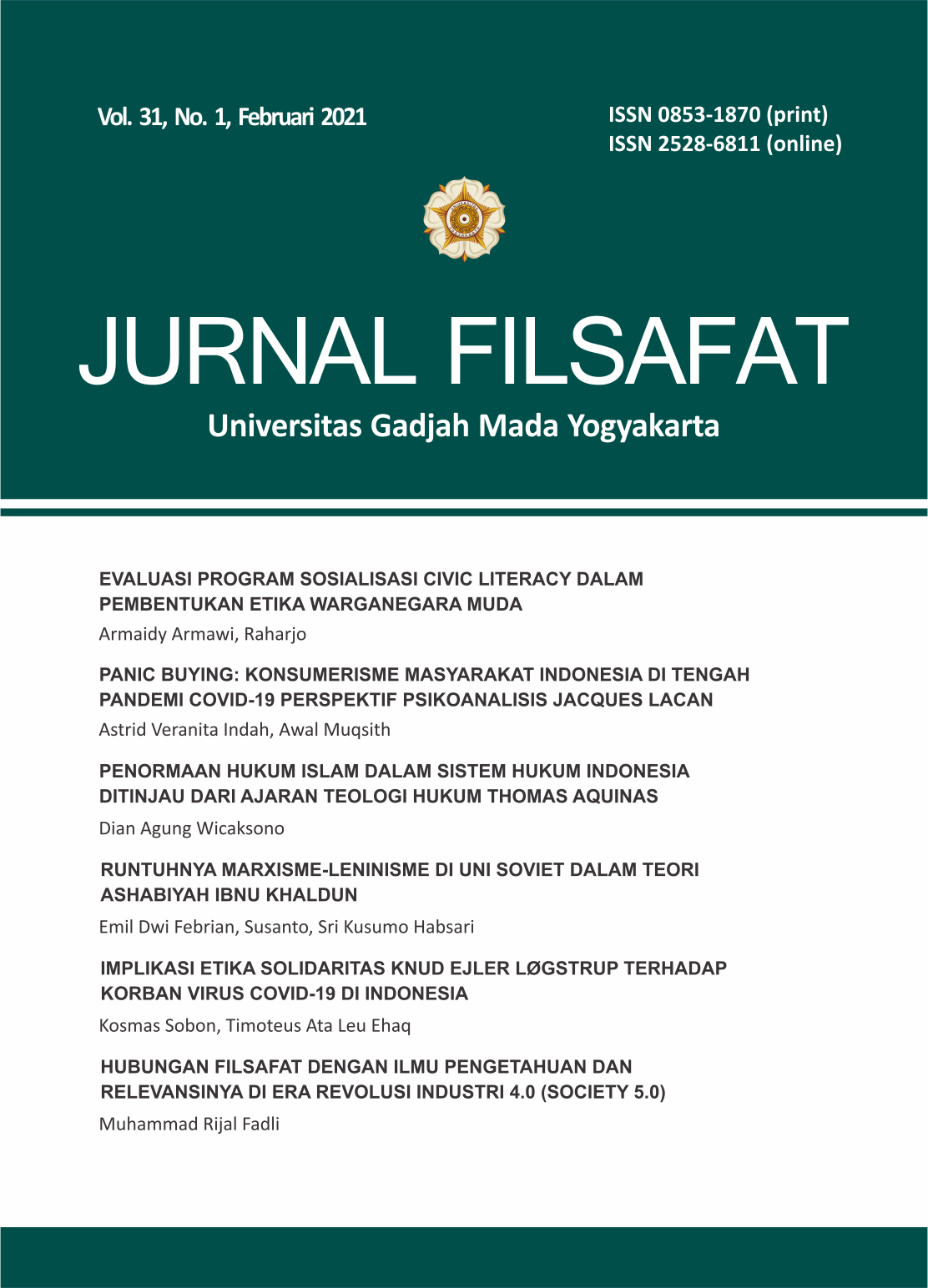 Announcements
Retraction Notice

Jurnal Filsafat management announced that retraction the article entitled "The Role of Subject in Kuntowijoyo's Transformative Thought and It's Relevance to The Islamic Social Transformation" published in Vol 30, No 2 (2020) because has published in 

The Sasdaya Journal

Vol 2, No 2 (2020), the links here. The process retraction according to the procedure of the scientific journal will be at the nearest publishing.
Posted: 2020-09-19
More...
Vol 32, No 1 (2022)