Focus and Scope
Jurnal Filsafat diterbitkan sejak tahun 1990, sebagai wadah komunikasi ilmiah perkembangan pemikiran dan penelitian bidang filsafat. Diterbitkan dua kali dalam setahun, yaitu bulan Februari dan Agustus dengan p-ISSN: 0853-1870.
Jurnal Filsafat menerima sumbangan artikel bidang filsafat yang belum pernah dimuat di media lain. 
Alamat Jurnal Filsafat: Gedung Notonagoro Lt. 2, Jl. Olahraga 1 Bulaksumur, Yogyakarta 55281. Telp. (0274) 546605Fax.: (0274) 515368. Email: jurnal-wisdom@ugm.ac.id
Section Policies
Articles
| | | |
| --- | --- | --- |
| Open Submissions | Indexed | Peer Reviewed |
Volume 22
| | | |
| --- | --- | --- |
| Open Submissions | Indexed | Peer Reviewed |
Peer Review Process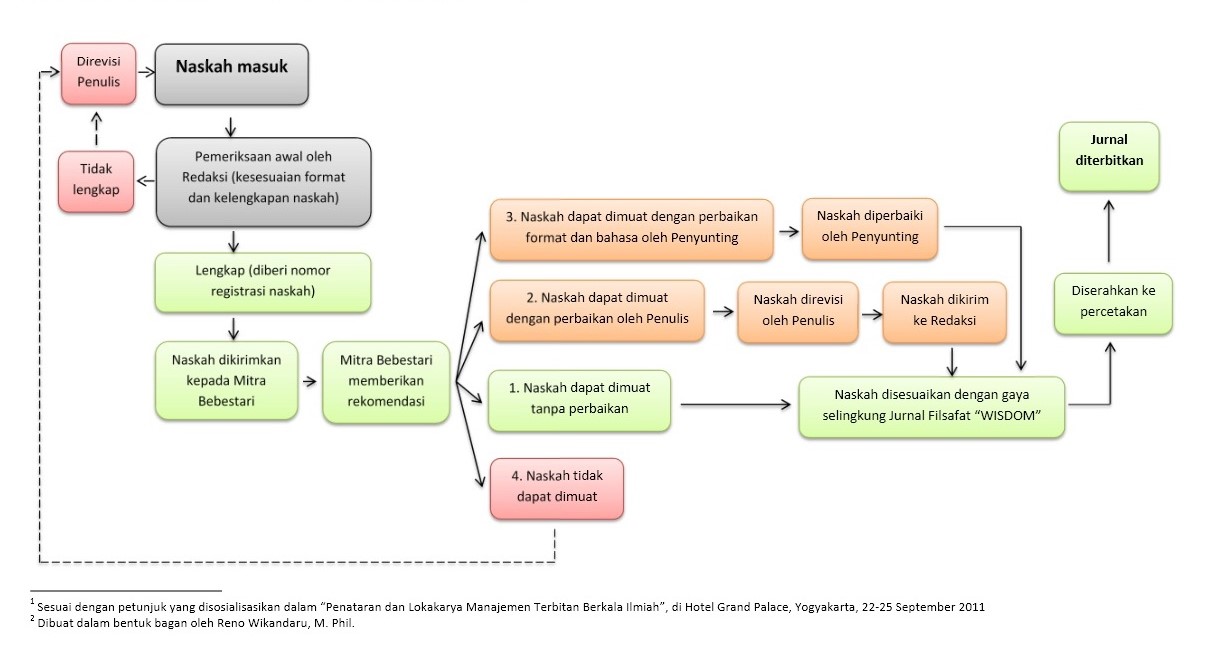 Publication Frequency
Jurnal Filsafat published twice a year in two times issues, Number 1-2 are scheduled for publication: Februay and August.
Open Access Policy
This journal provides immediate open access to its content on the principle that making research freely available to the public supports a greater global exchange of knowledge.
Publication Ethics
Jurnal Filsafat is a scientific journal, which publishes scientific articles of the developments of thinking and research in philosophy. This journal is published twice a year, on February and August. Jurnal Filsafat accepts submissions of philosophy articles, which haven't been published and not in the process of being published in other media. Jurnal Filsafat is committed to applying publication ethics standard strictly and accountably. This journal is available in printed edition with p-ISSN: 0853-1870 and e-ISSN: 2528-6811. Therefore, Jurnal filsafat has formulated publication ethics, which must be obeyed the Publisher, Editors, Reviewers, and Authors.
Publisher's Responsibilities
Jurnal Filsafat is responsible for maintaining privacy and protecting intellectual property and copy right, and editorial independence.
Jurnal Filsafat is responsible for guaranteeing academic freedom for the editors and Mitra Bebestari in performing their tasks.
Jurnal Filsafat as a scientific journal publisher publishes articles which have been edited, peer reviewed, given layout consistent with the regulation of scientific journal publication.
Editors' Responsibilities
The editors of Jurnal Filsafat is responsible for determining the suitability of articles to be published in the journal, while observing legal provisions related to defamation, copy right violation and plagiarism.
The confidentiality of every information on submitted paper or article is always maintained by the Editors and editorial team, unless on author's permission.
The editors make decisions which are fair and free of commercially biased consideration and ensure fairness consistent with peer-review process.
Racial, gender, religious, ethnic, citizenship or political ideological differences of an author must not influence the editors' decisions in both review process and decision making in publishing an article.
The editors shall not use papers not published for scientific activities, which are performed by the editor(s), without written permission from the author(s). Confidential information or idea obtained through peer-review shall be kept confidential and not used for personal gain.
 Authors' Responsibilities
The authors are responsible for writing papers or articles ethically, honestly and accountably, consistent with the regulation of scientific writing in effect.
The authors are responsible for following publication requirements, which are originality, non-plagiarism, and not having been published in other journals or publications.
The authors are responsible in presenting articles of their ideas or researches clearly, honestly, and without plagiarism as well as data manipulation.
The authors are responsible for confirmations submitted for articles they have written.
The authors are responsible for showing references from others' cited opinions and works
The authors must not send/publish the same articles to more than one journal or other form of publication.
Reviewers's Responsibilities
Reviewer is in charge in helping the editors in making editorial decision on the suitability of papers/articles to be published:
Reviewer shall review papers objectively and by using argumentative clarity.
Reviewer shall maintain the confidentiality of article authors' information and not for personal gain.
Reviewer is responsible for citations, references, and plagiarism of the articles it reviews.
Reviewer is responsible for the recommendations of the articles in reviews.
Screening for Plagiarism
The manuscript that submitted into this journal will be screened for plagiarism using aimos 2.
Review Guidelines
Setiap naskah/artikel yang masuk ke Redaksi Jurnal Filsafat, akan ditelaah oleh minimal dua orang Mitra Bebestari yang dipilih berdasarkan kualifikasi dan pengalamannya di dalam mempublikasikan naskahnya di jurnal nasional dan atau internasional. Mitra Bebestari selanjutnya akan memberikan rekomendasi terhadap kelayakan naskah untuk diterbitkan di Jurnal Filsafat.
Beberapa kriteria yang menjadi pedoman proses penelaahan adalah:
Apakah naskah telah menggunakan bahasa Indonesia/Inggris yang baik dan benar?
Apakah judul naskah cukup ringkas dan dapat melukiskan isi makalah dengan jelas?

Apakah abstrak telah merangkum secara singkat dan jelas tentang: tujuan dan ruang lingkup penelitian; ringkasan hasil; simpulan; dan kata kunci?

Apakah bagian Pendahuluan menguraikan dengan jelas tentang: masalah dan ruang lingkup;status ilmiah dewasa ini; cara pendekatan penyelesaian masalah; dan hasil yang diharapkan?

Apakah bagian pembahasan berisi uraian sebagai berikut: terlihat adanya kaitan antara hasil yang diperoleh dan konsep dasar, dan atau hipotesis; dan kesesuaian atau pertentangan dengan hasil penelitian lain.

Apakah kesimpulan berisi secara singkat dan jelas tentang: esensi penelitian; dan penalaran penulis secara logis berdasarkan data yang diperoleh?

Apakah referensi yang dipakai memenuhi syarat kemutakhiran?
Berdasarkan hasil penelaahan terhadap beberapa kriteria di atas, Mitra Bebestari selanjutnya akan memilih rekomendasi-rekomendasi berikut:
Naskah layak dimuat tanpa perubahan.
Naskah dapat dimuat dengan perbaikan oleh Penulis sesuai saran Mitra Bebestari.
Naskah dapat dimuat dengan perbaikan format dan bahasa yang perlu dikerjakan oleh penyunting pelaksana.
Naskah tidak dapat dimuat