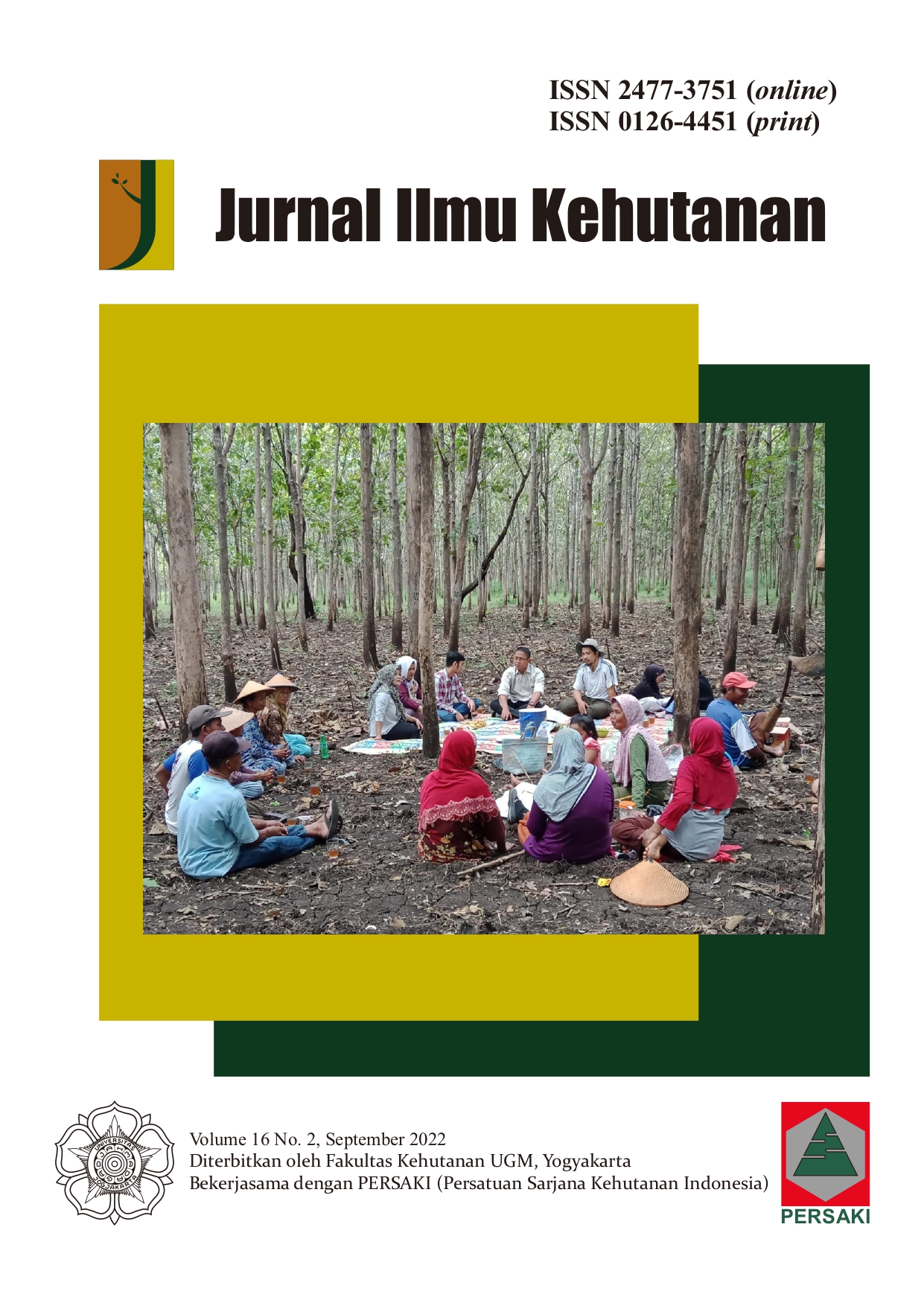 This work is licensed under a Creative Commons Attribution-NonCommercial-ShareAlike 4.0 International License.
Participation Analysis of Social Forestry Program: Case Study in Sanggau District Indonesia
Corresponding Author(s) : Emi Roslinda
eroslinda71@gmail.com
Jurnal Ilmu Kehutanan, Vol 16 No 2 (2022): September

Abstract
As one of the benchmarks for the success of the Community Forestry (HKm) program, participation provided access and increased the capacity to manage state forests. HKm in Sanggau District was initiated and facilitated by various parties with intensive and sustainable empowerment activities. Therefore, this research aimed to analyze participation in managing state forests in the HKm scheme. The level was measured using the Arnstein participation concept in the planning, implementation, and evaluation stages. Data were collected through in-depth interviews, questionnaire distribution, and document reviews, and the analysis employed a qualitative descriptive approach with descriptive statistics. The participation forms included thoughts, ideas, suggestions, and energy contributions to planning, implementation, and evaluation activities. The result showed that the participation level in the research area was in the delegated power stage, through projects/activities conducted by external parties to achieve specific goals.
Keywords
participation
social forestry
community forestry
local community
Sanggau district
Roslinda, E., Rianti, R., & Ershinta, H. (2022). Participation Analysis of Social Forestry Program: Case Study in Sanggau District Indonesia. Jurnal Ilmu Kehutanan, 16(2), 128-141. https://doi.org/10.22146/jik.v16i2.2540
Download Citation
Endnote/Zotero/Mendeley (RIS)
BibTeX
References
Aji GB, Suryanto J, Yulianti R, Wirati A, Abdurrahim AY, Miranda TI. 2014. Poverty Reduction in Villages around the Forest: The Development of Social Forestry Model and Poverty Reduction Policies in Indonesia. Research Center of Population – Indonesian Institute of Science. Jakarta.
Aji GB, Rusida Y, Joko S, Andini DE, Tanjung S, Hasriani M. 2015. Sumbangan hutan kemasyarakatan dan hutan desa terhadap pendapatan dan pengurangan kemiskinan. Pusat Penelitian Kependudukan LIPI, Jakarta.
Arnstein SR. 1969. A ladder of citizen participation. JAIP 35(4): 216-224.
Desmiwati. 2016. Studi Tentang Persepsi Dan Tingkat Partisipasi Petani Penggarap Di Hutan Penelitian Parungpanjang, J: Perbenihan Tanaman Hutan, V: 4(2) 2016, hal. 109-124
Deviyanti. 2013. Studi tentang partisipasi masyarakat dalam pembangunan di Kelurahan Karang Jati Kecamatan Balikpapan Tengah. Journal Administrasi Negara 1(2): 380-394.
Forests and Climate Change Programme (FORCLIME) 2015. Module Lembar Singkat No. 6 : April 2015, akses : www.forclime.org › Briefing Note ›
Golar, Muis H, Ali MN. 2017. Efektivitas Pemberdayaan Masyarakat Wilayah Hutan Lindung: Penerapan Skema Perhutanan Sosial di Desa Namo. Malaysian Journal of Environmental Management 16 (1): 51-59.
ITTO dan KLHK. 2018. Project Completion Report ITTO Project TFL-PD-32/13.Rev 2.(M): Strengthening the Capacity of Local Institutions to Sustainably Manage Community Forestry in Sanggau for Improving Livelihood. Kementerian Lingkungan Hidup dan Kehutanan. Bogor.
Kaharuddin, Pudyatmoko A, Fandheli C, Martani W. 2020. Partisipasi masyarakat lokal dalam pengembangan ekowisata. Jurnal Ilmu Kehutanan 14 (2020): 42-54.
Kementerian Lingkungan Hidup dan Kehutanan. 2016. Peraturan Menteri LHK Nomor 83 Tahun 2016 tentang Perhutanan Sosial.
Kementerian Lingkungan Hidup dan Kehutanan. 2021. Peraturan Menteri LHK Nomor 9 Tahun 2021 tentang Pengelolaan Perhutanan Sosial.
Markum, Setiawan B, Sabani R. 2014. Hutan Kemasyarakatan: Sebuah Ikhtiar Mewujudkan Hutan Lestari Masyarakat Sejahtera. Balai Pengelolaan Daerah Aliran Sungai Dodokan Moyosari NTB.
Maryudi A, Rosan RD, Carsten S, Cornelius Y, Manjola S, Helene A, Ratchananth R, Max K. 2012. Back to basics: considerations in evaluating the outcomes of community forestry. Forest Policy and Economics 14: 1–5.
Maryudi A, Krott M. 2012. Local Struggle for Accessing State Forest Property in a Montane Forest Village in Java, Indonesia. Journal of Sustainable Development 5( 7):62-68.
Musa. 2017. Optimalisasi Peran Pemerintah dalam Pemberdayaan Masyarakat: Sebuah Tawaran dalam Mengentaskan Kemiskinan. Mawa'iz 8(1):107-125
Permatasari C, Soemirat J, Ainun S. 2018. Identifikasi Tingkat Partisipasi Masyarakat Dalam Pengelolaan Air Bersih Di Kelurahan Cihaurgeulis, Jurnal Online Institut Teknologi Nasional, V : 6 (1), akses : ejurnal.itenas.ac.id › article › download.
Reski NA , Yusran Y, Makkarennu M. 2017. Rancangan pemberdayaan masyarakat pada pengelolaan Hutan Kemasyarakatan (Hkm) Desa Pacekke, Kecamatan Soppeng Raja Kabupaten Barru Sulawesi Selatan. Jurnal Hutan dan Masyarakat 9(1):37-43
Rochmayanto Y, Frianto D, Nurrohman E. 2006. Analisis partisipasi pada progran Hutan Kemasyarakatan (Studi Kasus di Koto Panjang Riau). Jurnal Penelitian Sosial&Ekonomi Kehutanan 3(3):175-189
Sudrajat A, Hardjanto, Sundawati L. 2016. Partisipasi petani dalam pengelolaan hutan rakyat lestari: Kasus di Desa Cikeusal dan Desa Kenanga Kabupaten Kuningan. Jurnal Silvikultur Tropika 7(1):8-17
Sugiyono. 2012. Memahami Penelitian Kualitatif. Alfabeta. Bandung.
Sunito S, Suharjito D, Sihaloho M, Purwawangsa H. 2012. Study on Good Practice of Social Forestry for Sustainable Forest Management and REDD+. Divisi Kajian Agraria, Pusat Studi Pembangunan Pedesaan dan Pertanian. Kerjasama Institut Pertanian Bogor dengan JICA Indonesia.
Witno, Maria, Supandi. 2020. Partisipasi masyarakat dalam pengelolaan Hutan Kemasyarakatan (Hkm) Tandung Billa di Kelurahan Battang Kota Palopo. Jurnal Penelitian Kehutanan Bonita 2(2):35-42).
Zeilika E, Kaskoyo H, Wulandari C. 2021. Pengaruh partisipasi dalam pengelolaan Hutan Kemasyarakatan terhadap kesejahteraan petani : Studi kasus Gapoktan Mandiri Lestari di KPH VIII Batutegi). Jurnal Hutan Tropis 9(2):291-300