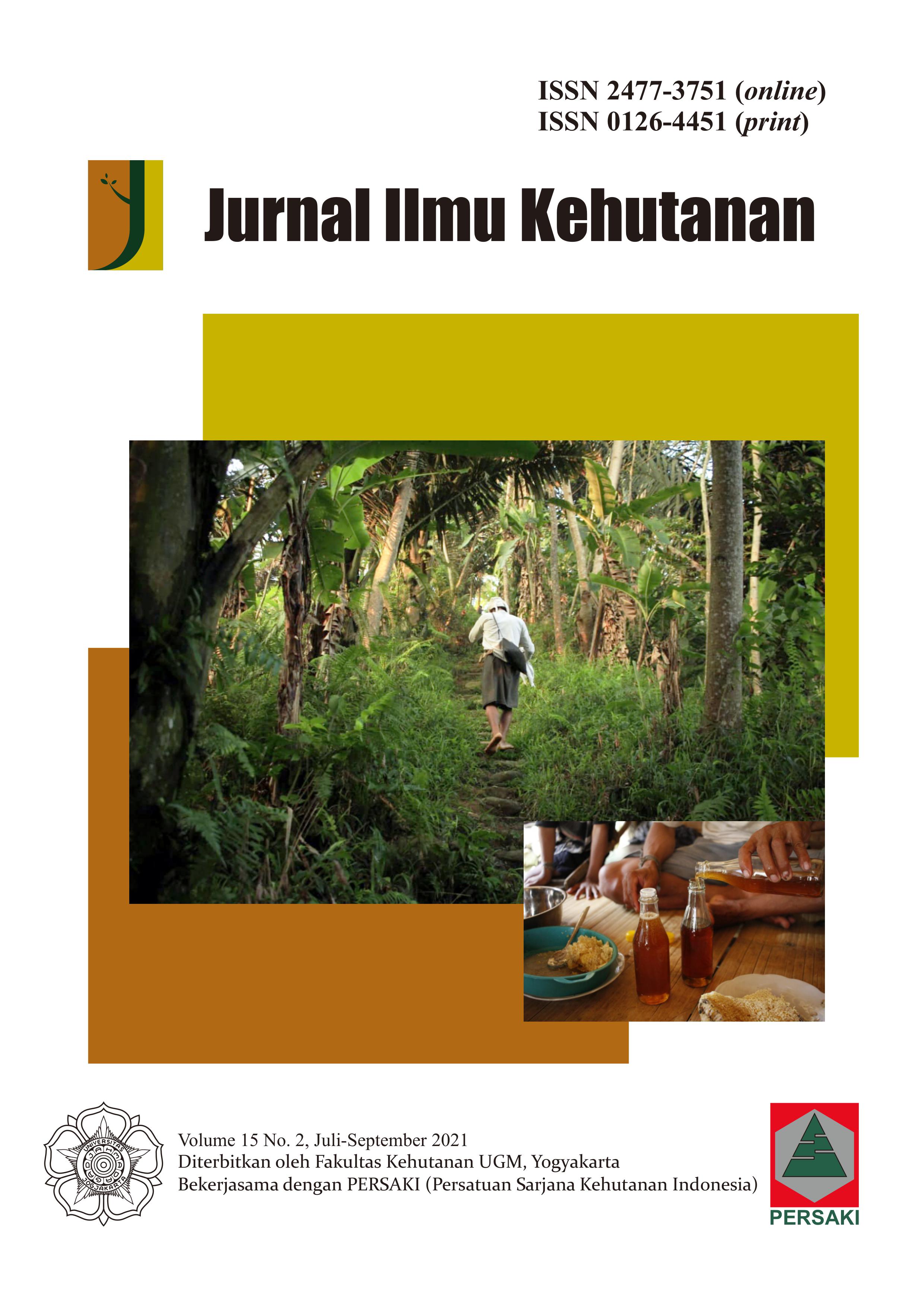 This work is licensed under a Creative Commons Attribution-NonCommercial-ShareAlike 4.0 International License.
Estimation of Aboveground Carbon Stocks in Urban Community Forest at Bandar Lampung City, Lampung Province
Corresponding Author(s) : Vita Arianasari
vitaariana120@gmail.com
Jurnal Ilmu Kehutanan, Vol 15 No 2 (2021): September

Abstract
Community forest plays an equally important role in ecological aspects when compared to other types of forest, one of which is carbon storage that helps in mitigating global climate change. The existence of community forests that are part of urban areas is quite rare, so this research needs to be carried out considering its special location. This study aimed to estimate the carbon storage contained in urban community forests, Bandar Lampung City, Lampung Province. The methods used in this research were destructive and non-destructive. Carbon storage measurements were carried out in three carbon pools, namely aboveground biomass; necromasses; litter, and understorey. The measurements were carried out by a vegetation inventory on 15 plot clusters located in the study area. The results indicated that the average value of carbon storage was 54.59 tC/ha with a value interval of 48.93 tC/ha up to 60.26 tC/ha. Aboveground biomass held the largest percentage as a contributor to carbon storage 95.71%, followed by necromass 4.23%, litter and understory 0.05%.
Keywords
carbon storage
forest inventory
community forest
Arianasari, V., & Kaskoyo, H. (2021). Estimation of Aboveground Carbon Stocks in Urban Community Forest at Bandar Lampung City, Lampung Province. Jurnal Ilmu Kehutanan, 15(2), 174-184. https://doi.org/10.22146/jik.v15i2.1537
Download Citation
Endnote/Zotero/Mendeley (RIS)
BibTeX
References
Afriansyah D, Duryat, Kaskoyo H. 2019. Kontribusi komposisi vegetasi dalam penyimpanan dan serapan karbon di hutan rakyat desa Negara Ratu II Kecamatan Natar Kabupaten Lampung Selatan. Jurnal Belantara 2(2):112-118.
Aprianto D, Christine W, Niskan WM. 2016. Karbon tersimpan pada kawasan sistem agroforestri di Register 39 Datar Setuju KPHL Batutegi Kabupaten Tanggamus. Jurnal Sylva Lestari 4(1):21-30.
Albrecht A, Kandji ST. 2003. Carbon sequestration in tropical agroforestry systems. Agriculture Ecosystems and Environment 99:15-27.
Al-Reza DD, Hermawan R, Prasetyo LB. 2017. Potensi cadangan karbon di atas permukaan tanah di Taman Hutan Raya Pancoran Mas, Depok. Jurnal Media Konservasi 22(1):71-78.
BRG. 2018. Penentuan tingkat rujukan (reference level) untuk menduga penurunan emisi dari restorasi gambut. Hlm. 61. Badan Restorasi Gambut Republik Indonesia. Jakarta.
BSN. 2011. Pengukuran dan penghitungan cadangan karbon. Pengukuran lapangan untuk penaksiran cadangan karbon hutan (ground based forest carbon accounting). Hlm. 24. Badan Standardisasi Nasional. Jakarta.
Boy J. 2018. Seeing the forest not for the carbon: why concentrating on land-use-induced carbon stock changes of soils in Brazil can be climate-unfriendly. Jurnal Reg Environ Change 18: 63-75.
Brown S. 1997. Estimating biomass and biomass change of tropical forest a primer. USA : FAO. Forestry Paper 134:10-13.
Chave J, Andalo C, Brown S, Cairns MA, Chambers JQ, Eamus D, Folster H, Fromard F, Higuchi N, Kira T, Lescure J-P, Nelson BW, Ogawa H, Puig H, Riera B, Yamakura T. 2005. Tree allometry and improved estimation ofand balance in tropical forests. Jurnal Oecologia 145:87-99.
CIFOR. 2017. Cadangan karbon di lahan gambut. https://core.ac.uk/download/pdf/193250939.pdf (diakses Juli 2020).
Darmawan A, Warta Z, Molidena E, Valla A, Firdaus MI, Hisan, Winarno GD, Winarno B,Rusolono T, dan Tsuyuki S. 2020. Aboveground forest carbon stock in protected area: A case study of Bukit Tigapuluh National Park, Indonesia. Under review.
Hairiah K, Ekadinata A, Sari RR, Rahayu S. 2011. Pengukuran cadangan karbon: dari tingkat lahan ke bentang lahan: petunjuk praktis edisi kedua. World Agroforestry Centre: ICRAF SEA Regional Office, Universitas Brawijaya. Malang. 110 hlm.
Hairiah K, Rahayu S. 2007. Pengukuran karbon tersimpan di berbagai macam penggunaan lahan. World Agroforestry Centre. Bogor.
Ikhwan M, Sadjati E, dan Insusanty E. 2017. Pendugaan potensi tegakan ekaliptus (Eucaliptus pellita F. Meull). Jurnal Wahana Forestra 12(2):130-137.
Ivando D, Banuwa IS, Bintoro A. 2019. Karbon tersimpan pada berbagai tipe kerapatan tegakan di hutan rakyat Desa Sukoharjo I Kecamatan Sukoharjo Kabupaten Pringsewu. Jurnal Belantara 2(1):53-61.
Kaskoyo H, Mohammed A, Inoue M. 2017. Impact of community forest program in protection forest on livelihood outcomes : a case study of Lampung Province, Indonesia. Journal of Sustainable Forestry 36:250-263.
Keputusan Menteri Kehutanan Nomor P. 88/Menhut-II/2003 tentang Hutan primer.
Mangold R. 1997. Forest Health Monitoring: Field Methods Guide. Buku. USDA Forest Service. New York.246 hlm.
Manuri S, Putra CAS dan Saputra AD. 2011. Teknik Pendugaan Cadangan Karbon Hutan. Merang REDD Pilot Project, German International Cooperation (GIZ). Palembang.
Murdiyarso D, Hergoualch K, Basuki I, Sasmito SD, Hanggara B. 2017. Carbon stocks. p.2. Bogor. http://www.cifor.org/publications/pdf_files/flyer/ 6439-flyer.pdf (diakses Desember 2020).
Nair PKR, Kumar BM, Nair VD. 2009. Agroforestry as a strategy for carbon sequestration. Journal of Plant Nutrition Soil Science 172:10-23.
Nofrianto, Ratnaningsih AT, Ikhwan M. 2018. Pendugaan potensi karbon tumbuhan bawah dan serasah di Arboretum Universitas Lancang Kuning. Jurnal Wahana Forestra 13(2):144-155.
Nurdina, IF., Kustanti A. dan Hilmanto R. 2015. Motivasi petani dalam mengelola hutan rakyat di desa sukoharjo 1 Kecamatan Sukoharjo Kabupaten Pringsewu. Jurnal Sylva Lestari 3(3):51-62.
Purwanto RH. 2012. Potensi biomasa dan simpanan karbon jenis-jenis tanaman berkayu di hutan rakyat Desa Nglanggeran, Gunung Kidul, Daerah Istimewa Yogyakarta. Jurnal Ilmu Kehutanan 4(1):128-141.
Ristiara L. 2016. Estimasi Karbon Tersimpan pada Hutan Rakyat di Pekon Kelunggu Kabupaten Tanggamus. Skripsi : Universitas Lampung. Bandar Lampung.
Ristiara L, Hilmanto R, Duryat. 2017. Estimasi karbon tersimpan pada hutan rakyat di Pekon Kelunggu Kabupaten Tanggamus. Jurnal Sylva Lestari 5(1):128-138.
Rizki GM. 2016. Perbandingan emisi karbon dengan karbon tersimpan di hutan rakyat Desa Buana Sakti Kecamatan Batanghari Kabupaten Lampung Timur. Jurnal Sylva Lestari 4(1):89-96.
Safe'i R, Hardjanto, Supriyanto, dan Sundawati L. 2015. Pengembangan metode penilaian kesehatan hutan rakyat sengon (Falcataria moluccana). Jurnal Penelitian Hutan Tanaman 12(3):175-187.
Sudayarti FD. 2013. Simpanan karbon pada komponen biomassa vegetasi hutan rakyat di Desa Plipir, Kecamatan Purworejo, Provinsi Jawa Tengah. Skripsi, Universitas Gadjah Mada, Yogyakarta.
Sugirahayu L, Rusdiana O. 2011. Perbandingan simpanan karbon pada beberapa penutupan lahan di Kabupaten Paser, Kalimantan Timur berdasarkan sifat fisik dan sifat kimia tanahnya. Jurnal Silvikultur Tropika 2(3):149-155.
Sutarahardja SS, Hardjorajitno S, Manan, Ngadino W, Soekotjo P, Wiroatmodjo Y, Setiadi R, Atmawidjaja HB, Nasoetion, Soediono J. 1982. Pedoman dan petunjuk inventarisasi hutan. Direktorat Bina Program Kehutanan Bogor. Bogor.
Widiyanto, A. 2011. Mitigasi perubahan iklim melalui agroforestri: sebuah perspektif. Jurnal Hutan Indonesia 2(1):1-11
Wanderi W, Qurniati R, Kaskoyo H. 2019. Kontribusi tanaman agroforestri terhadap pendapatan dan kesejahteraan petani. Jurnal Sylva Lestari 7(1):118-127.
Widarti A. 2015. Kontribusi hutan rakyat untuk kelestarian lingkungan dan pendapatan. In Prosiding Seminar Nasional Masyarakat. Biodiversity Indonesia. 1(7):1622-1626.
Widyasari NAE, Saharjo BH, Solichin, Istomo, 2010. Pendugaan biomassa dan potensi karbon terikat di atas permukaan tanah hutan rawa gambut bekas terbakar di Sumatera Selatan. Jurnal Ilmu Pertanian Indonesia 15(1):41-49.
Windusari Y, Nur APS, Yustian N, Zulkifli H. 2012. Dugaan cadangan karbon biomassa tumbuhan bawah dan serasah di kawasan suksesi alami pada area pengendapan tailing PT Freeport indonesia. Biospecies 5(1):22-28.
Yamani A. 2013. Studi kandungan karbon pada hutan alam sekunder di hutan pendidikan Mandiangin Fakultas Kehutanan Unlam. Jurnal Hutan Tropis 1(1):85-91.
Yuniawati, Budiman A, Elias. 2011. Estimasi potensi biomassa dan massa karbon hutan tanaman Acacia crassicarpa di lahan gambut: studi kasus di areal HTI Kayu Serat di Pelalawan, Provinsi Riau. Jurnal Penelitian Hasil Hutan 29(4):343-355.