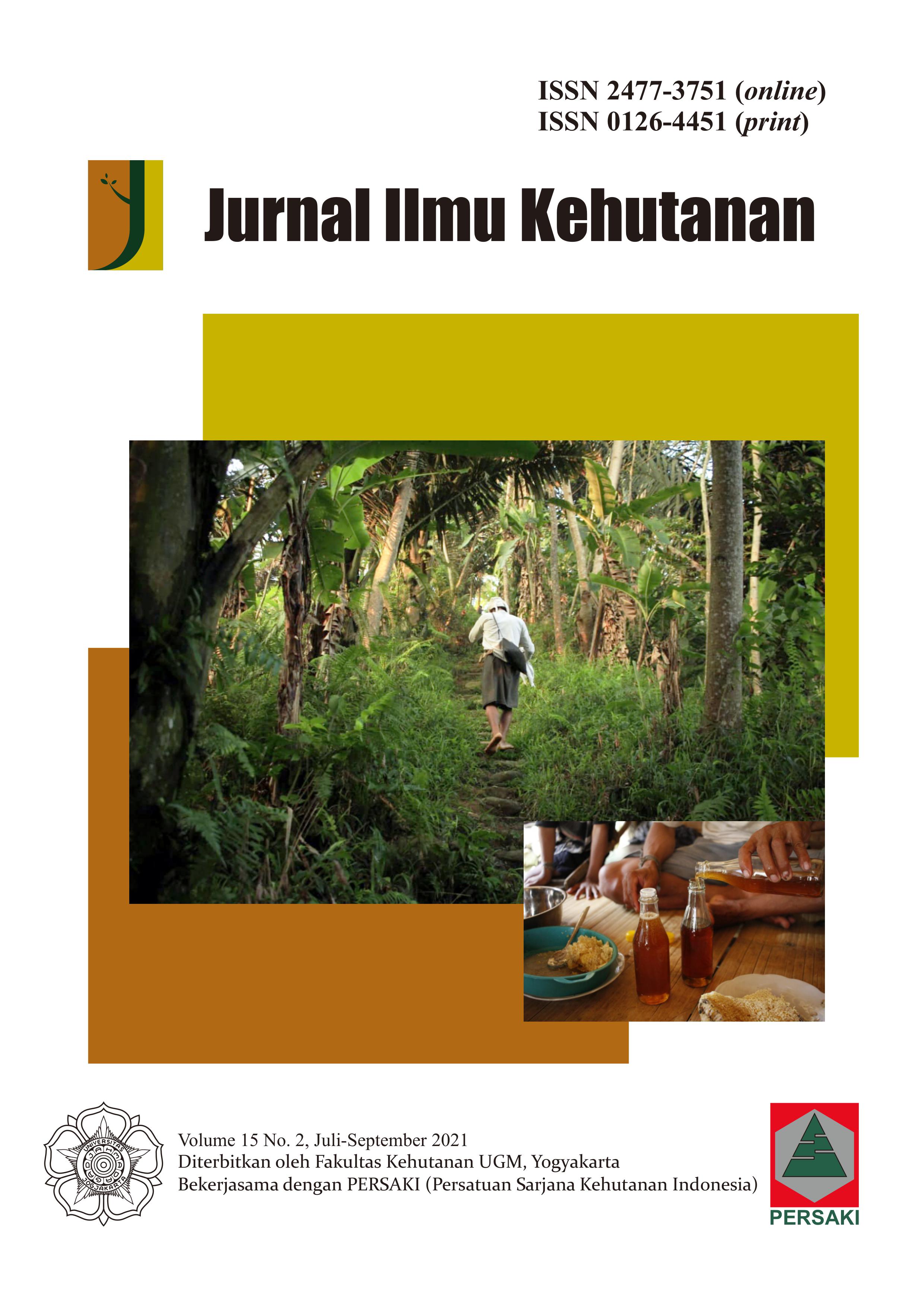 This work is licensed under a Creative Commons Attribution-NonCommercial-ShareAlike 4.0 International License.
Study on Socio-Economic of Peatland Community in Tanjung Jabung Timur Regency, Jambi
Corresponding Author(s) : Surati Surati
tatisurati@yahoo.co.id
Jurnal Ilmu Kehutanan, Vol 15 No 2 (2021): September

Abstract
This research  aimed to  analyze the socio economic and its dynamics of the community in Sidomukti Village, Dendang District, and Pandan Sejahtera Village, Geragai District, Tanjung Jabung Timur Regency, Jambi Province. Respondents were selected purposively based on their farming practices on deep peatlands. Thematic and descriptive analyses were used in this research. The results showed that the majority of the communities of the two villages was Javanese who came to the villages through transmigration programs in the 1980s. Their had insufficient knowledge about peatland utilization because they used to manage mineral soil in their place of origins. Their main jobs were farmers, planters, and laborers  with oil palm and areca nut as the main commodities. The average income in Pandan Sejahtera Village was IDR3,832,800/month, greater than in Sidomukti Village which was IDR3,661,850/month. Farmers tended to plant commodities that were currently favored in the market instead of their suitablility with the biophysical conditions of peatlands. Guidance is needed to improve farmers' knowledge of land management and species selection that have high economic values and market captures as well as are suitable for biophysical properties of deep peatlands and agroforestry techniques.
Keywords
social
economic
peatland
livelihood
Tanjung Jabung Timur
References
Akbar, A., Sumardi, S., Hadi, R., Purwanto, P., & Sabarudin, M. S. (2018). STUDI SUMBER PENYEBAB TERJADINYA KEBAKARAN DAN RESPON MASYARAKAT DALAM RANGKA PENGENDALIAN KEBAKARAN HUTAN GAMBUT DI AREAL MAWAS KALIMANTAN TENGAH. Jurnal Penelitian Hutan Tanaman. https://doi.org/10.20886/jpht.2011.8.5.287-300
Amanah, S., Hastuti, E. L., & Basuno, E. (2008). Aspek Sosial Budaya dalam Penyelenggaraan Penyuluhan : Kasus Petani di Lahan Marjinal. Jurnal Transdisiplin Sosiologi, Komunikasi, Dan Ekologi Manusia, 2(3), 301–320.
Arbi, M., & Prayitno, M. B. (2009). Kondisi Sosial Ekonomi dan Hubungannya dengan Perilaku Masyarakat Sekitar Lahan Gambut Kawasan HPT di Kayu Agung. Jurnal Sosial Ekonomi Pertanian, 3(3), 15–24.
Asbiliyah, Alamsyah, Z., & Nainggolan, S. (2014). Analisis Integrasi Pasar Pinang Kabupaten Tanjung Jabung Barat. Jurnal Sosio Ekonomika Bisnis, 17(2), 31–42.
BPS. (2017). Kabupaten Tanjung Jabung Timur Dalam Angka 2017. Badan Pusat Statistik Kabupaten Tanjung Jabung Timur.
Busyra. (2018). Identifikasi Lahan Gambut Skala 1:50.000 di Kota Jambi, Kabupaten Kerinci dan Kabupaten Merangin. Retrieved from Litbang Pertanian website: https://jambi.litbang.pertanian.go.id
Darmawan, B., Siregar, Y. I., Sukendi, & Zahrah, S. (2016). Pengelolaan Berkelanjutan Ekosistem Hutan Rawa Gambut Terhadap Kebakaran Hutan dan Lahan di Semenanjung Kampar, Sumatera. Jurnal Manusia Dan Lingkungan, 23(2), 195–205.
Darmawan, H., MTS, J., & Wibowo, H. (2008). Perubahan muka air pada tanah gambut akibat penanaman kelapa sawit di desa mega timur Kecamatan Sungai Ambawang. Jurnal Teknik Sipil UNTAN, 8(2).
Fajri, & Agussabti. (2008). Sosial Ekonomi Kehidupan Masyarakat : Studi Ekosistem Rawa Tripa. Banda Aceh : Program Studi Magister Agribisnis, Program Pascasarjana Universitas Syiah Kuala, Darussalam.
Gunawan, H., & Afriyanti, D. (2019). Potensi Perhutanan Sosial dalam Meningkatkan Partisipasi Masyarakat dalam Restorasi Gambut. Jurnal Ilmu Kehutanan, I3(2), 227–236. https://doi.org/10.1111/gcb.13051
Hartatik, W., Husnain, & Widowati, L. R. (2015). Peranan Pupuk Organik dalam Peningkatan Produktivitas Tanah dan Tanaman. Jurnal Sumberdaya Lahan, 9(2), 107–120.
Hartono, P., & Trismiyati. (2016). Klasifikasi Biji Pinang Belah pada Pengembangan Mesin Sortir Pinang Menggunakan Pengolahan Citra Digital. Jurnal Riset Industri, 10(2), 61–82.
Harun, M. K. (2015). Getah Jelutung Sebagai Hasil Hutan Bukan Kayu Unggulan di Lahan Gambut. Jurnal Penelitian Sosial Dan Ekonomi Kehutanan, 12(1), 43–57.
Indriani, D., Gunawan, H., & Sofiyanti, N. (2015). Survival Rate dan Total Akumulasi Biomassa Permukaan dari Lima Jenis Pohon yang digunakan dalam Eksperimen Restorasi pada Lahan Gambut Bekas Terbakar di Area Transisi Cagar Biosfer Giam Siak Kecil - Bukit Batu Desa Tanjung Leban, Bengkalis, Riau. Jurnal JOM FMIPA, 2(1), 170–175.
Irawanti, S., Surati, Handoyo, Ariawan, K., Mulyadin, R. M., Kurniawan, A. S., & Charity, D. (2017). Analisis Mata Pencaharian Masyarakat di Lahan Gambut (Laporan Hasil Penelitian). Bogor : BRG - Pusat Litbang Sosial, Ekonomi, Kebijakan dan Perubahan Iklim (unpublished).
Komori, M. (2017). Thematic Analysis. Retrieved from http://designresearchtechniques.com/casestudies/thematic-analysis (8 Januari 2018)
KPHP Unit XIV. (2017). Dokumen Tata Hutan KPHP Unit XIV Kabupaten Tanjung Jabung Timur, Provinsi Jambi. Tanjung Jabung Timur, Kesatuan Pengelolaan Hutan Produksi (KPHP) Unit XIV.
Krisnohadi, A. (2011). Analisis Pengembangan Lahan Gambut untuk Tanaman Kelapa Sawit Kabupaten Kubu Raya. Jurnal Tek. Perkebunan & PSDL, 1, 1–7.
Larasati, B., Kanzaki, M., Purwanto, R. H., & Sadono, R. (2019). Fire Regime in a Peatland Restoration Area: Lesson from Central Kalimantan. Jurnal Ilmu Kehutanan, 13(2), 210. https://doi.org/10.22146/jik.52436
Malta. (2011). Faktor-Faktor yang Berhubungan dengan Kinerja Petani Jagung di Lahan Gambut. Jurnal Mimbar, XXVII(1), 67–78.
Martin, E., & Winarno, B. (2010). Peran Parapihak dalam Pemanfaatan Lahan Gambut; Studi Kasus di Kabupaten Ogan Komering Ilir, Sumatera Selatan. Jurnal Analisis Kebijakan Kehutanan, 7(2), 81–95.
Mawardati. (2015). Analisis Faktor-Faktor Yang Mempengaruhi Pendapatan Usahatani Pinang Kecamatan Sawang Kabupaten Aceh Utara. Jurnal Agrisep, 16(1), 61–65. Retrieved from https://media.neliti.com/media/publications/13210-ID-analisis-faktor-faktor-yang-mempengaruhi-pendapatan-usahatani-pinang-kecamatan-s.pdf
Miettinen, J., Hooijer, A., Vernimmen, R., Liew, S. C., & Page, S. E. (2017). From carbon sink to carbon source: extensive peat oxidation in insular Southeast Asia since 1990. Envrionmental Research Letter 12 : 11.
Mubekti. (2011). Studi Pewilayahan dalam rangka Pengelolaan Lahan Gambut Berkelanjutan di Provinsi Riau. Jurnal Sains Dan Teknologi Indonesia, 13(2), 88–94.
Natassia, R., & Utami, H. Y. (2016). Pengaruh Harga Pinang Terhadap Volume Ekspor Pinang Study Kasus Pada Perusahaan Eksportir CV. Putra Al-Amin. Journal of Economic and Economic Education, 5(1), 6–12.
Noor, M., Masganti, Agus, F., Wahyunto, Nugroho, K., Ritung, S. R., … Mamat, H. S. (2014). LAHAN GAMBUT INDONESIA Pembentukan, Karakteristik, dan Potensi Mendukung Ketahanan Pangan (Edisi Revisi) (F. Agus, M. Anda, A. Jamil, & Masganti, Eds.). Jakarta: IAARD Press, Badan Penelitian dan Pengembangan Pertanian.
Prayoga, K. (2016). Pengelolaan Lahan Gambut Berbasis Kearifan Lokal di Pulau Kalimantan. Prosiding Seminar Nasional Lahan Basah, (3), 1016–1022. Banjarmasin : Lembaga Penelitian dan Pengabdian kepada Masyarakat, Universitas Lambung Mangkurat.
Rahman, D., Elwamendri, & Damayanti, Y. (2014). Analisis Tataniaga Pinang (Areca catechu) pada Pasar Produsen di Muara Sabak Timur, Tanjung Jabung Timur. Jurnal Sosio Ekonomika Bisnis, 17(2), 1–11.
Rawlins, A. E. (2008). The socio-economic aspects of peatland management: an ecosystems approach. PhD Thesis, Cranfield University.
Rawlins, A., & Morris, J. (2010). Social and economic aspects of peatland management in Northern Europe, with particular reference to the English case. Geoderma. https://doi.org/10.1016/j.geoderma.2009.02.022
Surati, Irawanti, S., Charity, D., Handoyo, Ariawan, K., Kurniawan, A. S., & Mulyadin, R. M. (2019). Analisis Mata Pencaharian Di Lahan Gambut: Kasus Kabupaten Tanjung Jabung Barat. Jurnal Penelitian Sosial Dan Ekonomi Kehutanan, 16(2), 81–93.
Wardie, J. (2016). Analisis Sustainabilitas Usahatani Padi pada Lahan Gambut di Kabupaten Kapuas. Jurnal AGRIC, 28(1 & 2), 87–94.
Wijaya, A., Gumelar, P., Noor, A., Purwanto, J., & Budi, D. S. (2013). Tipologi Sosial, Ekonomi dan Budaya Masyarakat Di Wilayah Mahakam Tengah : Fasilitasi dan Advokasi Kesiapan Masyarakat dan Pemerintah Lokal dalam Kerangka Potensi Proyek REDD+ di Mahakam Tengah, Kabupaten Kutai Kertanegara, Kalimantan Timur (S. Hakim, Ed.). Samarinda, Kalimantan Timur: Yayasan Bioma - Clinton Climate Initiative - Pemda Kutai Kertanegara.