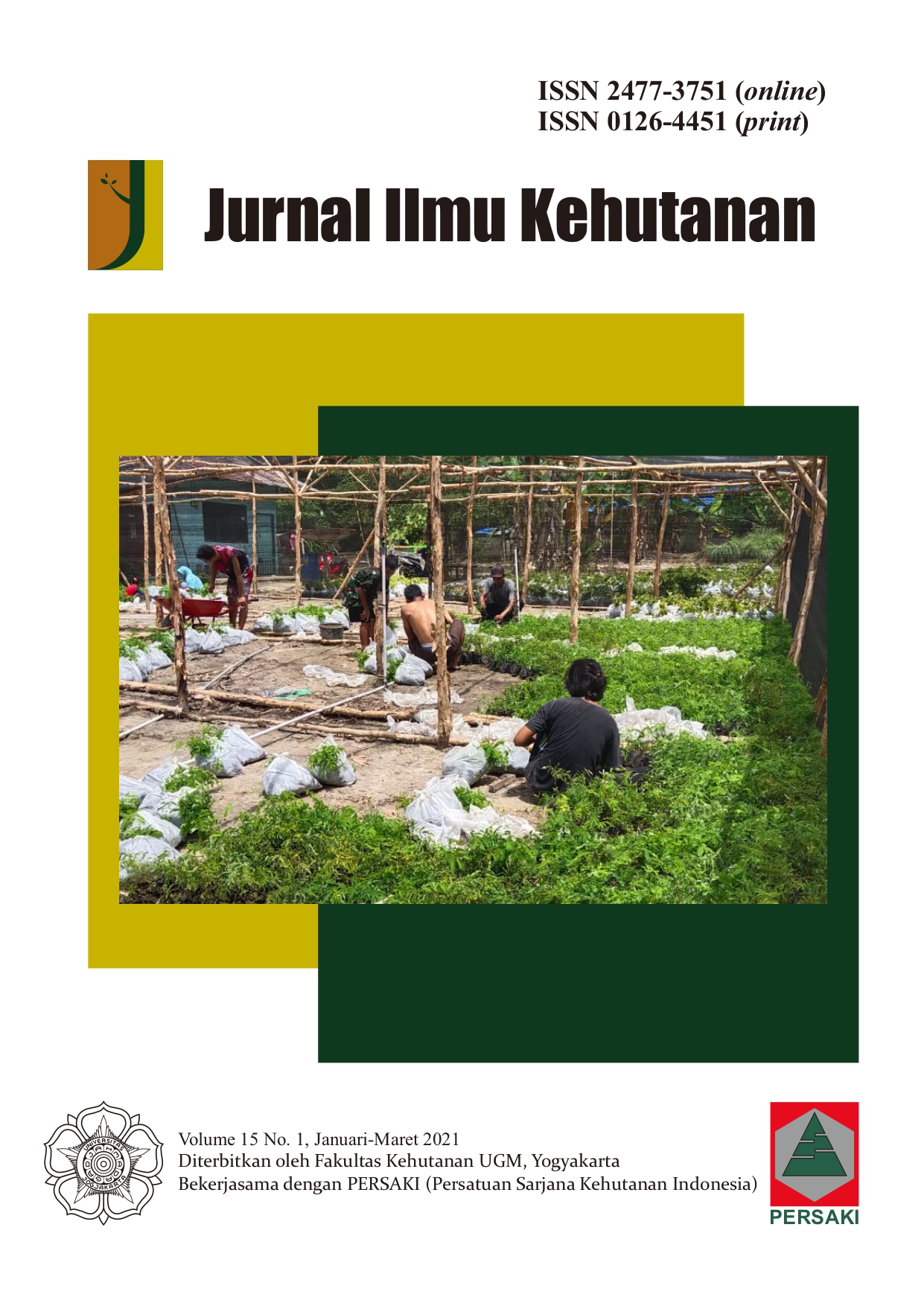 This work is licensed under a Creative Commons Attribution-NonCommercial-ShareAlike 4.0 International License.
Financial Comparison of Bamboo and Sengon Cultivation
Corresponding Author(s) : Haris Prasetyo
harisprasetyo785@gmail.com
Jurnal Ilmu Kehutanan, Vol 15 No 1 (2021): Maret

Abstract
Bamboo is proven to provide multi-benefits from the aspects of production, ecology and socio-economic. However, bamboo is still not fully developed. People tend to replace bamboo with wood species which are considered to be more profitable, one of them is sengon. The purpose of this study was to analyze bamboo management practices carried out by farmers and compare between sengon and bamboo cultivation which is more financially profitable. Financial analysis conducted includes: Net Present Value (NPV), Benefit Cost Ratio (BCR) and Internal Rate of Return (IRR). Analysis of market aspect and social aspect using the Market Analysis and Development (MA&D) method. The sensitivity analysis is carried out on the condition of fixed income while costs increase by 10% and 30% and fixed costs while income rises by 10% and 30%. The analysis included the analysis of market aspect and social aspect. The results of the financial analysis showed that the cultivation of petung bamboo with a spacing of 6x6 meters gave the highest yield with NPV value of IDR330.329.538, BCR 29.10 and IRR of 25.18%. Nevertheless; looking at market and social aspects, bamboo and sengon can be developed in agroforestry to ensure sustainability and continuity of income for farmers. Bamboo and sengon cultivation business is feasible to be conducted because the high demand which cannot be met from the existing sources.
Keywords
financial analysis
agroforestry
cultivation
bamboo
sengon
Prasetyo, H., Nurrochmat, D. R., & Sundawati, L. (2021). Financial Comparison of Bamboo and Sengon Cultivation. Jurnal Ilmu Kehutanan, 15(1), 89-101. https://doi.org/10.22146/jik.v15i1.1502
Download Citation
Endnote/Zotero/Mendeley (RIS)
BibTeX
References
Balai Pengelolaan Daerah Aliran Sungai Serayu Opak Progo. 2013. Rencana Pembentukan Sentra Bambu Kabupaten Sleman 2013-2017. Balai Pengelolaan Daerah Aliran Sungai Serayu Opak Progo (BPDAS SOP), Yogyakarta.
Badan Pusat Statistik Indonesia. 2015. Buletin Statistik Perdagangan Luar Negeri Ekspor Menurut Harmonized System Desember 2015. Badan Pusat Statistik Indonesia, Jakarta.
Badan Pusat Statistik Kabupaten Sleman. 2017. Kabupaten Sleman dalam Angka 2017. Badan Pusat Statistik Kabupaten Sleman, Sleman.
Christanty L, Mailly D, Kimmins JP. 1996. "Without bamboo, the land dies": Biomass, litterfall, and soil organic matter dynamics of a Javanese bamboo talun-kebun sistem. Forest Ecology and Management. 87: 75-88.
Dinas Pertanian, Perikanan dan Kehutanan Kabupaten Sleman. 2014. Data Inventarisasi Potensi Tanaman Bambu Kabupaten Sleman Tahun 2014 [Laporan]. Dinas Pertanian, Perikanan dan Kehutanan Kabupaten Sleman, Sleman.
Dinas Pertanian, Perikanan dan Kehutanan Kabupaten Sleman. 2016. Data Perkembangan Pembangunan Hutan Tanaman Bambu Kabupaten Sleman. Dinas Pertanian, Perikanan dan Kehutanan Kabupaten Sleman, Sleman.
Gittinger JP. 1986. Analisa Ekonomi Proyek-Proyek Pertanian. Terjemahan dari: Economic Analysis of Agriculture. Sutomo S dan Mangiri K. UI Press, Jakarta.
Hani A, Fauziyah E, Widyaningsih TS, Kuswantoro DP. 2018. Potensi dan pola agroforestri yang mendukung kelestarian bamboo di Desa Sukaharja Kabupaten Ciamis. Jurnal Wasian. 5(2): 115-125.
Hendartin E. 2004. Analisis insentif indutri pengolahan bambu di Kabupaten Anji Republik Rakyat Cina dan implikasinya bagi pengembangan bambu di Kabupaten Tasikmalaya, indonesia [tesis]. Institut Pertanian Bogor, Bogor.
Indonesian barecore Association. 2015. Press release IbcA pada Rapat Kerja Nasional ke-2. barecore.org/wp-content/uploads/2016/.../Press-release-IbcA-07-November-2015.pdf diakses pada 4 September 2017.
Irawanti S, Suka AP, Ekawati S. 2012. Manfaat ekonomi dan peluang pengembangan hutan rakyat sengon di kabupaten Pati. Jurnal Penelitian Sosial dan Ekonomi Kehutanan. 9(3): 126 – 139.
Iskandar J, Iskandar BS. 2013. Sistem agroforestri tradisional berbasis tanaman bambu berperan penting dalam menunjang sosial ekonomi penduduk dan pelestarian lingkungan di Jawa Barat. Prosiding Seminar Agroforestri 2013. pp. 591-597.
Khotimah H, Sutiono. 2014. Analisis kelayakan finansial usaha budidaya bambu. Jurnal Ilmu Kehutanan. 8(1): 14-24.
Kementerian Lingkungan Hidup dan Kehutanan. 2020. Pemerintah Kembangkan Strategi Nasional Industri Bambu. Siaran Pers Kementerian LHK 15 Desember 2020.
Krishnankutty CN. 2004. Benefit–cost analysis of bamboo in comparison with other crops in mixed cropping home gardens in Kerala State, India. Journal Bamboo and Rattan. 3(2): 99-106.
Lecup I, Nicholson K, Purwandono H, Karki S. 1998. Methods for assessing the feasibility of sustainable non-timber forest product-based enterprises. Di dalam: Wollenberg E, Ingles A, editor. Incomes from the forest: methods for development and conservation of forest products for lokal communities. Bogor (ID): Center for International Forestry Research (CIFOR).
Lou Y, Li Y, Buckingham K, Henley G, Zhou G. 2010. Bamboo and Climate Change Mitigation: a comparative analysis of carbon sequestration. International Network for Bamboo and Rattan (INBAR), Beijing.
Magati PO, Kipwage JA, Omondi SG, Ruigu G, Omwansa W. 2012. A cost-benefit analysis of substituting bamboo for tobacco: a case study of smallholder tobacco farmers in South Nyanza, Kenya. Science Journal of Agricultural Research & Management. 2012(2): 1-8.
Prihatmaji Y. 2017. Bambooland. Disampaikan pada bimbingan teknis pasca panen bambu. Sleman, 29-31 Maret 2017.
Purnatiyo D. 2014. Analisis Kelayakan Investasi Alat DNA Real Time Thermal Cycler (RT-PCR) Untuk Pengujian Gelatin. Jurnal PASTI. 8(2): 212-226.
Rabik A, Brown B. 2013. Menuju Perhutanan Bambu Resilien (Tangguh): Panduan Referensi Peningkatan Pengelolaan Bambu Berumpun untuk Bahan Bangunan dan Mebel. Yayasan Bambu Lestari, Bali.
Rao IVR, Motukuri B, Karpe S. 2009. Breaking barriers and creating capital: Sustainable development with bamboo in the Konkan Region. Maharashtra, India.
Razal RA, Bantayan RB, Delgado TS, Elec JA. 2013. Bamboo poles for engineered-bamboo products through improved clump management and harvesting: lessons for the Philippines. Ecosistems and Development Journal. 4(1): 39-49.
Sadikin A. 2010. Telaah Konflik Ranking Dalam Menilai Usulan Proyek. Majalah Ilmiah Ekonomika. 13(3): 75 – 129.
Simatupang RF, Latifah S, Afifuddin Y. 2013. Nilai ekonomi dan kontribusi hutan rakyat bambu (Bambusa sp) (Studi Kasus di Desa Telagah, Kecamatan Sei Bingai, Kabupaten Langkat). Peronema Forestry Science Journal. 2(1): 23-29.
Sugiyanto C, Fikri AAHS. 2016. Ekonomi Sumber Daya Alam. UPP STIM YKPN, Yogyakarta.
Sutiyono. 2014. Budidaya Bambu. Badan Litbang Kementerian Kehutanan, Bogor.
Tewari S, Banik RL, Kaushal R, Bhardwaj DR, Chaturvedi OP. Gupta A. 2015. Bamboo based agroforestry sistems. In Kaushik S, Singh YP, Kumar D, Thapliyal M, Barthwal S. Bamboos in India. ENVIS Centre on Forestry, India.
Winarno, SH. 2014. Analisis Penilaian Keputusan Investasi Menggunakan Metode Net Present Value. Jurnal Moneter. 1(1):42-50.
Yeni I, Yuniati D, Khotimah H, Agustarini R. 2015. Studi Kelayakan Pengembangan Industri Bambu di Kabupaten Bangli, Bali [Laporan Kegiatan 1.3. ITTO PD 600/11 Rev. 1(I)]. FORDA-ITTO Bamboo Project, Bogor.