Perpustakaan dalam pelestarian warisan budaya di Indonesia tinjauan literatur sistematis
Septa Septa

Departemen Ilmu Perpustakaan, Fakultas Ilmu Pengetahuan Budaya, Universitas Indonesia

Tamara Adriani Salim

Departemen Ilmu Perpustakaan, Fakultas Ilmu Pengetahuan Budaya, Universitas Indonesia
Keywords:
library, preservation, culture heritage, sysatic literature, Indonesia
Abstract
Introduction. Libraries as information institution serves users by collecting, managing and disseminating information and knowledge. One of the important is by preserving cultural heritage. This study aims to describe role of libraries in preserving cultural heritage through publication of scientific articles on the topic of cultural heritage.
Data Collection Methods. The paper used a systematic literature review with a qualitative approach.
Data Analysis. Several stage involved in data analysis included planning, implementinging, and synthesising the search results
Results and Discussion. Findings indicate there are seven selected journal articles discussing policies as obstacles in the preservation of cultural heritage and there are five articles containing the role of libraries  focusing on physical form and public education.
Conclusion. Based on the selected scientific journal articles describing the role of libraries in Indonesia in preserving cultural heritage, the topics  focuses on education for community, procurement, maintenance of physical buildings, ancient manuscripts collections and cultural themes. Furthermore,constraints and challenges faced by libraries,including policies, create an impact on human resources, budget and infrastructure.
References
Adrian, C., Abdullah, R., Atan, R., & Jusoh, Y.Y. (2016). Towards developing strategic assessment model for big data implementation: A systematic literature review., International Journal Advance Software Computer Application, 8-(3), 11-15.
Alwasilah, A. C. (2016). Pokoknya Sunda: Interprestasi untuk aksi. Kiblat.
Anggawira, D., & Mayesti, N. (2020). The Indonesian national scientific repository: A case study of research data sharing. Preservation, Digital Technology & Culture, 49-(1), 14-25.
Bonn, M., Kendall, L., & McDonough, J. (2017). Libraries and archives and the preservation of intangible cultural heritage: Defining a research agend, Champaign Journal, 3-(7), 13-14
Cortez, E.M., Dutta, S.K., & Kazlauskas, E.J. (2014). What library and information professionals can learn from the information technology and project management knowledge areas, Libraries and the Academy,4-(1),. 131-144.
De Carlo, I. (2019). Peran Perpustakaan Balai Besar Kerajinan dan Batik dalam melestarikan batik. Prosiding Seminar Nasional Batik Industri Kerajinan dan Batik, https://proceeding.batik.go.id/index.php/SNBK/article/view/26.
Ekwelem, V. O., Okafor, V. N., & Ukwoma, S. C. (2011). Preservation of cultural heritage: The strategic role of the Library and Information Science professionals in South East Nigeria., Library Philosophy and Practice, 1-(1),. 90-89.
Grazuleviciute, I.(2011). Cultural heritage in the context of sustainable development, Environmental Research Engineering and Management, 37-(3),74-79.
Handayani, P.W. (2017, Agustus). Systematic review dengan PRISMA (Preferred Reporting Items for Systematic Reviews and Meta-Analyses [Presentasi Makalah]. Dalam Workshop Riset Sistem Informasi Fakultas Ilmu Komputer UI, (hlm. 1-3).
Hani, U., Azzadina, I., Sianipar, C. P. M., Setyagung, E. H., & Ishii, T. (2013). Preserving cultural heritage through creative industry: a Lesson From Saung Angklung Udjo, Procedia Economics and Finance, 4-(2),193-200.
Harvey, R. (2013). Preservation in libraries: A reader. Topics in Library and Information Studies. Bowker.
Hidayah, N. (2018). Upaya perpustakaan dalam melestarikan khazanah budaya lokal (Studi Kasus Perpustakaan "HAMKA" SD Muhammadiyah Condongcatur). JIPI (Jurnal Ilmu Perpustakaan dan Informasi), 3-(1),.74-84.
Indonesia, P. N. R. (2007). Undang-Undang Republik Indonesia Nomor 43 Tahun 2007 Tentang Perpustakaan. http://digilib.isi.ac.id/2667/1/UU-43-2007-PERPUSTAKAAN.pdf
Irfaniah, H. (2020). Urgensi pelestarian pengetahuan tradisional dan peluang perpustakaan umum dalam pelestarian pengetahuan tradisional. Jupiter, 17-(1), 10-19.
Lembaga Ilmu Pengetahuan Indonesia. (2016, 24 Mei). 139 Bahasa Daerah di Indonesia Terancam Punah. Kompas. http://lipi.go.id/lipimedia/139-bahasa-daerah-di-indonesia-terancam-punah/15938.
Kementerian Pendidikan dan Kebudayaan. (2017, 6 September). Selamat Hari Warisan Budaya! Warisan Budaya untuk Generasi Penerus Bangsa. Kompas. https://www.kemdikbud.go.id/main/blog/2018/04/selamat-hari-warisan-budaya-warisan-budaya-untuk-generasi-penerus-bangsa.
Rahayu, E. S. R. (2019). Peran perpustakaan dalam menyelamatkan warisan budaya bangsa. Media Pustakawan, 24-(3), 40-49.
Ranjabar, J. (2016). Sistem sosial budaya Indonesia: Suatu pengantar. PT. Ghalia Indonesia
Saputri, P. M. (2018). Peran perpustakaan dalam melestarikan koleksi naskah lontar di Indonesia. Tren Perpustakaan di Era Millenial, 59-(2), 16-19.
Songjie, L, & Xinghua, L. (2011). The role of cultural creative industry in the process of the city development: The case of Jingdezhen. Studies in Sociology of Science, 2-(2), 74-78.
Perry, A. & Hammond, N (2011). Procedures for performing systematic reviews. Keele University.
Triandini, E., Jayanatha, S., Indrawan, A., Putra, G. W., & Iswara, B. (2019). Metode systematic literature review untuk identifikasi platform dan metode pengembangan sistem informasi di Indonesia. Indonesian Journal of Information Systems, 1-(2), 63-77.
Turner, D.A. (2015). Reconsidering library collections: Comunnity services as documents. Proceedings from the 12th the Annual Meeting of the Document Academy. http://ideaechange.uakron.edu/docam/vol2/issI/17.
Vassilakaki, E., Giannakopoulos, G., & Triantafillou, I. (2019)., The role of libraries in managing cultural heritage information. Bowker.
Wirayati, M. A. (2011). Konservasi manuskrip lontar, Visi Pustaka, 13(2), 72-78.
Wohlin, C. P. Runeson, M. Höst, M. C. Ohlsson, B. Regnell & A. Wesslén. (2012). Experimentation in software engineering., Springer, 20-(4), 546-548.
Yenianti, I. (2018). Tradisi baru perpustakaan dalam perannya sebagai institusi pengetahuan. Pustabiblia. Journal of Library and Information Science, 2(2), 267-276.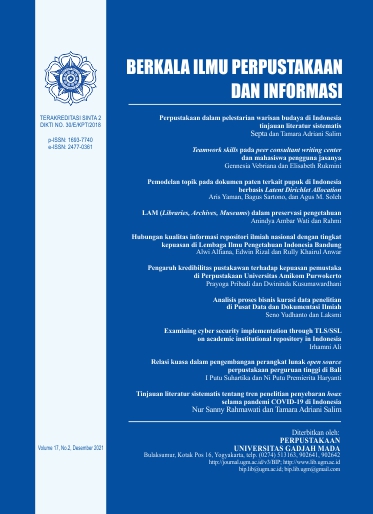 How to Cite
Septa, S., & Salim, T. A. (2021). Perpustakaan dalam pelestarian warisan budaya di Indonesia tinjauan literatur sistematis. Berkala Ilmu Perpustakaan Dan Informasi, 17(2), 141-153. https://doi.org/10.22146/bip.v17i2.1491
Copyright (c) 2021 Berkala Ilmu Perpustakaan dan Informasi
This work is licensed under a Creative Commons Attribution-ShareAlike 4.0 International License.
Berkala Ilmu Perpustakaan dan Informasi is licensed under a Creative Commons Attribution-ShareAlike 4.0 International License.
Articles published in Berkala Ilmu Perpustakaan dan Informasi are licensed under a Creative Commons Attribution-ShareAlike 4.0 International license. You are free to copy, transform, or redistribute articles for any lawful purpose in any medium, provided you give appropriate credit to the original author(s) and Berkala Ilmu Perpustakaan dan Informasi, link to the license, indicate if changes were made, and redistribute any derivative work under the same license.
Copyright on articles is retained by the respective author(s), without restrictions. A non-exclusive license is granted to Berkala Ilmu Perpustakaan dan Informasi to publish the article and identify itself as its original publisher, along with the commercial right to include the article in a hardcopy issue for sale to libraries and individuals.
By publishing in Berkala Ilmu Perpustakaan dan Informasi, authors grant any third party the right to use their article to the extent provided by the Creative Commons Attribution-ShareAlike 4.0 International license.