POETIKA: Jurnal Ilmu Sastra is a half-yearly journal published by the literary studies program of gadjah mada university. It is founded in 2011, with registered number ISSN 2338-5383 (print), 2503-4642 (online). It provides forum for the scholar of literary studies with special interest in Arabic, English, French, Indonesia and Japanese literature. Thus the editorial board accept the articles within the scope of literary studies with various application of theory.
Book our Print Edition
Booking Poetika Journal print edition can be done by:
1. Purchase directly by coming to the Ilmu Sastra office at the address: Gedung Margono FIB UGM Lt.3, N0. 301 Jalan Sosiohumaniora, Bulaksumur, Yogyakarta 55281
2. Purchase online by mailing to Poetika's email address: jurnalpoetika.fib@ugm.ac.id
3. Contact : Nashi 081332851096/Anwar 085624338936
---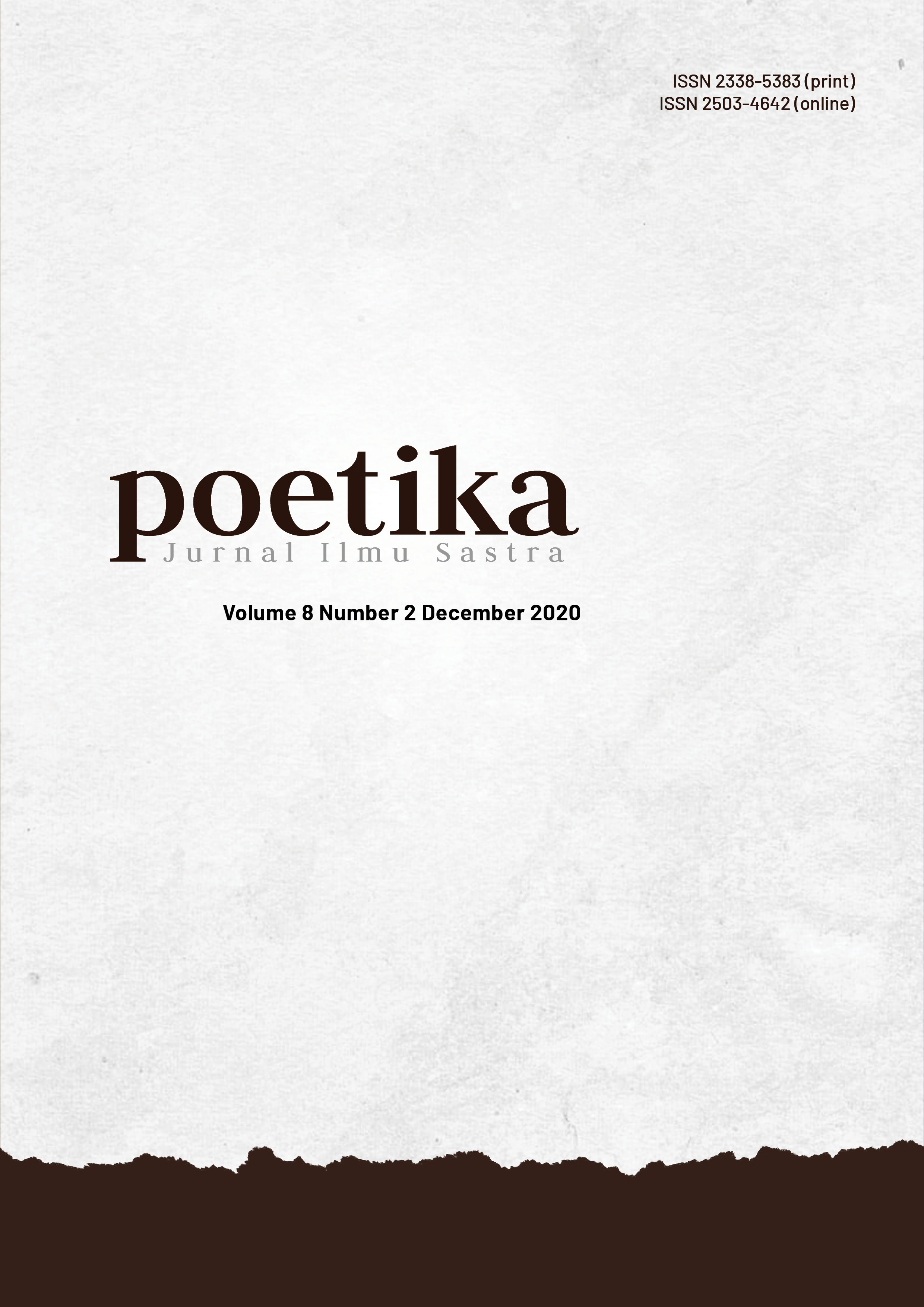 Announcements
No announcements have been published.
Vol 7, No 2 (2019): IDENTITAS, SASTRA POPULER, SASTRA SIBER
Table of Contents
Articles
Emma Natasha Octoveria, Natrila Femigasari, Nadia Athali

10.22146/poetika.51207

Abstract views : 668 |

views : 394

158-170
Febriani Elfida Trihtarani, M. Mahbubdin Ridha al Fasya, Nurussofa Yusticia, Nining Setyaningsih

10.22146/poetika.51208

Abstract views : 570 |

views : 733

171-187
Muhammad Lutfi Dwi Kurniawan, Hadi Prasetyo, Aditya Wicaksono, Fian Ulumul Akmal

10.22146/poetika.51571

Abstract views : 2228 |

views : 502

216-231
Zietha Arlamanda Asri, Mira Utami, Sulistya Ningtyas

10.22146/poetika.51610

Abstract views : 332 |

views : 240

232-244