Susceptibility of The Asian Corn Borer, Ostrinia furnacalis, to Bacillus thuringiensis Toxin CRY1AC

https://doi.org/10.22146/jpti.11876
Aye Kyawt Kyawt Ei
(1*)
, Y. Andi Trisyono
(2)
, Witjaksono Witjaksono
(3)
(1)&nbspMyanmar Agriculture Service FAO Office Compound
(2)&nbspFakultas Pertanian Universitas Gadjah Mada
(3)&nbspFakultas Pertanian Universitas Gadjah Mada
(*) Corresponding Author
Abstract
The larval susceptibility of the Asian corn borer, Ostrinia furnacalis (Guenee) (Lepidoptera: Crambidae), to a Bacillus thuringiensis protein (Cry1Ac) was evaluated using insect feeding bioassays. The founding population of O. furnacalis was originally collected from the experimental station of UGM at Kalitirto and had been reared in the laboratory for three generations using an artificial diet "InsectaLf". The tested instars were exposed on diets treated with a series of concentrations of Cry1Ac for one week. The LC50 values on the seventh day after treatment for 1st, 2nd, 3rd and 4th instars were 7.79, 21.12, 113.66, and 123.17 ppm, respectively, showing that the higher the instars the lesser the susceptibility to Cry1Ac. When the neonates were exposed to sublethal concentrations of Cry1Ac (0.0583, 0.116, and 0.5830 ppm), growth and development of the surviving larvae were inhibited. The fecundity and viability of females produced from treated larvae decreased with increasing the concentrations. These findings indicate that Cry1Ac is toxic to larva of O. furnacalis and has chronic effects to larvae surviving from Cry1Ac ingestion.
Keywords
Asian corn borer; Bacillus thuringiensis; Cry1Ac; Ostrinia furnacalis; toxicity
References
Baum, J.A., T.B. Johnson, & B.C. Carlton. 1999. Bacillus thuringiensis: Natural and Recombinant Bioinsecticide Products, p. 189-210. In F. R. Hall & J.J. Menn (eds.), Biopesticides: Use and Delivery. Humana Press, Totowa, NJ.
British Columbia Ministry of Health. 1992. Bacillus thuringiensis. Unpublished report. (December 3).CIMMYT. 2000.World Maize Facts and Trends.Meeting Corn Need Technology. http://www.cgiar.org/cimmyt.
Chapman, R.F. 1982. The Insects Structure and Function 3rd Edition, Harvard University Press. Cambridge. 93 p.
Entwistle, P.F., J. S. Cory,M. J. Bailey, & S. Higgs. (eds.) 1993. Bacillus thuringiensis, An Environmental Biopesticide: Theory and Practice. John Wiley & Sons, New York. 311 p.
Gharib, A. H. & J. A Wyman. 1991. Food Consumption and Survival of Trichoplusia ni (Lepidoptera: Noctuidae) Larvae Following Intoxication by B. thuringiensis var. kurstaki and thuringiensis. Journal of Economic Entomology 84: 436-439.
Gill, S.S., E.A. Cowles, & P.V. Pietrantonio. 1992. The Mode of Action of Bacillus thuringiensis Endotoxins. Annual Review of Entomology 37: 615-636.
He, K., Z. Wang, D. Zhou, L. Wen, Y. Song, & Z. Yao. 2003. Evaluation of Transgenic Bt Corn for Resistance to the Asian Corn Borer (Lepidoptera: Pyralidae). Journal of Economic Entomology 96: 935-940.
Hofte, H. & H.R. Whiteley. 1989. Insecticidal Crystal Proteins of Bacillus thuringiensis. Microbiology Review 53: 242-255.
INHS Reports January-February. 1997. European Corn Borer Management: Past and Present.
Klaus Ammann (Quemada). 2005. Introductory Overview of the Main Areas of Agricultural R&D Activities and the Broader Context of ThoseActivities. http:// www.pubresreg.org/index.
Li-Ping Wen, Kang-Lai He, Zhen-Ying Wang, Da-Rong Zhou, & Shu-Xiong Bai. 2005. Susceptibility of O. furnacalis to Bacillus thuringiensis and Bt Corn under Long-Term Laboratory Selection. Agricultural Science in China 4:125-133.
Losey, J.E., J.J. Obrycki, & R.A. Hufbauer. 2002. Impacts of Genetically Engineered Crops on Non-target Herbivores: Bt-corn and Monarch Butterflies as a Case Study, p. 144-165. In D.K. Letourneau & B.E. Burrows (eds.), Genetically Engineered Organisms: Assessing Environmental & Human Health Effects. CRC Press, New York.
McGaughey, H. William& Whalon, Mark E. 1992. Managing Insect Resistance to Bacillus thuringiensis Toxins. Science 258: 1451-1455.
Mesbah HA, Mourad AK, el-Nimr HM, Massoud MA, &Abd el-AzizAA. 2002. The Role of Some Agricultural Practices and Fertilizer Type on Both the Incidence of Stem Borers Infestation and Corn Yield in Egypt. Meded Rijksuniv Gent Fak Landbouwkd Toegep Biol Wet 67:575-589.
Pedersen, A., J. Dedes, D. Gauthier & K. van Frankenhuyzen. 1997. Sublethal Effects of Bacillus thuringiensis on the Spruce Budworm, Choristoneura fumiferana. Entomologia Experimentalis et Applicata 83: 253-262.
Storer, N. P., S. L. Peck, F. Gould, J.W. van Duyn, & G. G. Kennedy. 2003. Spatial Process in the Evolution of Resistance in Helicoverpa zea (Lepidoptera: Noctuidae) to Bt Transgenic Corn and Cotton in a Mixed Agroecosystem: a Biology-rich Stochastic Simulation Model. Journal of Economic Entomology 96: 156-172.
Swadener, C. 1994. Bacillus thuringiensis (B.t.), Northwest Coalition for Alternatives to Pesticides, Eugene. Journal of Pesticide Reform 14: 13-20.
Tabashnik, B. E., Y. Carrière, T. J. Dennehy, S. Morin, M. S. Sisterson, R. T. Roush,A.M. Shelton, & J. Z. Zhao. 2003. Insect Resistance to Transgenic Bt Crops: Lessons from the Laboratory and Field. Journal of Economic Entomology 96: 1031-1038.
Whiteley, H. R. & W. R. Widner. 1990. Location of the Dipteran Specificity Region in a Lepidopteran-dipteran Crystal Protein from Bacillus thuringiensis. Journal of Bacteriology 172: 2826-2832.

DOI:
https://doi.org/10.22146/jpti.11876
---
Article Metrics

Abstract views : 753 |

views : 465
Refbacks
There are currently no refbacks.
Copyright (c) 2008 Jurnal Perlindungan Tanaman Indonesia
This work is licensed under a
Creative Commons Attribution-ShareAlike 4.0 International License
.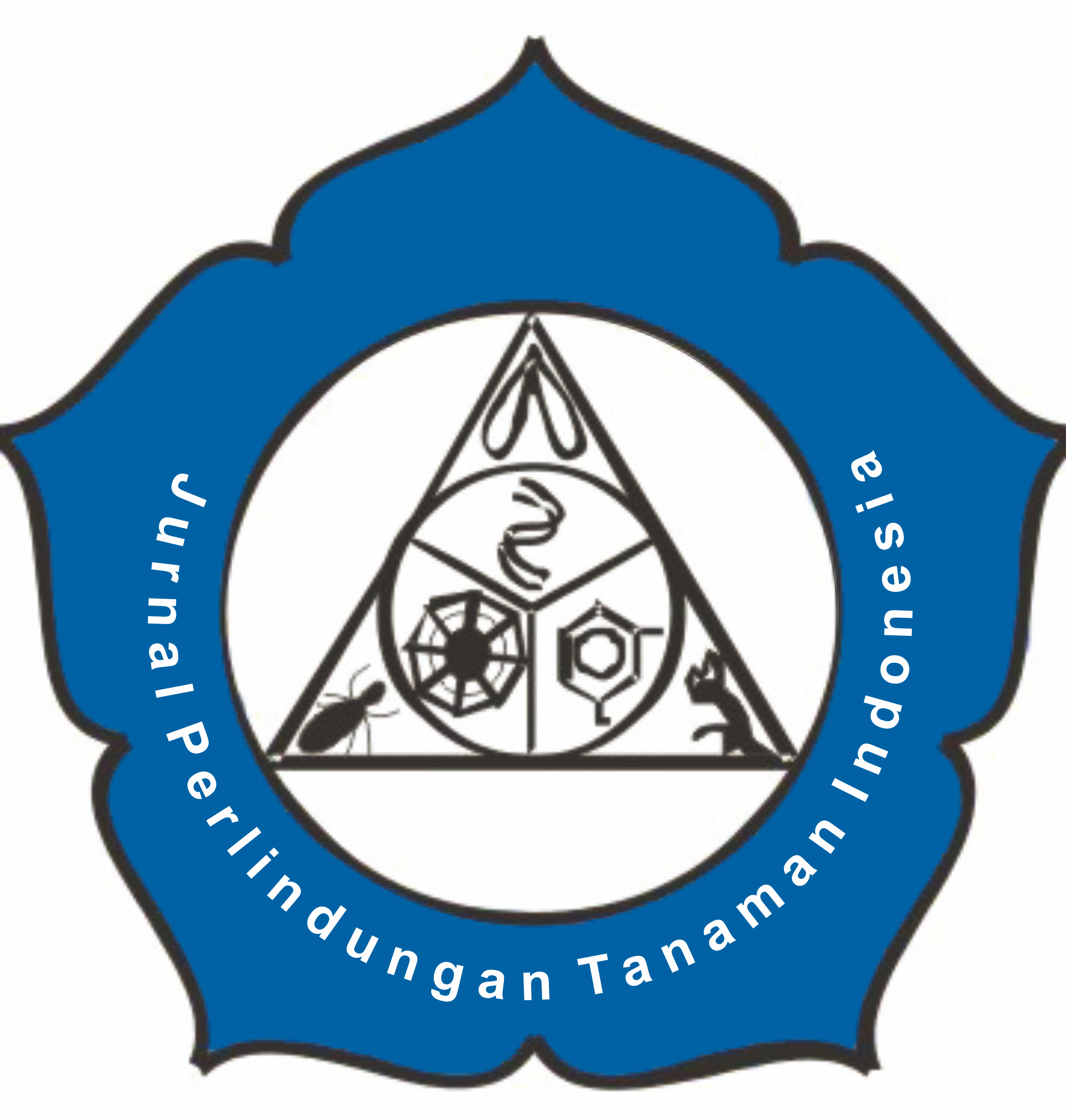 Jurnal Perlindungan Tanaman Indonesia ISSN 1410-1637 (print), ISSN 2548-4788 (online) is published by Department of Plant Protection, Faculty of Agriculture, Universitas Gadjah Mada in collaboration with Indonesian Entomological Society (Perhimpunan Entomologi Indonesia, PEI) and Indonesian Phytopathological Society (Perhimpunan Fitopatologi Indonesia, PFI). The content of this website is licensed under a Creative Commons Attribution-ShareAlike 4.0 International License.  
View website statistics