The Jurnal Kebijakan Kesehatan Indonesia : JKKI (JKKI) is an open access, peer-reviewed, multidisciplinary journal dedicated to the publication of novel research in all aspects of health policy. JKKI is published four times a year and accepts original research articles featuring well-designed studies with clearly analyzed and logically interpreted results. A strong preference is given to research that has the potential to make significant contributions to both the field of health policy in general.
We invite authors to submit articles in the fields of health policy, health policy formulation, health policy implementation, health policy monitoring and evaluation. This journal is intended as a medium of communication for those who have attention to health policy such as policy makers at the central government level, local government, including in health service organizations such as hospitals, health services, BKKBN, drug industry managers, medical devices and health insurance, and research education institutions.
JKKI is published by Center for Health Policy and Management (CHPM).
JKKI uses an online submission and peer review platform, which allows authors to track the progress of their manuscript and enables shorter processing times. Only submissions made through this platform are accepted, with submitting authors required to create an JKKI account. Manuscripts submitted by any other means are automatically discarded.
Journal Indexed by: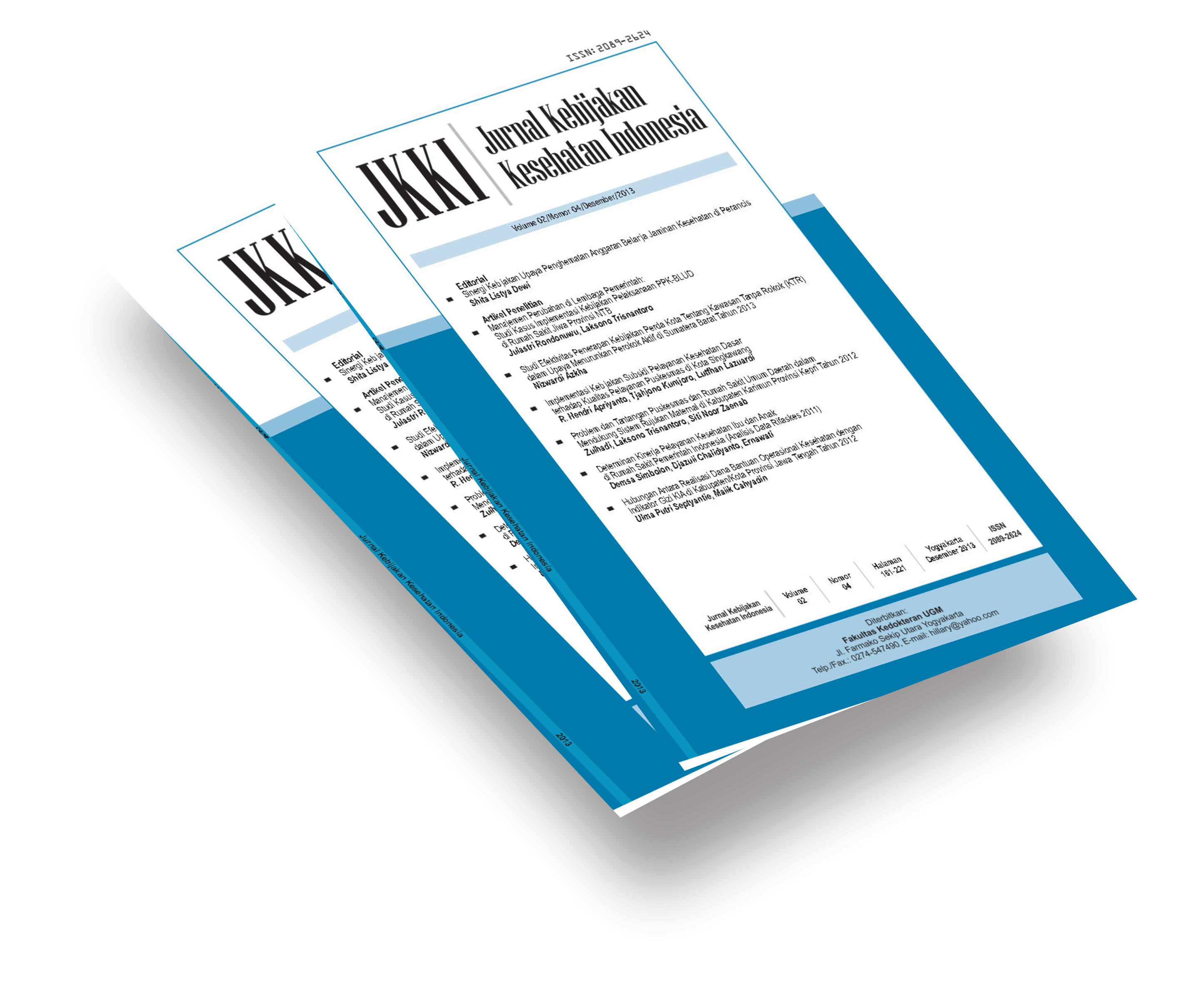 Announcements
No announcements have been published.
Vol 12, No 3 (2023)
Table of Contents
Articles
Nia Ismiratri, Mubasysyir Hasanbasri, Tiara Marthias

10.22146/jkki.84811

Abstract views : 582 |

views : 340

121-126
Fajar Aria Phitra, Nur Indrawaty Lipoeto, Husna Yetti

10.22146/jkki.85424

Abstract views : 491 |

views : 389

127-141
Ulfa Fitriani, Laksono Trisnantoro, Dwi Handono Sulistyo

10.22146/jkki.86402

Abstract views : 205 |

views : 172

142-149
Resti Dewi, Andreasta Meliala, Dwi Handono Sulistyo

10.22146/jkki.86474

Abstract views : 264 |

views : 135

150-153
Widia Mulyani, Dewi Lena Suryani Kurniasih, Ari Sukawan

10.22146/jkki.86892

Abstract views : 464 |

views : 530

154-159
Angelina Gloria Umboh, Febi Kornela Kolibu, Grace Esther Carolina Korompis

10.22146/jkki.87209

Abstract views : 248 |

views : 221

160-167
Christyana Sandra, Solikha Tri Cahyati, Yennike Tri Herawati

10.22146/jkki.87474

Abstract views : 248 |

views : 188

168-177