Journal of Community Empowerment for Health (ISSN 2655-0164 (online); ISSN 2654-8283 (print); abbreviated key-title: J. Community Empowerment Health) is a national, open access, multidisciplinary, and peer-reviewed journal. We aim to publish research articles and reviews on educative, promotive, preventive, and community empowerment activities in the health sector, especially rural area.
Published three times a year on research topics about community empowerment, service, and community health services as its main scope. This include:
Medicine and rural community health which includes: health care, social medicine, epidemiology, medical anthropology, occupational medicine
Community-based education
Community service
Disaster response
Journal of Community Empowerment for Health (JCOEMPH)
 is published by Faculty of Medicine, Public Health, and Nursing, Universitas Gadjah Mada in collaboration with
PDK3MI (Perhimpunan Dokter Kedokteran Komunitas dan Kesehatan Masyarakat Indonesia)
and is nationally accredited by the Ministry of Research and Technology, Republic of Indonesia, 
Decree No. 85/M/KPT/2020, valid until 2025.
Submitting to the journal
JCOEMPH uses an online submission and peer review platform, which allows authors to track the progress of their manuscript and enables shorter processing times. Only submissions made through this platform are accepted, with submitting authors required to create a JCOEMPH account. Manuscripts submitted by any other means are automatically discarded. For more information on our submission system, please refer to the Author Guidelines.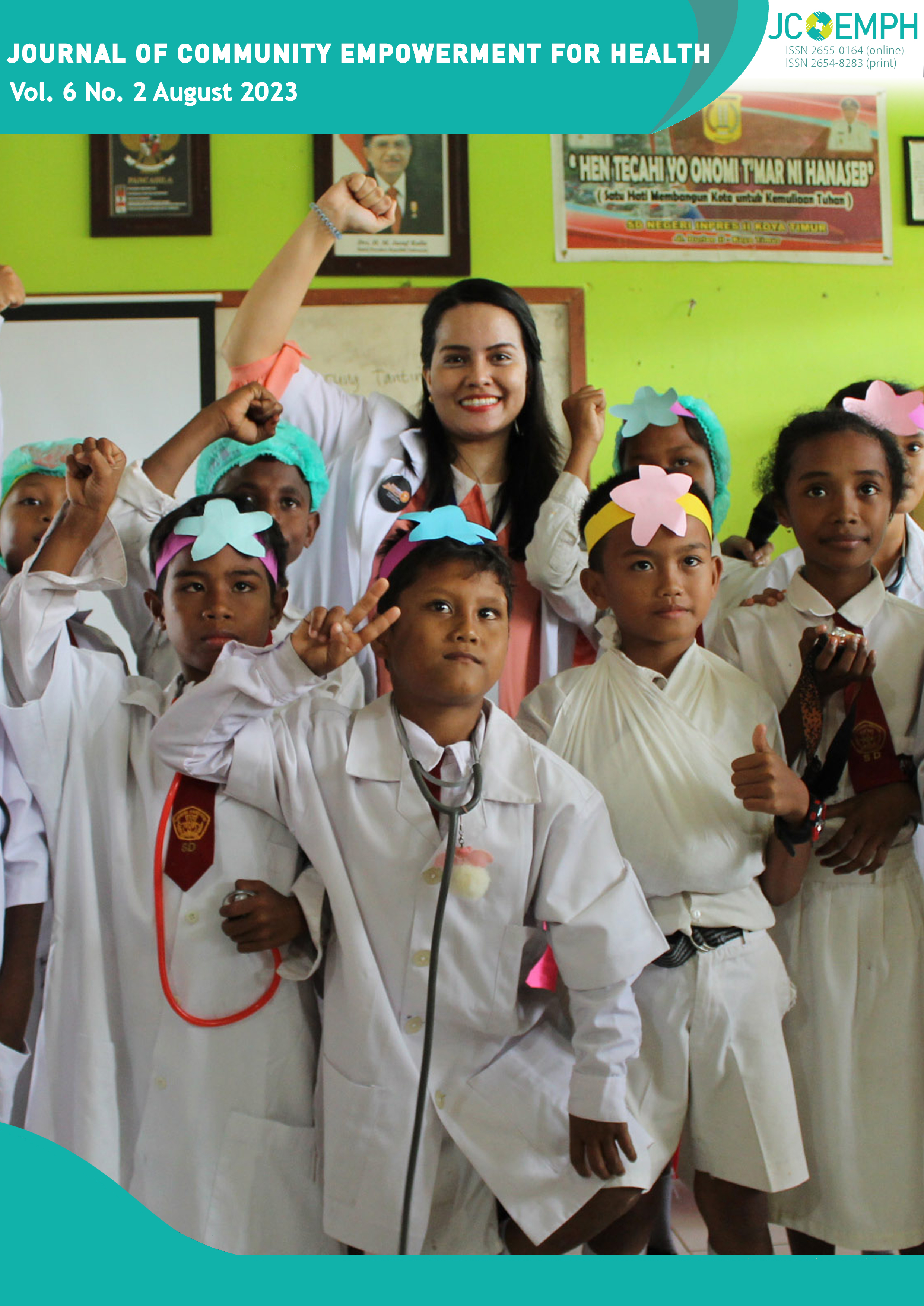 Announcements
JCOEMPH Photo Competition 2021

bit.ly/photocompetitionjcoemph2021

JCOEMPH has successfully organized a photo competition last year, the enthusiasm of the participants was amazing, more than 50 participants registered.  The total photos submitted more than 100 photos. This year JCOEMPH conducts JCOEMPH Photo Competition 2021 with the theme Community Empowerment. The purpose of this competition is to improve documentation of community empowerment activities, especially in the health sector and the three best photos will be used as journal cover. Do not miss this great opportunity and make sure you pay attention to the rules.

Posted: 2021-05-22

Call for Paper (3rd CCE Health)

3rd Conference on Community Empowerment for Health
Posted: 2021-05-27
More...

Special issue of COVID-19 has been published!

The special issue of JCOEMPH Volume 3 Issue 2 (August 2020) has been published. Visit the dedicated page for this issue to read the articles now. You can also visit our archives page to catch up on previous issues.
Posted: 2020-08-31
Vol 5, No 3 (2022)
Full Issue
| | |
| --- | --- |
| View or download the full issue | PDF |
Table of Contents
Original Research Articles
Diah Setyawati Dewanti, Romi Bhakti Hartarto

10.22146/jcoemph.74503

Abstract views : 369 |

views : 316
Ubaidillah Utsman, Tantut Susanto, Hanny Rasni, Nuning Dwi Merina, Fahruddin Kurdi

10.22146/jcoemph.66458

Abstract views : 403 |

views : 198
Reizkiana Feva Kosmah Dewi, Viramitha Kusnandi Rusmil, Sri Endah Rahayuningsih, Kuswandewi Mutyara, Nita Arisanti, Nanan Sekarwana, Meita Dhamayanti

10.22146/jcoemph.73142

Abstract views : 380 |

views : 285
Ade Sutrimo, Intansari Nurjannah, Deddy Nur Wachid Achadiono, Janatin Hastuti, Azam David Saifullah, Ina Laela Abdillah, Rafialdo Arifian, Nabila Putri Irenda, Ajeng Wita Astri Devica Puri, Wulan Fitrianingrum, Pius Bonaventura Ado, Indah Fajar Destantika

10.22146/jcoemph.76939

Abstract views : 319 |

views : 189
Eti Poncorini Pamungkasari, Bulan Kakanita Hermasari, Sri Anggarini Parwatiningsih, Sri Mulyani, Hartono Hartono, Lely Tri Pangesti

10.22146/jcoemph.71397

Abstract views : 163 |

views : 109 |

views : 165
Supriyati Supriyati, Riskiyana Sukandhi Putra, Yayi Suryo Prabandari

10.22146/jcoemph.78784

Abstract views : 182 |

views : 166
Dini Widianti, Yusnita Yusnita, Rita Komalasari

10.22146/jcoemph.47150

Abstract views : 238 |

views : 199