Journal of Community Empowerment for Health (ISSN 2655-0164 (online); ISSN 2654-8283 (print); abbreviated key-title: J. Community Empowerment Health) is a national, open access, multidisciplinary, and peer-reviewed journal. We aim to publish research articles and reviews on educative, promotive, preventive, and community empowerment activities in the health sector, especially rural area.
Published three times a year on research topics about community empowerment, service, and community health services as its main scope. This include:
Medicine and rural community health which includes: health care, social medicine, epidemiology, medical anthropology, occupational medicine
Community-based education
Community service
Disaster response
Journal of Community Empowerment for Health (JCOEMPH)
 is published by
Faculty of Medicine, Public Health, and Nursing, Universitas Gadjah Mada
 in collaboration with
PDK3MI (Perhimpunan Dokter Kedokteran Komunitas dan Kesehatan Masyarakat Indonesia)
and is nationally accredited by the Ministry of Research and Technology, Republic of Indonesia, 
Decree No. 85/M/KPT/2020, valid until 2025.
Submitting to the journal
JCOEMPH uses an online submission and peer review platform, which allows authors to track the progress of their manuscript and enables shorter processing times. Only submissions made through this platform are accepted, with submitting authors required to create a JCOEMPH account. Manuscripts submitted by any other means are automatically discarded. For more information on our submission system, please refer to the Author Guidelines.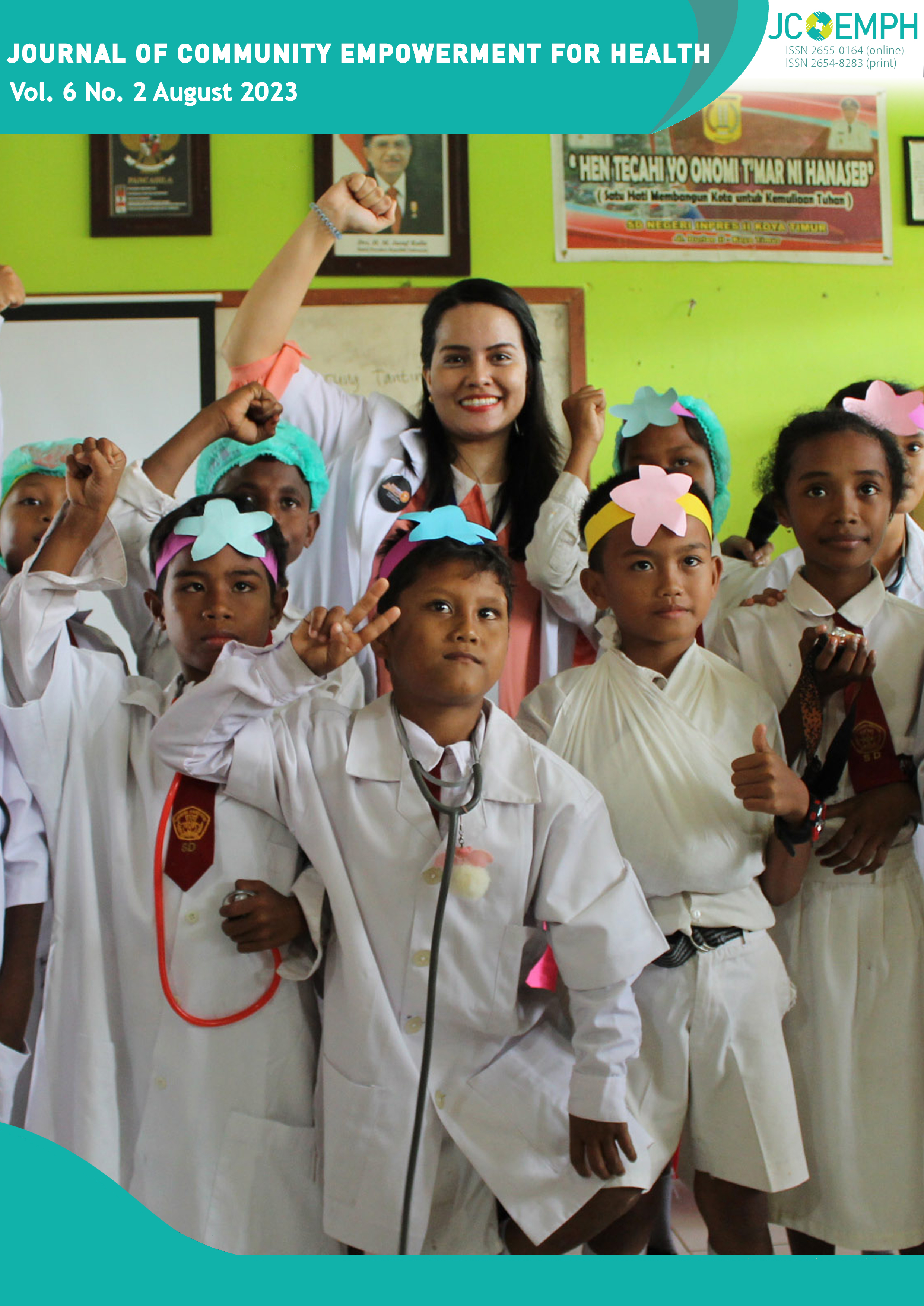 Announcements
Call for Paper (5th CCE Health)

5th Conference on Community Empowerment for Health
Posted: 2023-05-01
More...

JCOEMPH has been accredited!

We're pleased to announce that JCOEMPH has been accredited by Ministry of Research and Technology with SINTA Score 3 from Volume 1 Issue 1 2018, Decree No. 85/M/KPT/2020, valid until 2025. (Download the certificate here)
Posted: 2020-06-02

JCOEMPH Vol.6 No.1 has been published

The first issue of JCOEMPH Volume 1 (April 2023) has been published. Visit the dedicated page for this issue to read the articles now. You can also visit our archives page to catch up on previous issues.

Posted: 2023-04-01
More...
Vol 6, No 2 (2023): Vol 6, No 2 (2023)
Table of Contents
Editorial
Elisabeth Siti Herini, Agung Triono, Kristy Iskandar, Ashadi Prasetyo, Albaaza Nuady, Marissa Leviani Hadiyanto, Kania Diantika, Veronica Wulan Wijayanti, Avianti Pramastuti

10.22146/jcoemph.80029

Abstract views : 172 |

views : 49

113-119
Original Research Articles
Ikbal Fradianto, Djoko Priyono, Nita Arisanti Yulanda, Arief Andriyanto

10.22146/jcoemph.71980

Abstract views : 155 |

views : 72

70-75
Janatin Hastuti, S.Si, M.Kes, Ph.D, Neni Trilusiana Rahmawati

10.22146/jcoemph.77258

Abstract views : 124 |

views : 22

80-86
Fajrul Falah Farhany, Ichlasul Amalia, Meyka Budi Rachmawati, Winda Ernia, Hanggoro Tri Rinonce, Happy Indah Kusumawati, Rahadyana Muslichah

10.22146/jcoemph.77396

Abstract views : 150 |

views : 25

87-92
Abiyyu Didar Haq, Cut Warnaini, Muhammad Rizkinov Jumsa, Deasy Irawati

10.22146/jcoemph.77441

Abstract views : 106 |

views : 24

93-97
Gilbert Sterling Octavius, Theo Audi Yanto

10.22146/jcoemph.77796

Abstract views : 68 |

views : 37

98-105
Kurnia Dwi Artanti, Arief Hargono, Laura Navika Yamani, Farah Fadhilah, Taufiq Hidayat Hasan

10.22146/jcoemph.80680

Abstract views : 212 |

views : 17

120-125
Case Study Articles