Jurnal Online Universitas Gadjah Mada adalah sistem penerbitan online berbasis Open Journal System yang diterbitkan oleh Universitas Gadjah Mada.
Alamat OAI tiap jurnal:
https://jurnal.ugm.ac.id/[path_jurnal]/oai
ex. http://jurnal.ugm.ac.id/agritech/oai
Apabila ada pertanyaan lebih lanjut terkait Jurnal Online UGM (pembuatan jurnal, panduan, pelatihan jurnal, pelaporan bug atau error) silahkan menghubungi Badan Penerbit dan Publikasi UGM dinomor (0274) 6491963 email bpp[at]ugm.ac.id.
---
A B C D E F G H I J K L M N O P Q R S T U V W X Y Z All
Acta Cardiologia Indonesiana
Acta Cardiologia Indonesiana (ACI) is a forum for articles that present the result of original research, innovative ideas, new hypotheses, clinical practice and case reports in the field of cardiovascular medicine. ACI mission is to support the original and innovative knowledge in cardiovascular medicine. ACI welcomes articles of basic, clinical, and community research related to cardiovascular medicine. ACI is published biannually by Department of Cardiology and Vascular Medicine Faculty of Medicine Universitas Gadjah Mada, Yogyakarta, Indonesia.
---
ISSN 

2460-5700

(print)
ISSN 2579-4345 (online)
---
View Journal | Current Issue | Register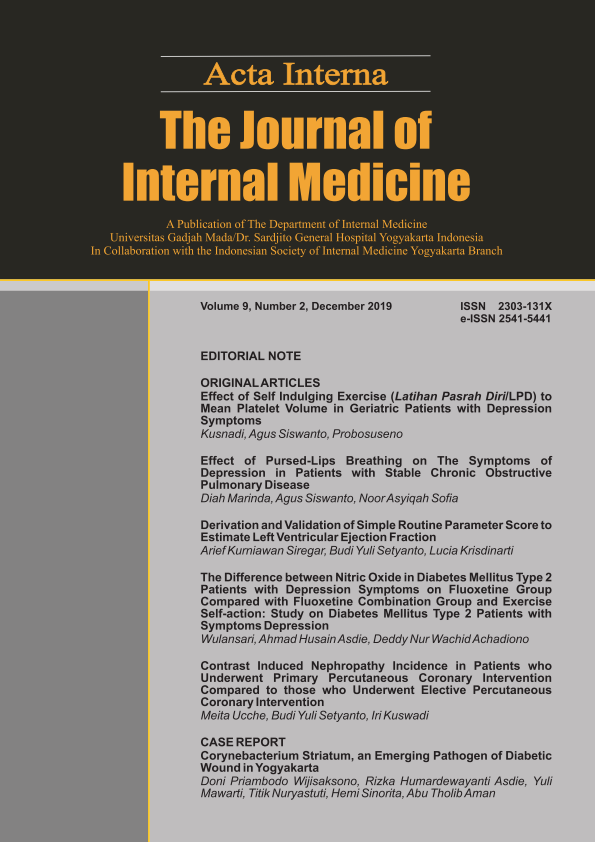 Acta Interna: The Journal of Internal Medicine
Acta Interna
The Journal of Internal Medicine
Universitas Gadjah Mada Yogyakarta
ISSN: 2303-131X (Print)                                      
ISSN: 2541-5441 (online)
Published in June and December
The Journal considers any original research that advocates change in, or illuminates, clinical practice. The journal also publishes interesting and informative reviews and opinions pieces on any topics connected with clinical practice. Manuscripts must be solely the work of the author(s) stated, not have been published previously elsewhere, and not be under consideration by another journal. all papers should be written to be clearly understandable to the journal`s readers in a wide range of specialities and countries. Diagrams, figures, and photographs should be used to supplement and enhance the text.
IRJ Building Block 3, 5 floor, Jl. Kesehatan No.1, Yogyakarta.
phone/fax: (0274) 553119, 553120, 085643038535
email: actainterna@yahoo.com actainterna@ugm.ac.id
indexed by:


View Journal | Current Issue | Register
Agritech
Agritech with registered number ISSN 0216-0455 (print) and ISSN 2527-3825 (online) is a scientific journal that publishes the results of research in the field of food and agricultural product technology, agricultural and bio-system engineering, and agroindustrial technology. This journal is published by Faculty of Agricultural Technology, Universitas Gadjah Mada, Yogyakarta in colaboration with Indonesian Association of Food Technologies (PATPI).
Agritech has been accredited since 1998 up to date with accreditation history as follows:
1. No. 111/DIKTI/Kep/1998
2. No. 134/DIKTI/Kep/2001
3. No. 26/DIKTI/Kep/2005
4. No. 83/DIKTI/Kep/2009
5. No. 56/DIKTI/Kep/2012
Based on the Decree of the General Director of Strengthening the Research, Technology and Higher Education of the Republic of Indonesia No. 32a/E/KPT/2017, Agritech was designated as an Accredited Scientific Journal with category "B" from April 26, 2017 to April 26, 2022.
Since 2016, Open Journal Systems (OJS) has been applied for all business process in Agritech. Therefore, the authors are required to register in advance and upload the manuscript by online. The process of the manuscript could be monitored through OJS. Authors, readers, editorial board, editors, and peer review could obtain the real time status of the manuscript. Hard copy of the journal could be purchased by the system. Agritech publishes four times in a year i.e. February, May, August, and November. Several other changes are informed in the Journal History.
 
View Journal | Current Issue | Register

Agro Ekonomi
AE (Agro Ekonomi), with registered number ISSN 0215-8787 (print), ISSN  2541-1616 (online) is a scientific journal published by Department of Agricultural Socio-Economics Universitas Gadjah Mada. It is at the national level that covers a lot of common problems or issues related to the agricultural and natural resource policies, agribusiness and agricultural extension & communication sciences. It published regularly twice a year (June and December).
AE is a media for dissemination information of thinking and research from lecturers, researchers, students, and practitioners who are interested to produce the scientific work in the agricultural and natural resource policies, agribusiness and agricultural extension & communication sciences. The focus and scopes of the articles in this journal are : (1) The macro approach of agricultural socio economic as a system which comprehensive and integrated from subsystems up-stream, subsystems on-farm, subsystems down-stream, subsystems support and the impact of their interrelationships with government policy, international economics, agricultural marketing, environmental resources, agricultural extension and communication, agricultural sociology, farmer institutions, and community empowerment; (2) The micro approach includes the study in the development of agribusiness (finance, farm management, functional and technical aspects) and agricultural local institutional.
AE hopes can help agricultural socio-economic practitioners, policy makers, lecturers, students, and others to understand the condition of agriculture in Indonesia, especially on social and economic aspects; be able to provide benefits for the development of agricultural socio-economic sciences, and to increasing public welfare in Indonesia.
View Journal | Current Issue | Register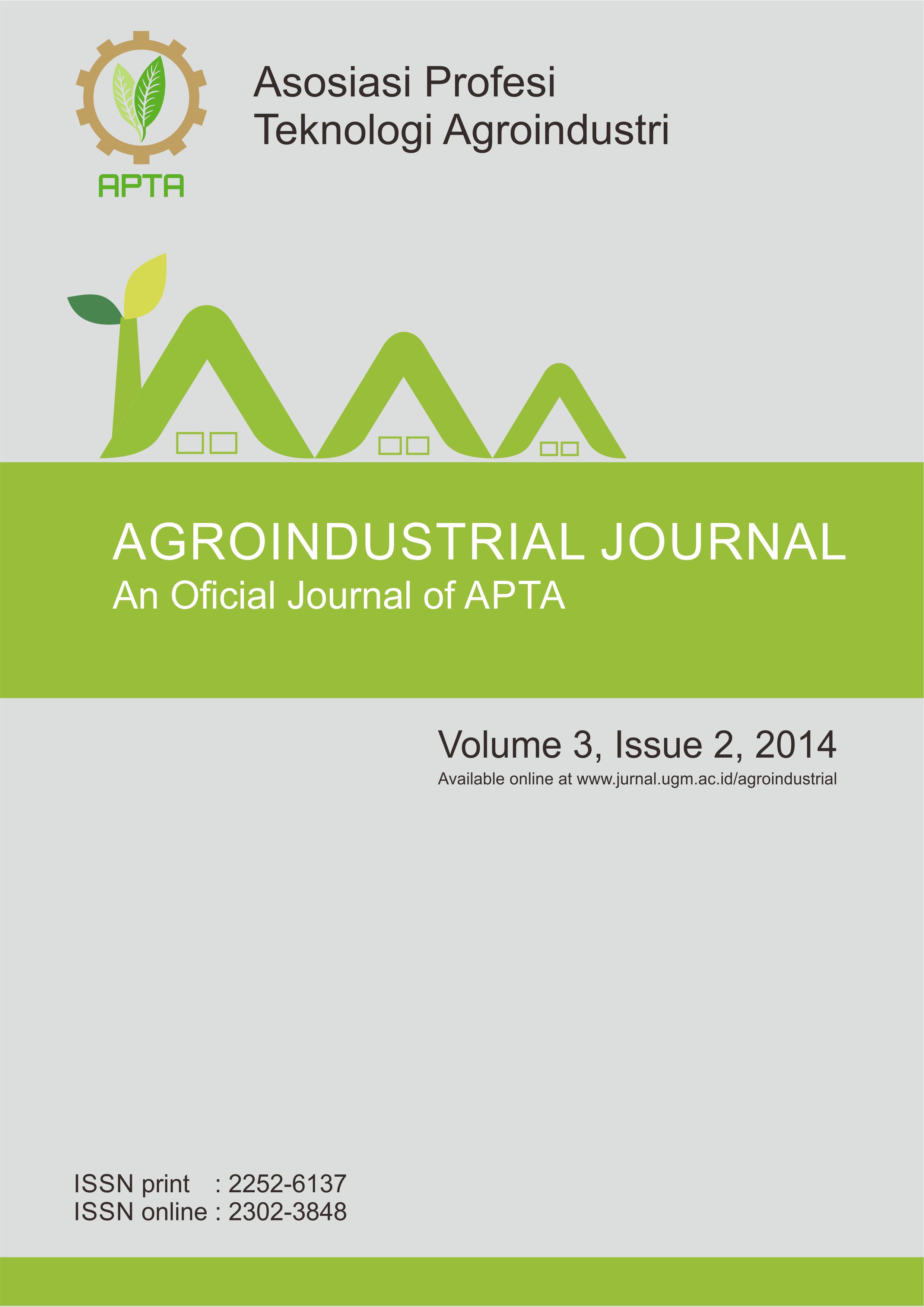 Agroindustrial Journal
"Agroindustrial Journal" is published by Department of Agro-industrial Technology UGM in collaboration with Perkumpulan Profesi Teknologi Agroindustri (APTA). "Agroindustrial Journal" publishes research in agroindustrial systems engineering, technology and management. The subject matter in "Agroindustrial Journal" reflects the specific range and interdisciplinary nature of research in agroindustrial technology.
The journal publishes original research paper and review paper based on topics coverage but not limited to: 1) Industrial systems and management; 2) Bio-industry; 3) Production systems; 4) Quality analysis and standardization; 5) Systems analysis and industrial simulation; 6) Product engineering and waste management
View Journal | Current Issue | Register
ASEAN Journal of Systems Engineering
| | |
| --- | --- |
|   | ASEAN Journal of Systems Engineering (AJSE) is published by Master Program of Systems Engineering, Faculty of Engineering, Universitas Gadjah Mada as a mean for publishing scientific works in form of research papers, literature study, or scientific review on published articles, about systems engineering especially in the field of energy, industry and environment. The journal is published twice a year (July and December), in both print and online versions. |