The Academic Hospital Journal is an open accessed online journal and comprehensive peer-reviewed that considers articles on a variety range of health issues, clinical and non clinical researches, hospital management, and health technology. The journal of Academic Hospital will be published two times annually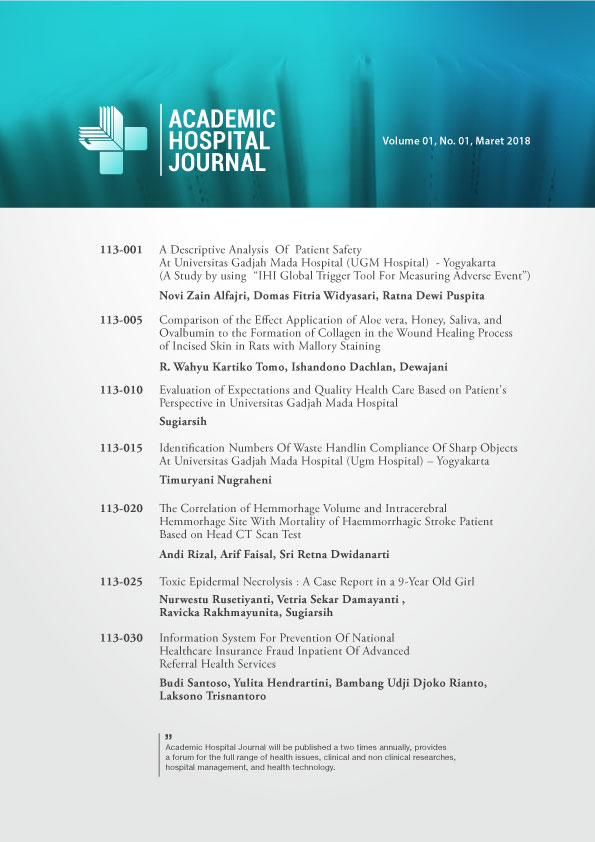 Announcements
Call for papers for Vol. 1

We invite authors in the related fields of health issues, clinical and non clinical researches, hospital management, and health technology to submit papers for the upcoming edition of the Academic Hospital Journal (Volume 1, Issue 01 and 02).

Please use the online submission system to submit your paper. Authors without an Academic Hospital Journal account are required to create an account first before submitting. Make sure that you choose "Author" from the Role dropdown menu.

Posted: 2018-01-01
More...
Vol 1, No 1 (2018): March
Table of Contents
Articles
Novi Zain Alfajri, Domas Fitria Widyasari, Ratna Dewi Puspita

10.1234/ahj.v1i1.33622

Abstract views : 59

1
R. Wahyu Kartiko Tomo, Ishandono Dachlan, Dewajani Dewajani

10.1234/ahj.v1i1.33620

Abstract views : 27

5
Nurwestu Rusetiyanti, RR. Vetria Sekar Damayanti, Ravicka Rakhmayunita, Sugiarsih Sugiarsih

10.1234/ahj.v1i1.30069

Abstract views : 56

25
Budi Santoso, Yulita Hendrartini, Bambang Udji Djoko Rianto, Laksono Trisnantoro

10.1234/ahj.v1i1.33624

Abstract views : 129

30