ASEAN Journal of Chemical Engineering (abbreviated as ASEAN J. Chem. Eng.) publishes articles on Chemical Engineering, specifically but not limited to thermodynamics, reaction kinetics, transport phenomena, process control, environment, energy, biotechnology, corrosion, separation science, powder technology, materials science, education and other relevant subjects. Topics may range from fundamentals to applications. The latter may deal with a variety of subjects, such as case studies in design and operational data of industrial processes, performances of commercial products and others. The objectives of the journal are as follows:
To raise the standard of research in Chemical Engineering in ASEAN countries. 
To publish a refereed journal for Chemical Engineers. 
To provide a venue for dissemination of research outputs and activities in Chemical Engineering and other related fields. 
To foster closer ties among chemical engineers in the ASEAN countries.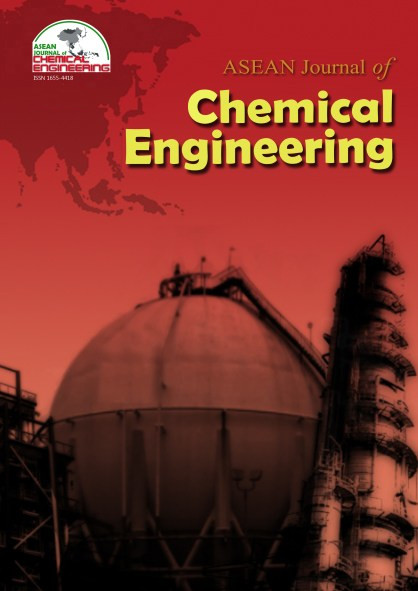 Announcements
New Website of AJChE

ASEAN Journal of Chemical Engineering is migrating to the new OJS system. Submission start from 1 of December, 2023: jurnal.ugm.ac.id/v3/ajche

Posted: 2023-11-30
Vol 23, No 2 (2023)
Table of Contents
Articles
Desy Septriana, Muhammad Mufti Azis, Joko Wintoko

10.22146/ajche.70878

Abstract views : 636 |

views : 406

128-141
Dian Shofinita, Dianika Lestari, Sekar Ayu Ambarwati, Karen Christine Gunawan, Amarthya Benigna Achmadi

10.22146/ajche.73387

Abstract views : 343 |

views : 310

142-153
Mc Lein Roger M. Lubiano II, Cris Vincent L. Manacup, Allan N. Soriano, Rugi Vicente C. Rubi

10.22146/ajche.77314

Abstract views : 281 |

views : 222

153-166
Kindriari Nurma Wahyusi, Ika Nawang Puspitawati, Abdul Rachman Wirayudha

10.22146/ajche.77318

Abstract views : 295 |

views : 281

167-177
Dicky Dermawan, Lukman Al Ghani, Aditya Bayu Prawidya

10.22146/ajche.79192

Abstract views : 263 |

views : 194

178-193
Indro Sumatri, H. Hadiyanto, S. Suherman, Marcelinus Christwardana

10.22146/ajche.79208

Abstract views : 241 |

views : 218

194-209
Yeni Variyana, Zuhdi Ma'sum, Donny Satria Bhuana, Mahfud Mahfud

10.22146/ajche.79220

Abstract views : 384 |

views : 238

210-223
Sri Mulyati, Cut Meurah Rosnelly, Yanna Syamsuddin, Nasrul Arahman, Syawaliah Muchtar, Wahyuni Wahyuni, Tiara Lauzia, Aulia Chintia Ambarita, Muhammad Roil Bilad, Shafirah Samsuri

10.22146/ajche.79643

Abstract views : 272 |

views : 170

224-239
Nursyuhani Che Husain, Nurul Athirah Zawawi, Fazlena Hamzah, Miradatul Najwa Mohd Rodhi, Harumi Veny, Dessy Ariyanti, Nur Athikah Mohidem

10.22146/ajche.80035

Abstract views : 286 |

views : 161

240-254
Syed muhammad Shahid Hussain, Syed Nadir Hussain, Hafiz Muhammad Anwaar Asghar, Hamed Sattar

10.22146/ajche.85055

Abstract views : 291 |

views : 263

255-269