Jurnal Kawistara: The Journal of Social Sciences and Humanities, one of the journals published by the Graduate School, Universitas Gadjah Mada, was established in April 2011 and has been accredited (B) or SINTA 2 (download Certificate here) by Directorate General of Higher Education, Indonesian Ministry of Education since 2014 with printed version of ISSN 2088-5415 and the online version of ISSN 2355-5777.
For submitting your article, please follow this link and follow the author guidelines in this link to meet our criteria for Jurnal Kawistara. If you need a step by step tutorial for online submission and our journal template, Please click here.
If you still need assistance for further information, do not hesitate to contact us via Whatsapp (just click icon).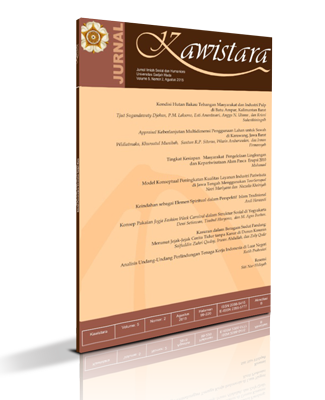 Announcements
CALL FOR PAPERS (APRIL 2022)

We invite scholars and researchers from different disciplines to contribute (please find our focus and scope in the site menu). All papers should be submitted via Online Submission system using OJS. Visit the Author Guidelines for more details about the paper's format. Please meet the deadline in February 2022. We would like to acknowledge many people who have already submitted their articles, please find that all papers will be processed in April 2022.
Posted: 2022-01-05

ARTICLE SELECTION CRITERIA IN JURNAL KAWISTARA

Dear all authors,

First of all, we would like to thank all of authors and contributors to our journal. We inform that Jurnal Kawistara will have a delay for processing any submitted articles at this time (2023), because we have enough articles to be published in this year (2023). However, all submitted articles still will be proceed to the review stage in the remaining months in this year (2023) and considered for publishing opportunity in 2024.

Sedond, we are pleased to announce that Jurnal Kawistara has updated a criteria for our accepted articles.

In evaluating and deciding publication, we have various considerations that include

the format that matches the author's guidelines;
meets our focus and scope;
technical problems (such as to many typos, redundancy, does not cite all of mentioned quoted authors);
quality of article, and
academic contributions.

If the criteria are not met, your submission will be returned for resubmit or decline submission immediately. Please, all authors should check your email regularly or login to our website to check your article's progress, or contact our staff.

Thank you for submission to Jurnal Kawistara as a venue for your work and thank your for all your support

For further information, contact our staff in Contact Page.

Posted: 2023-09-05
More...

JURNAL KAWISTARA REFERENCING STYLE

Dear all authors,

Our editorial team has added a way to write the latest references.

Writing format systems of a bibliography and references for Jurnal KAWISTARA is using the American Psychological Association (APA Style). Please change your reference writing style carefully (including coma, full stop, italic, url, and so on). Please use Mendeley application for your references. 

Thank your for all your support.

Posted: 2021-05-04

LETTER OF SUBMISSION REQUEST

For all authors, we have already updated a rule for Letter of Submission (LoS) request. All authors who need LoS should fulfill Approval letter form. Its format can be downloaded here and sent to us via email on the form.

Our staff will process LoS request via email in working days (Monday to Friday). We will generate LoS without any processing fee (free of charge) in 1-2 days after communication with our staff.

For Letter of Acceptance, it can be requested for free after your manuscript is confirmed to be accepted after some reviewing processes.

For any technical issue, please do not hesitate to contact our staff.

Thank your for all your support.

Posted: 2019-07-01
More...

NEW ISSUE PUBLISHED

To All Readers,
Jurnal Kawistara has just published its latest issue at https://jurnal.ugm.ac.id/kawistara/issue/current. We invite you to read the Table of Contents here and then visit our web site to download new articles and items of interest.

We would like to thank all contributors, authors, and reviewers for the continuing interest in our work,

Jurnal Kawistara
Universitas Gadjah Mada

Posted: 2019-02-26
Vol 13, No 2 (2023)
Full Issue
| | |
| --- | --- |
| View or download the full issue | PDF |
Table of Contents
Cover, Table of contents, & Editorial
Articles
Rizki Mita Utami, Dwiyanto Indiahono, Sendy Noviko

10.22146/kawistara.77794

Abstract views : 130 |

views : 111

157-169
Saipul Hamdi, Oryza Peneumatica Inderasari, Syarifuddin Syarifuddin, Indah Firgina Sari

10.22146/kawistara.78059

Abstract views : 106 |

views : 84

170-184
Fahmawati Fahmawati, Ratminto -, Isaac Jogues Kiyok Sito Meiyanto

10.22146/kawistara.73747

Abstract views : 155 |

views : 108

185-201
Boyke Rudy Purnomo, Mauliddin Wisnu Munggaran

10.22146/kawistara.79087

Abstract views : 188 |

views : 134

202-221
Dwi Putri Jeng Ivo Nurun Nisa', Darsono Darsono, Ernoiz Antriyandarti

10.22146/kawistara.77200

Abstract views : 198 |

views : 26

222-238
Encep Saefullah, Syamsul Hidayat, Fatari Fatari, Malik Fatoni, Nani Rohaeni

10.22146/kawistara.75874

Abstract views : 102 |

views : 89

239-245
I Dewa Ayu Nindya Prathiwi S, Ni Ketut Wiwiek Agustina

10.22146/kawistara.82734

Abstract views : 80 |

views : 111

246-263
Muhammad Izzudin, Yunindyawati Yunindyawati, Candra Wardana, Putri Wulandari, Muhammad Ibrahim, Tasya Amelia Putri, Januar Eko Aryansah, Sena Putra Prabujaya

10.22146/kawistara.77040

Abstract views : 218 |

views : 109

264-277