Accredited by the Director General of Strengthening the Research, Technology and Higher Education of the Republic of Indonesia No. 30/E/KPT/2018 as SINTA 2 (2016-2021).

Jurnal Rekayasa Proses (J. Rek. Pros.) is an open-access journal published by Chemical Engineering Department, Faculty of Engineering, Universitas Gadjah Mada as scientific journal to accommodate current topics related to chemical and biochemical process exploration and optimization which covers multi scale analysis from micro to macro and full plant size.
J. Rek. Pros. publishes communications, articles, and reviews. The first volume of J. Rek. Pros. has been published in 2007 and continued until today with 2 (two) issues of publication each year. The minimum number of articles for each issue is 5 (five) articles. The official language of the journal is Bahasa Indonesia, but manuscripts in English are also welcomed. Manuscript submission and reviewing process is fully conducted through online journal system (https://jurnal.ugm.ac.id/jrekpros) using a double-blind review process.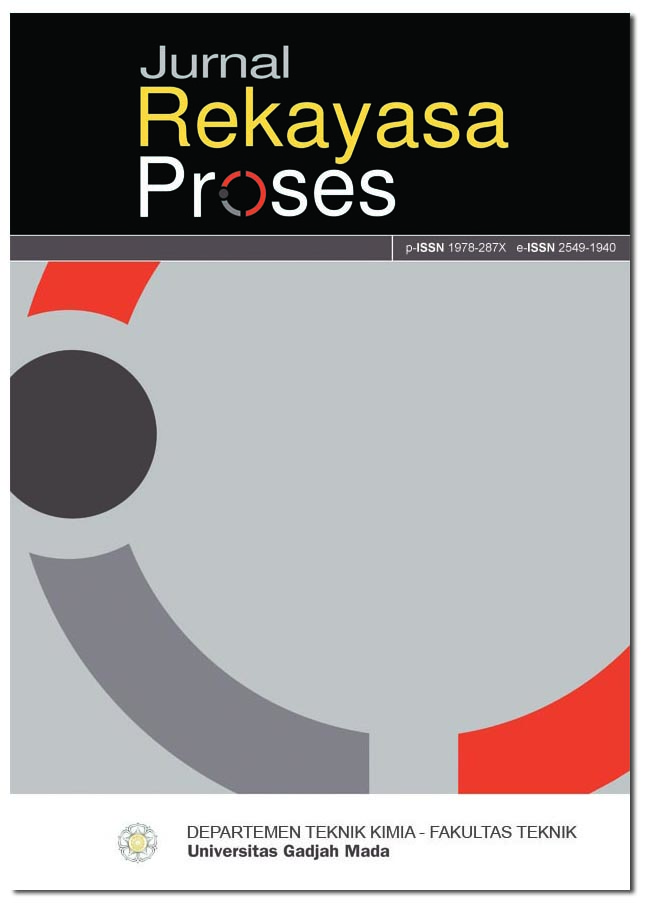 Announcements
DOAJ indexing

We are happy to announce that Jurnal Rekayasa Proses is indexed in the DOAJ, see for further detail in link
Posted: 2020-06-04

National Accreditation of JRekPros

We are happy to announce that, as of 24 October 2018, JRekPros has been nationally accredited as Sinta 2 according to letter number 30/E/KPT/2018 by Ministry of Research, Technology and Higher Education of Republic Indonesia

Posted: 2018-11-18

Call for Papers 2020

The executive team of JREKPROS (Jurnal Rekayasa Proses) invites authors to submit their articles here. Future Issues are for June (Vol. 15 issues 1) and December 2021 (Vol. 15,  issues 2).




Posted: 2021-01-01
More...