Resistance Test of Several Tomato Varieties to Bacterial Wilt Diseases Caused by Ralstonia solanacearum

https://doi.org/10.22146/jpti.23171
Putri Laeshita
(1)
, Triwidodo Arwiyanto
(2*)
(1)&nbspDepartment of Crop Protection, Faculty of Agriculture, Universitas Gadjah Mada, Jln. Flora 1, Bulaksumur, Sleman, Yogyakarta 55281
(2)&nbspDepartment of Crop Protection, Faculty of Agriculture, Universitas Gadjah Mada, Jln. Flora 1, Bulaksumur, Sleman, Yogyakarta 55281
(*) Corresponding Author
Keywords
bacterial wilt; Ralstonia solanacearum; resistance; tomato
References
Agrios, G.N. 2005. Plant Pathology. Academic Press, New York. 922 p.

Anonymous. 1999. Deskripsi Tomat Varietas Kaliurang. [Kaliurang Tomato Varieties Description] Lampiran Surat Keputusan Kementerian Pertanian. NOMOR: 711/Kpts/TP.240/6/1999.

Anonymous. 2002. Deskripsi Tomat Hibrida Varietas Marta F1 [Marta F1 Hybrid Tomato Varieties Description]. Lampiran Surat Keputusan Kementerian Pertanian. NOMOR: 256/Kpts/ Tp.240/4/2002.

Arwiyanto, T. & Hartana, I. 1999. Pengendalian Hayati Penyakit Layu Bakteri Tembakau: 2. Percobaan Rumah Kaca [Biological Control of Tobacco Bacterial Wilt: 2. Greenhouse Experiments]. Jurnal Perlindungan Tanaman Indonesia 5: 50−59.

Arwiyanto, T., H. Semangun, & B.N. Hidayah. 2011. Reduction of Ralstonia solanacearum Population in Soil with the Use of Susceptible Cultivar of Tomato. Acta Horticultura 914: 303− 306.

Arwiyanto, T. 2013. Ralstonia solanacearum Biologi, Penyakit yang Ditimbulkan, dan Pengelolaannya. Gadjah Mada University Press, Yogyakarta. 99 p.

Arwiyanto, T., S.D. Nurcahyanti, D. Indradewa, & J. Widada.  2015a. Grafting of Local Commercial Tomato Varieties with H-7996 and Eg-203 to Suppress Bacterial Wilt (Ralstonia solanacearum) in Indonesia. Acta Horticultura 1069: 173−178.

Arwiyanto, T., K.L. Lwin, Y.M.S Maryudani, & A. Purwantoro. 2015b. Evaluation of Local Solanum torvum as a Rootstock to Control of Ralstonia solanacearum in Indonesia. Acta Horticultura 1086: 101−106.  

Deberdt, P., J. Guyot, R. Coranson-Beaudu, J. Launay, M. Noreskal, P. Riviere & E. Wicker. 2014. Diversity of Ralstonia solanacearum in French Guiana Expands Knowledge of the "Emerging Ecotype". Phytopathology 104: 586–596.

Genova, C., P. Schreinemachers & V.A. Sefa. 2013. An Impact Assessment of AVRDC's Tomato Grafting in Vietnam. Research In Action 8. AVRDC Report.

Goto, M. 1992. Fundamentals of Bacterial Plant Pathology. Academic Press, Tokyo. 88 p.

Hayward, A.C. 1991. Biology and Epidemiology of Bacterial Wilt Caused by Pseudomonas solanacearum. Annual Review Phytopathology 29: 65−87.

Hoagland, D. R., & D.I. Arnon. 1938. The Water Culture Method for Growing Plants without Soil. California Agricultural Experiment Station. College of Agriculture, University of California, Berkeley. 347 p.

Janaki, V. & T.B. Putturaju. 2012. Studies on Percent Incidence and Reaction of Tomato Cultivar on Bacterial Wilt. International Journal of Plant Protection 5: 175−176.

Jyothi, H. K., & H.M. Santhosha. 2012. Recent Advances in Breeding for Bacterial Wilt (Ralstonia solanacearum) Resistance in Tomato Review. Current Biotica 6: 370–398.

Prihatiningsih, N., H.A. Djatmiko, & E. Rochminarsi. 2011. Applications of Potassium Fertilizer and Bacillus sp. Biopesticide for Increasing Tomato Resistance to Bacterial Wilt Disease. AGRIVITA 33: 8–14.

Rosyidah, A., T. Wardiyati, A.L. Abadi, & M.D. Maghfoer. 2013. Enhancement in Effectiveness of Antagonistic Microbes by Means of Microbial Combination to Control Ralstonia solanacearum on Potato Planted in Middle Latitude. AGRIVITA 35: 174–184.

Semangun, H. 2006. Pengantar Ilmu Penyakit Tumbuhan [Introduction to Plant Pathology]. Gadjah Mada University Press, Yogyakarta. 126 p.

Williamson, L., K. Nakaho, B. Hudelson, & C. Allen. 2002. Ralstonia solanacearum Race 3, Biovar 2 Strains Isolated from Geranium are Pathogenic on Potato. Plant Disease 86: 987−991.

DOI:
https://doi.org/10.22146/jpti.23171
---
Article Metrics

Abstract views : 1381 |

views : 1654
Refbacks
There are currently no refbacks.
Copyright (c) 2017 Jurnal Perlindungan Tanaman Indonesia
This work is licensed under a
Creative Commons Attribution-ShareAlike 4.0 International License
.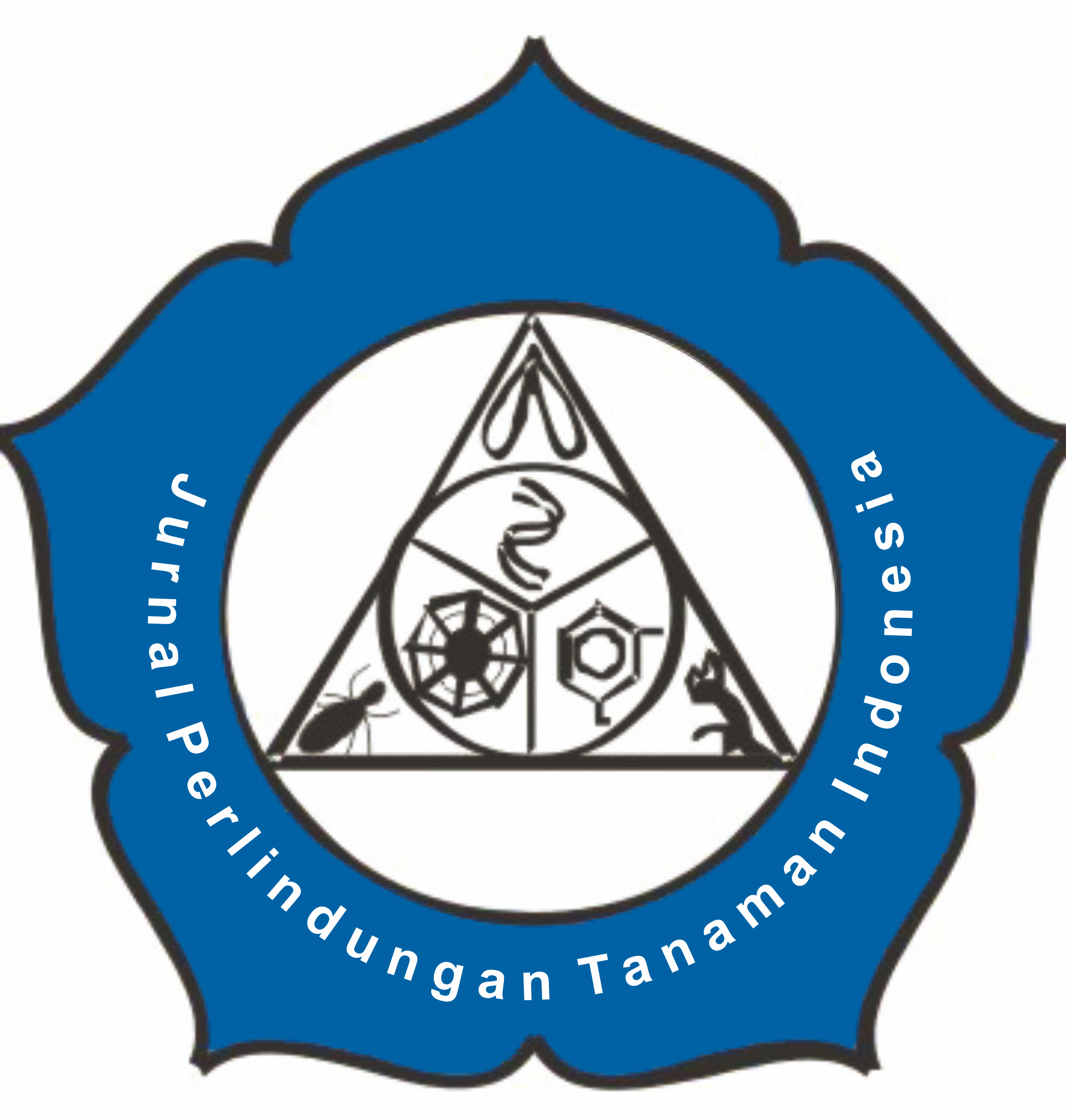 Jurnal Perlindungan Tanaman Indonesia ISSN 1410-1637 (print), ISSN 2548-4788 (online) Accredited Journal, Based on Decree of the Minister of Research, Technology and Higher Education, Republic of Indonesia Number 30/E/KPT/2018, Vol. 21 No. 1 the Year 2017 - Vol. 25 No. 1 the Year 2021. Indexing & Abstracting , 
View My Stats