Deteksi Pengimbasan Ketahanan Pisang terhadap Penyakit Layu Fusarium dengan Asam Fusarat

https://doi.org/10.22146/jpti.16345
Christanti Sumardiyono
(1*)
, Suharyanto Suharyanto
(2)
, Suryanti Suryanti
(3)
, Putri Rositasari
(4)
, Yufita Dwi Chinta
(5)
(1)&nbspFakultas Pertanian, Universitas Gadjah Mada, Jln. Flora 1, Bulaksumur, Sleman, Yogyakarta 55281
(2)&nbspFakultas Pertanian, Universitas Gadjah Mada, Jln. Flora 1, Bulaksumur, Sleman, Yogyakarta 55281
(3)&nbspFakultas Pertanian, Universitas Gadjah Mada, Jln. Flora 1, Bulaksumur, Sleman, Yogyakarta 55281
(4)&nbspFakultas Pertanian, Universitas Gadjah Mada, Jln. Flora 1, Bulaksumur, Sleman, Yogyakarta 55281
(5)&nbspFakultas Pertanian, Universitas Gadjah Mada, Jln. Flora 1, Bulaksumur, Sleman, Yogyakarta 55281
(*) Corresponding Author
Abstract
Fusarium wilt caused by Fusarium oxysporum f. sp. cubense (Foc) is the most destructive disease of banana. Until today this disease has not been successfully controlled. Fusaric acid is a toxin produced by Foc. Tyloses produced in xylem that caused wilting and yellowing of banana plants, inhibit soil nutrition and water stream. The study carried out previously showed that enriched fusaric acid in banana culture induced the resistance of banana seedlings against Foc. The signal of induced resistance increased the phenolic compounds. One of the phenolic compounds is salicylic acid. The aim of this study was to detect induced resistance of banana plant from tissue cultured enriched with fusaric acid. The experiment was done in the field highly infected with Foc. Observation of resistance was done by measuring disease percentage of yellowing and wilting leaves.Tyloses produced in xylem was observed microscopically from cross section of root. Root damage intensity was counted using tyloses score. Salicylic acid content of root was analyzed with phenolic compounds method using HPLC. The results showed that banana plants from enriched tissues culture with 1.165 ppm of fusaric acid increased the resistance against Foc, but salicylic acid was not detected. Salicylic acid was only detected at low concentration (2 ppb) in moderate resistant banana roots from induced plants with 9.32 ppm of fusaric acid. The chromatogram showed three peaks of unknown phenolic compounds. Tyloses intensity was not related with induced resistance of banana against fusarium wilt. Advanced research is needed with more plants samples. It was suggested to identify the phenolic compounds which were detected in induced resistant plant.
INTISARI
Layu fusarium yang disebabkan oleh Fusarium oxysporum f. sp. cubense (Foc) adalah penyakit yang sangat merusak pada pisang dan belum dapat dikendalikan secara tuntas. Gejala berupa kelayuan daun karena tersumbatnya xilem karena pembentukan tilosis yaitu pertumbuhan sel dalam jaringan xilem. Pengimbasan ketahanan diharapkan dapat menjadi salah satu cara pengendalian penyakit layu fusarium. Penelitian sebelumnya menunjukkan penambahan asam fusarat dalam kultur jaringan dapat mengimbas ketahanan bibit pisang terhadap penyakit layu fusarium. Asam salisilat adalah salah satu signal ketahanan yang akan meningkat kandungannya bila terjadi peningkatan ketahanan akibat pengimbasan. Penelitian ini bertujuan untuk mendeteksi hasil pengimbasan ketahanan pisang dengan asam fusarat dalam kultur jaringan. Tanaman telah ditanam di lapangan yang terinfeksi berat oleh Foc. Intensitas penyakit di lapang diamati dengan menghitung persentase daun menguning dan atau layu. Intensitas kerusakan akar diamati dengan pembuatan irisan tipis dan pengamatan tilosis dengan cara skoring. Analisis asam salisilat dalam akar dilakukan dengan metode analisis senyawa fenol menggunakan HPLC. Hasil penelitian tanaman dari bibit yang diimbas dengan 1,165 ppm asam fusarat dalam kultur jaringan menunjukkan peningkatan ketahanan di lapang. Intensitas tilosis lebih rendah pada tanaman yang diimbas ketahanannya dibandingkan yang tidak diimbas. Asam salisilat dalam tanaman yang diimbas ketahannnya denga asam fusarat 9,32 ppm terdeteksi pada konsentrasi yang sangat rendah yaitu 2 ppb, dengan ketahanan moderat. Pada tanaman hasil pengimbasan yang menunjukkan kriteria tahan asam salisilat tidak terdeteksi, namun terdeteksi tiga puncak senyawa fenol yang belum teridentifikasi. Intensitas tilosis pada tanaman yang diimbas ketahanannya tidak menunjukkan penurunan dibandingkan dengan tanaman yang tidak diperlakukan. Penelitian ini perlu dilanjutkan dengan sampel yang lebih banyak. Identifikasi jenis senyawa fenol perlu dilakukan dalam penelitian lanjutan. 
Keywords
asam fusarat; asam salisilat; banana; fusaric acid; fusarium wilt; induced resistance; layu fusarium; pengimbasan ketahanan; pisang; salicylic acid
References
Agrios. G. 1997. Plant Pathology. 4th ed., Acad. Press, New York. 635 p. Deverall, B.J. & H.K.
Baker. 1982. Introduction, p. 1–20. In J.A.Bailey & J.W.Mansfield (eds.), Phytoalexins. Blackie & Sons Ltd., Glasgow and London.
Djohar, H. Herry, Wahyanto, V. Suwandi & H. Subagyo. 1999. Peluang Pengembangan Lahan untuk Komoditas Pisang di Indonesia. Jurnal Penelitian dan Pengembangan Pertanian 18: 46–55.
Kuć, J. 1999 Specificity and Lack of Specificity as They Relate to Plant Defence Compounds and Diseases Control, p. 31–37. In H. Lyr, P.E. Russell, H.W. Dehne, & H.D. Sisler (eds.), Modern Fungicides and Antifungal Compounds II. 12th International Reinharsbrunn Symposium May 24th – 29th, 1998.
Marois, J.J. 1993. Biological Control of Diseases Caused by Fusarium oxysporum, p. 77–81. In R.C. Ploets (ed.), Fusarium Wilt of Banana. APS Press, St Paul, Minnesota.
Mariska, I. & Hobir. 1998. Peningkatan Keragaman Genetik Tanaman melalui Metode "In vitro". Jurnal Penelitian dan Pengembangan Pertanian 17: 115–121.
Nonaka, F. & M. Matsuzaki. 1976. Production of Hydroxyphaseollin in Soybean Leaves Infected with the Blight Bacterium, Xanthomonas phaseoli var. sojae and its Antifungal Action. Agricultural Bulletin of Saga University 40: 2.
Thurston, H.D. 1998. Tropical Plant Diseases. APS Press, Minnesota, 200 p.
Vallad, G.E. & R.M. Goodmann. 2004. Systemic Acquired Resistance and Induced Systemic Resistance in Conventional Agriculture. Crop Science 44: 1920–1934.
Vidhyasekaran, P. 1997. Fungal Pathogenesis In planta and Crops Molecular Biology and Host Defence Mechanism. Marcel Dekker, Inc., New York. 553 p.

DOI:
https://doi.org/10.22146/jpti.16345
---
Article Metrics

Abstract views : 2783 |

views : 2328
Refbacks
There are currently no refbacks.
Copyright (c) 2016 Jurnal Perlindungan Tanaman Indonesia
This work is licensed under a
Creative Commons Attribution-ShareAlike 4.0 International License
.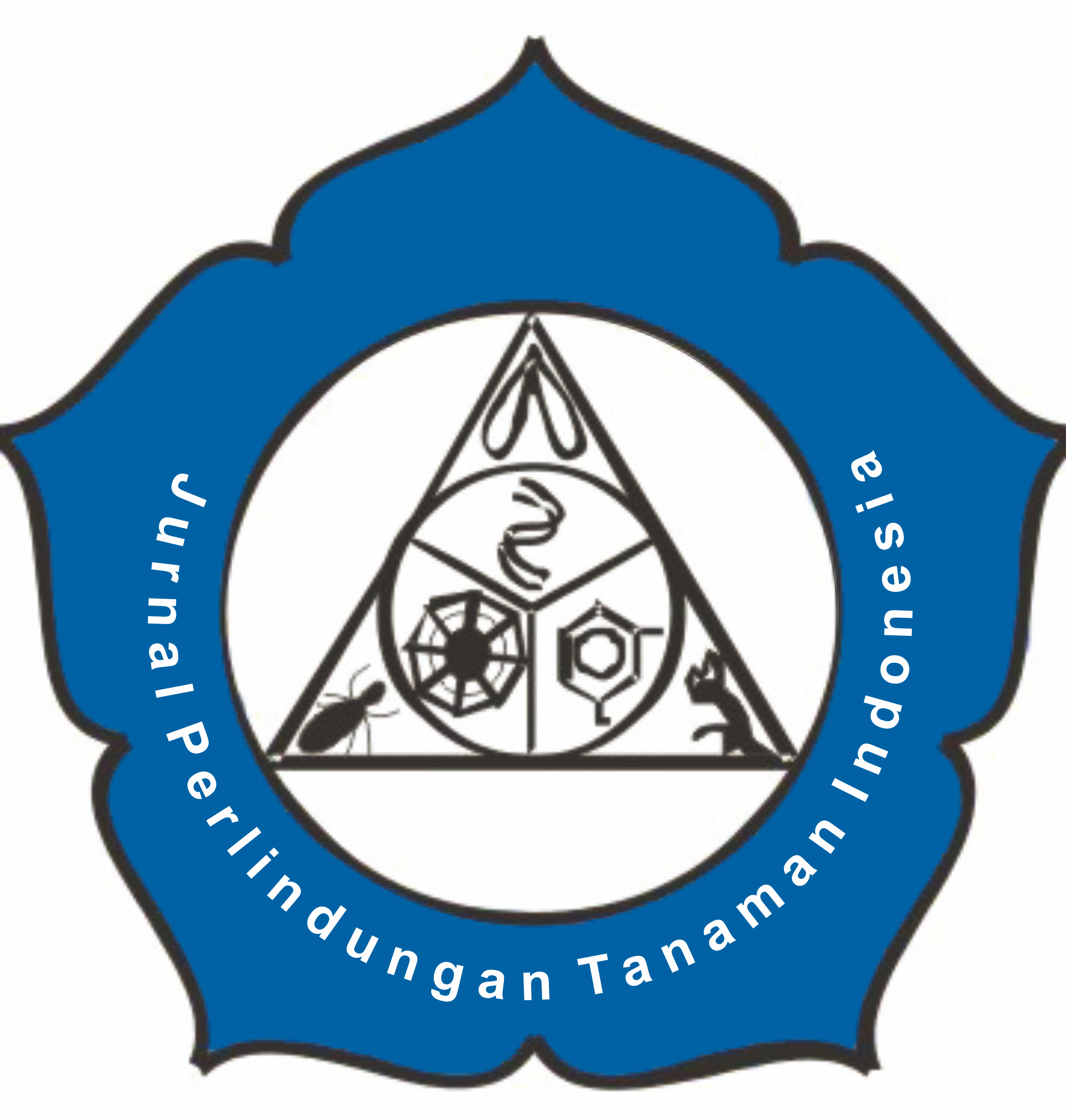 Jurnal Perlindungan Tanaman Indonesia ISSN 1410-1637 (print), ISSN 2548-4788 (online) is published by Department of Plant Protection, Faculty of Agriculture, Universitas Gadjah Mada in collaboration with Indonesian Entomological Society (Perhimpunan Entomologi Indonesia, PEI) and Indonesian Phytopathological Society (Perhimpunan Fitopatologi Indonesia, PFI). The content of this website is licensed under a Creative Commons Attribution-ShareAlike 4.0 International License.  
View website statistics