Uji Pengendalian Penyakit Layu Fusarium Pisang (Fusarium oxysporum f. sp. cubense) dengan Asam Fosfit dan Aluminium-Fosetil

https://doi.org/10.22146/jpti.15610
Yuli Kristiawati
(1)
, Christanti Sumardiyono
(2*)
, Arif Wibowo
(3)
(1)&nbspJurusan Hama dan Penyakit Tumbuhan, Fakultas Pertanian, Universitas Gadjah Mada
(2)&nbspJurusan Hama dan Penyakit Tumbuhan, Fakultas Pertanian, Universitas Gadjah Mada
(3)&nbspJurusan Hama dan Penyakit Tumbuhan, Fakultas Pertanian, Universitas Gadjah Mada
(*) Corresponding Author
Abstract
The aims of the research is to know the effect of phosphite acid and fosetyl-aluminium fungicides on Fusarium oxysporum f.sp. cubense (Foc) in vitro and the effect of these fungicides to fusarium wilt of banana. The experiments consist of in vitro and in planta tests. Fungicides concentrations used were 0; 500; 1,000; 2,000; and 4,000 ppm. Isolate tested was A13 isolate Foc on 4 months old Cavendish cultivar banana seedlings. The result showed that phosphite acid was better than fosetyl aluminium in reducing mycelium growth in vitro. Its also inhibited disease development in banana seedling. The phosphite acid and fosetyl-aluminium increased the resistance of banana Cavendish cultivar to fusarium wilt. Its because the two fungicides are working systemic fungicides.
Penelitian ini bertujuan untuk mengetahui pengaruh fungisida asam fosfit dan aluminium-fosetil terhadap pertumbuhan jamur Fusarium oxysporum f.sp. cubense (Foc) in vitro dan pengaruh fungisida tersebut terhadap penyakit layu fusarium pada tanaman pisang. Penelitian ini terdiri dari 5 perlakuan kepekatan fungisida, yaitu 0 ppm (kontrol), 500 ppm, 1000 ppm, 2000 ppm, dan 4000 ppm. Isolat jamur yang digunakan yaitu Foc A13. Bahan tanaman adalah bibit pisang kultivar Cavendish asal kultur jaringan 4 bulan setelah aklimatisasi. Hasil penelitian menunjukkan bahwa fungisida asam fosfit (Agrifos) lebih efektif untuk menghambat pertumbuhan jamur Foc daripada fungisida aluminium-fosetil (Aliette) secara in vitro. Fungisida asam fosfit dan aluminium-fosetil menghambat perkembangan penyakit layu pada bibit pisang. Kedua fungisida tersebut juga meningkatkan ketahanan tanaman pisang terhadap penyakit layu fusarium. Hal ini disebabkan kedua jenis fungisida tersebut bekerja secara sistemik. 
Keywords
aluminiun-fosetil, asam fosfit, Cavendish, fosfonat, fungisida, Fusarium oxysporum f.sp. cubense, pisang; fungicide, phosphite acid, phosphonate
References
Agrios, G.N. 2005. Plant Pathology. Fifth Edition. Elsevier Academic Press. USA.
Anonim. 2008. Pestisida Terdaftar (Pertanian dan Kehutanan). Direktorat Sarana Produksi. Direktorat Jenderal Tanaman Pangan. Departemen Pertanian, Jakarta.
Daryanto 2004. Laporan Perkembangan Penyakit Layu Pisang. Direktorat Perlindungan Tanaman Hortikultura, Agustus 2004.
Davis, A.J., M. Say, A.J. Snow, & B.R. Grant. 1994. Sensitivity of Fusarium oxysporum f.sp. cubense to Phosphonate. Plant Pathology 43: 200−205.
Abstract. http://www3.interscience.wiley.com/cgi-bin/fulltext/ 119268517/PDFSTART, diakses 25/6/09.
Hidayat. 2002. Respon Subkultur Pisang Cavendish terhadap Napthalene Acetic Acid dan Benzyl Amino Purin. Buletin Pertanian dan Peternakan 3: 1−10.
Kosmiatin, M., I. Mariska., I. Roostika., & E. Gati. 2006. Pembentukan Pisang Ambon Toleran terhadap Penyakit Layu Fusarium melalui Variasi Somaklonal. Zuriat 17: 16−24.
Landschoot, P. & Y. Cook. 2007. Understanding the Phosphonate Products. Department of Crop and Soil Sciences-Cooperative Extension. The Pennsylvania State University. http://turfgrassmanagement.psu.edu/ sorting_through_the_phosphonate_product s.cfm, diakses 29/5/09.
Lovatt, C.J. 1990. A Definitive Test to Determine whether Phosphite Fertilization Can Replace Phosphate Fertilization to Supply P in the Metabolism of 'Hass' on 'Duke 7'. California Avocado Society Yearbook 74: 61−64. http://www.avocadosource.com/ARAC/ SUM_1990/SUM_1990_PG_12-13.pdf, diakses 23/12/09.
Mak, C., A.A. Mohamed, K.W. Liew, Y.W. Ho. 2004. Early Screening Technique for Fusarium Wilt Resistance in Banana Micropropagated Plants. Banana Improvement. http://www.fao.org/docrep/007/ae216e/ae216e00. HTM, diakses 25/5/09.
Nelson, P.E. 1993. Taxonomy of Fungi in the Genus Fusarium with Emphasis on Fusarium oxysporum. Fusarium Wilt of Banana. APS Press. The American Phytopathological Society, St. Paul, Minnesota.
Ochse, J.J., M.J. Soule, Jr., M.J. Dijkman, & C. Wehlburg. 1966. Tropical and Subtropical Agriculture. Volume 1. The Macmillan Company, New York.
Pegg, K.G. & Langdon, P.W. 1986. Fusarium Wilt (Panama Disease): a Review. Banana and Plantain Breeding Strategies. Aciar Proceedings No. 21, Australia.
Ploetz, R.C. 1993. Population Biology of Fusarium oxysporum f.sp. cubense. Fusarium Wilt of Banana. APS Press. The American Phytopathological Society.
St. Paul, Minnesota. Rekanovic, E. I. Potocnik, M. Stepanovic, S. Milijaservic, & B. Todorovic, B. 2008. Field Efficacy of Fluopicolide and Fosetyl-Al Fungicide Combination (Profiler) for Control of Plasmopara viticola (Berk. & Curt.) Berl. & Toni. in Grapevine. Pestic. Phytomed 23: 183−187, http://www.doiserbia.nb.rs/img/doi/1820- 3949/2008/1820-39490803183R.pdf, diakses 23/12/09.
Sanjeev, K.K. & A. Eswaran. 2008. Efficacy of Micro Nutrients on Banana fusarium Wilt. (Fusarium oxysporum f. sp. cubense) and it's Synergistic Action with Trichoderma viride. Academic Pres. Not. Bot. Hort. Agrobot. Cluj 36: 52−54.
Abstract, http://www. revisteusamv.objectis.net/notulae/current-volume/ not-bot-hort-agrobot-cluj-2008-volume-36-issue- 1/efficacy-of-micro-nutrients-on- banana-fusariumwilt- fusarium-oxysporum-f-sp-cubense-and-it2019s - synergistic-action-with-trichoderma-viride/, diakses 11/6/09.
Semangun, H. 2004. Penyakit-Penyakit Tanaman Hortikultura di Indonesia. Gadjah Mada University Press, Yogyakarta.
Siallagan, B. 2008. Uji Virulensi Beberapa Isolat Fusarium oxysporumf.sp. cubense. Fakultas Pertanian. Universitas Gadjah Mada. Skripsi (tidak diterbitkan).
Simmonds, N.W. 1960. Bananas. Longmans, Green and Co Ltd., London.
Suhardiman, P. 1997. Budi Daya Pisang Cavendish. Penerbit Kanisius, Yogyakarta.
Valmayor, R.V. 1986. Banana Improvement Imperatives - the Case for Asia. Banana and Plantain Breeding Strategies. Aciar Proceedings No. 21. Australia.
Whiley, A.W., Saranah, J.B., Langdon, P.W., Hargreaves, P.A. Pegg, K.G. & Ruddle, L.J. 1992. Timing of Phosphonate Trunk Injections for Phytophthora Root Rot Control in Avocado Tress, p. 75−78. In Proc. of Second World Avocado Congress. Abstract, http://www.soilzone.com/Library/Crops/Avocado/ Disease%20management/Timing%20of%20phosphonate% 20injections%20for%20P.%20c.%20root %20rot%20control.pdf, diakses 23/12/09.
Widiastuti, A. 2002. Eksplorasi Fusarium Nonpatogenik dan Avirulen untuk Pengimbasan Ketahanan Bibit Pisang terhadap Penyakit Layu Fusarium. Program Pasca Sarjana. Universitas Gadjah Mada. Tesis (tidak diterbitkan).

DOI:
https://doi.org/10.22146/jpti.15610
---
Article Metrics

Abstract views : 3603 |

views : 2377
Refbacks
There are currently no refbacks.
Copyright (c) 2014 Jurnal Perlindungan Tanaman Indonesia
This work is licensed under a
Creative Commons Attribution-ShareAlike 4.0 International License
.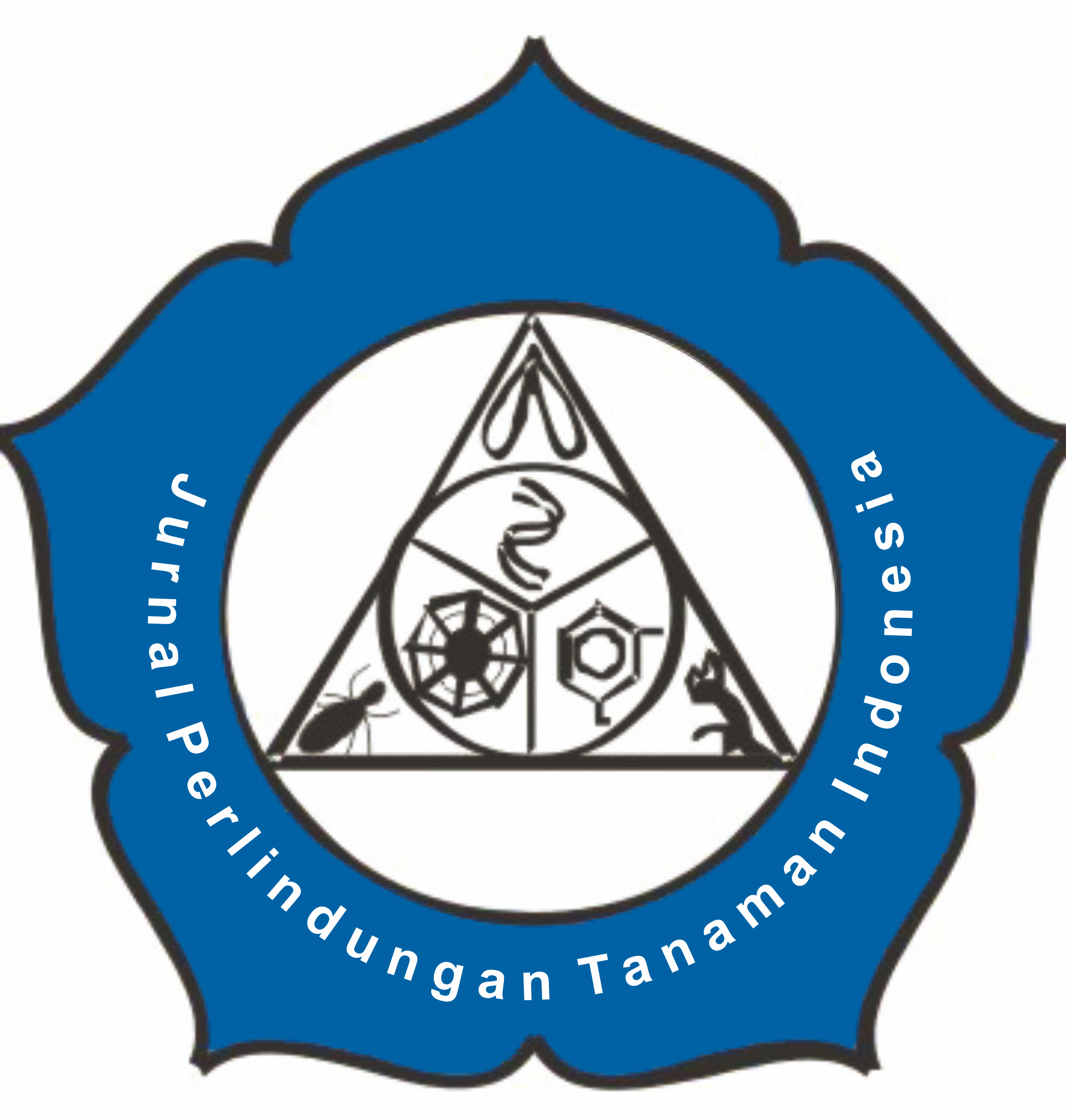 Jurnal Perlindungan Tanaman Indonesia ISSN 1410-1637 (print), ISSN 2548-4788 (online) Accredited Journal, Based on Decree of the Minister of Research, Technology and Higher Education, Republic of Indonesia Number 30/E/KPT/2018, Vol. 21 No. 1 the Year 2017 - Vol. 25 No. 1 the Year 2021. Indexing & Abstracting , 
View My Stats