The Effect of Environmental Factors on Conidial Germination, Sporulation and Growth of Trichoderma harzianum In Vitro

https://doi.org/10.22146/jpti.12759
Arif Wibowo
(1*)
(1)&nbspFakultas Pertanian Universitas Gadjah Mada
(*) Corresponding Author
Abstract
This experiment was conducted to study the influence of temperature, pH of media, and length of radiaton on conidial germination, sporulation and growth of Trichoderma harzianum on PDA (Potato Dextrose Agar). It was conducted in a Completely Randomized Design (CRD) with 3 replications. The results indicated that the highest conidial germination occurred at 30°C, and so the sporulation and the growth of T. harzianum. Length of radiation did not significantly affect conidial germination. However sporulation was enhanced by 12 hrs light-12 hrs dark treatment and colony diameter of T. harzianum was significantly greater at dark. Acidity influenced mainly the conidial germination and the sporulation of T. harzianum. The greatest of conidial germination occurred at pH 8, whereas the smallest occurred at pH 5. Sporulation was also enhanced by higher pH. The influence of acidity on the growth of T. harzianum occurred at pH 9 which its diameter colony was significantly smaller compared to the other treatments.
Keywords
temperature; pH of medium; length of radiation; Trichoderma harzianum
References
Agnihotri, V.P. & 0. Vaartaja. 1967. Effect of Amandments, Soil Moisture, Contents, and Temperature on Germination of Pythium Sporangia under the Influence of Soil Mycostasis. Phytopathology 57: 1116-1120.
Chet, I. & Baker, R. 1981. Isolation and Biocontrol Potential of Trichoderma hamatum from Soil naturally Suppressive to Rhizoctonia solani. Phytopathology 71: 286-290.
Dharmaputra, O.S. & W.P. Suwandi. 1989. Substrat untuk Produksi Besar-besaran Trichoderma. Laporan Tahunan Kerja Sama Penelitian P.P. Marihat-Biotrop. Bitrop/Tagr/89/736. 44-52.
Elad, Y., I. Chet, & J. Katan. 1980. Trichoderma harzianum: A Biocontrol Agent Effective against Sclerotium rolfsii and Rhizoctonia solani. Phytopathology 70: 119-121.
Harman, G. E., I.,Chet,0& R. Baker. 1981. Factors Affecting Trichoderma hamatum Applied to Seeds as A Biocontrol Agent. Phytopathology 71: 569-572.
Huang, H.C., & G.C. Kozub. 1990. Cyclic Occurrence of Sclerotium Wilt of Sunflower in Western Canada. Plant Dis. 74: 766-770.
Moore-landecker, E. J.1982. Fundamentals of the Fungi. Prentice-Hall. Englewood Cliffs. 578 p.
Ruben, D.M., Z.R. Frank, & I. Chet. 1980. Factors Affecting Behavior and Developmental Synchrony of Germinating Oospores of Pythium aphanidermatum. Phytopathology 70: 54-59.
Tronsmo, A. 1986. Use of Trichoderma spp. in Biological Control of Necrotrophic Pathogens. In N.J. Fokkerna and J. Van den Heuvel. Mycrobiology of the Phylosphere. Cambridge Univ. Press. Cambridge.

DOI:
https://doi.org/10.22146/jpti.12759
---
Article Metrics

Abstract views : 279 |

views : 149
Refbacks
There are currently no refbacks.
Copyright (c) 1999 Jurnal Perlindungan Tanaman Indonesia
This work is licensed under a
Creative Commons Attribution-ShareAlike 4.0 International License
.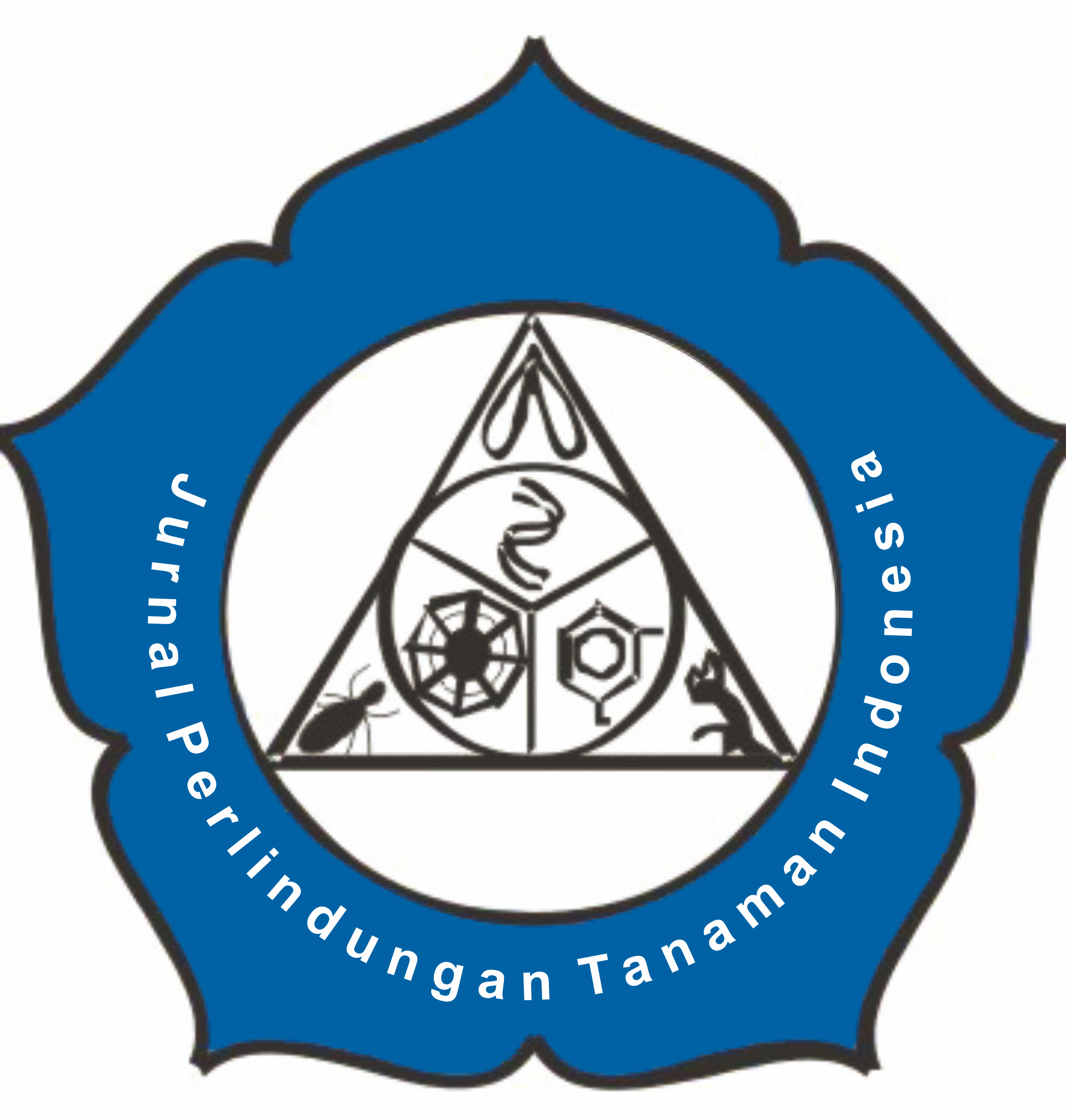 Jurnal Perlindungan Tanaman Indonesia ISSN 1410-1637 (print), ISSN 2548-4788 (online) Accredited Journal, Based on Decree of the Minister of Research, Technology and Higher Education, Republic of Indonesia Number 30/E/KPT/2018, Vol. 21 No. 1 the Year 2017 - Vol. 25 No. 1 the Year 2021. Indexing & Abstracting , view my stats