Jurnal Pendidikan Kedokteran Indonesia adalah Jurnal Nasional Indonesia yang diterbitkan 3 kali dalam setahun (Maret, Juli, dan November) oleh Asosiasi Institusi Pendidikan Kedokteran Indonesia (AIPKI). Jurnal ini telah mendapatkan ISSN dengan nomer 2252-5084. Jurnal Pendidikan Kedokteran Indonesia adalah Jurnal Ilmiah Nasional yang Terakreditasi berdasarkan Surat Keputusan Direktorat Jenderal Penguatan Riset dan Pengembangan Kementerian Riset, Teknologi, dan Pendidikan Tinggi Republik Indonesia Nomor: 1/E/KPT/2015 tanggal 21 September 2015 tentang Hasil Akreditasi Berkala Ilmiah Periode I tahun 2015.
Untuk tiap edisi, dicetak sekitar 500 buah jurnal yang didiseminasikan ke seluruh institusi pendidikan kedokteran Indonesia anggota AIPKI, dan dapat diperoleh secara online.
Jurnal ini bertujuan untuk mendiseminasikan perkembangan terkini dan "best practices" bidang ilmu pendidikan untuk dokter, dokter spesialis dan profesi kesehatan yang lain, serta pendidikan profesi berkelanjutan. Artikel yang diterbitkan telah melalui proses kaji ulang oleh mitra bebestari yang memiliki kualifikasi dan pengalaman di bidang ini.
Jurnal Pendidikan Kedokteran Indonesia
The Indonesian Journal of Medical Education
Departemen Pendidikan Kedokteran
Fakultas Kedokteran Universitas Gadjah Mada
Gd. Prof. Drs. Med. R. Radiopoetro, lantai 6, Sayap Barat,
Jl. Farmako Sekip Utara Yogyakarta 55281.                         
Telp: 0274 - 562139,Fax: 0274- 561196
Hp: 0812 270 29000
Email: jpki_aipki@yahoo.co.id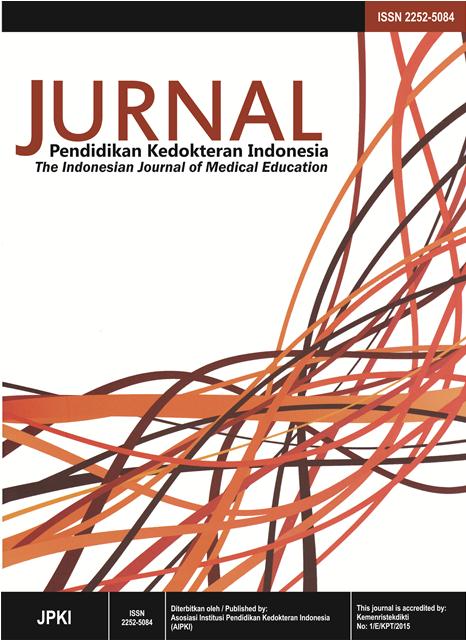 Announcements
No announcements have been published.
Vol 7, No 1 (2018): MARET