Journal of Indonesian Economy and Business (JIEB) is open access, peer-reviewed journal whose objectives is to publish original research papers related to the Indonesian economy and business issues. This journal is also dedicated to disseminating the published articles freely for international academicians, researchers, practitioners, regulators, and public societies.
The journal welcomes author from any institutional backgrounds and accepts rigorous empirical research paper with any methods or approach that is relevant to the Indonesian economy and business context or content, as long as the research fits one of three salient disciplines: economics, business, or accounting. 
The JIEB is a nationally accredited by the Directorate General for Research Strengthening and Development, the Ministry of Research and Technology for Higher Education, Republic of Indonesia (Decree No. 30/E/KPT/2018). Furthermore, this journal has been Internationally indexed in EBSCOHost (Business Source Corporate Plus and Business Source Complete), EconLit, ProQuest, Google Scholar, DOAJ, Microsoft Academic Search, and ACI (ASEAN Citation Index).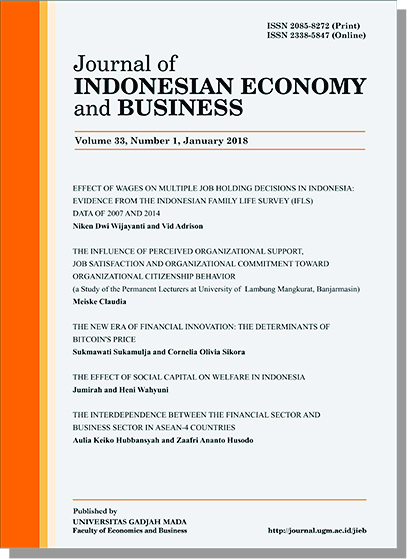 Vol 35, No 3 (2020): September
Table of Contents
Articles
Bagus Dwi Ariyono, Bowo Setiyono

10.22146/jieb.53110

Abstract views : 1177 |

views : 981

171-187
Syarifudin Yahya, Prof. Catur Sugiyanto, M.A. Ph.D

10.22146/jieb.55358

Abstract views : 1690 |

views : 1317

188-203
Hermansyah Andi Wibowo, Nurul Indarti

10.22146/jieb.52046

Abstract views : 575 |

views : 483

204-235
Maria Paramastri Hayuning Adi, Aegisia Sukmawati

10.22146/jieb.55466

Abstract views : 1062 |

views : 840

236-256
Rizky Luxianto, Usman Arief, Muhammad Budi Prasetyo

10.22146/jieb.54377

Abstract views : 575 |

views : 484

257-269