Overview:
The Journal of Indonesian Economy and Business (JIEB) is a peer-reviewed journal published three times a year (January, May, and September) by the Faculty of Economics and Business, Universitas Gadjah Mada.
Since its first issue published in 1986, the JIEB has advanced very well. It has been able to show its worth and plays a huge role in the fields of economics and business in Indonesia. Its commitment toward the development of education, especially in the realm of research, leads to the JIEB being one of the prestigious scholarly periodicals on the Indonesian economy and business in the world.
The JIEB is a leading scientific journal for economics and business in Indonesia as accredited by the Directorate General for Research Strengthening and Development, the Ministry of Research and Technology for Higher Education, Republic of Indonesia (Decree No. 36a/E/KPT/2016). Furthermore, this journal has been Internationally indexed in EBSCO Host (Business Source Corporate Plus and Business Source Complete), EconLit, ProQuest, Google Scholar, DOAJ, Microsoft Academic Search, and ACI (ASEAN Citation Index).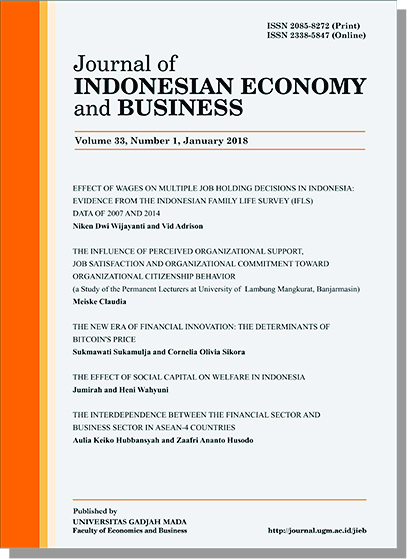 Announcements
Call for Paper: The 6th GamaICEB 2018

The 6th Gadjah Mada International Conference on Economics and Business will be held in Yogyakarta, Indonesia on September 12-13, 2018. This year, the conference will explore the theme of "Shaping the Future of Digital Economy: Trends, Opportunities, and Challenges." We welcome empirical or conceptual contributions with any methods or approach, particularly those that are relevant to the theme in economic and business issues.

Paper submission deadline: August 16, 2018

Posted: 2018-04-27
More...