Jurnal Online Universitas Gadjah Mada adalah sistem penerbitan online berbasis Open Journal System yang diterbitkan oleh Universitas Gadjah Mada.
Identify OAI address: https://jurnal.ugm.ac.id/[path_jurnal]/oai?verb=Identify
Apabila ada pertanyaan lebih lanjut terkait Jurnal Online UGM (pembuatan jurnal, pelatihan jurnal, pelaporan bug atau error) silahkan menghubungi Badan Penerbit dan Publikasi UGM dinomor (0274) 6491963 email bpp[at]ugm.ac.id.
---
A B C D E F G H I J K L M N O P Q R S T U V W X Y Z All
Berita Kedokteran Masyarakat
View Journal | Current Issue | Register
Berkala Ilmu Perpustakaan dan Informasi
Berkala Ilmu Perpustakaan dan Informasi, with registered number ISSN 1693-7740 (print), ISSN 2477-0361 (online) is a scientific multidisciplinary Journal that published by Perpustakaan Universitas Gadjah Mada in the national level that covered many main problems in the science of library and information. The aims of Journal publication is to disseminate the conceptual thoughts and ideas or research results that have been achieved in the area of library and information. Berkala Ilmu Perpustakaan dan Informasi publishes two times in a year i.e. June and December.
Berkala Ilmu Perpustakaan dan Informasi, particularly focuses on the main problems in the development of the sciences of libraries, document and information areas. It covers the theoretical and general aspects of libraries and information; information use and sociology of information; users, literacy and reading; libraries as physical collections; publishing and legal issues; management; industry, profession and education; information sources, supports, channels; information treatment for information services; technical services in libraries, archives, museum; housing technologies, and information technology and library technology.
Please read these guidelines carefully.  Authors who want to submit their manuscript to the editorial office of Berkala Ilmu Perpustakaan dan Informasi should obey the writing guidelines. If the manuscript submitted is not appropriate with the guidelines or written in a different format, it will BE REJECTED by the editors before further reviewed. The editors will only accept the manuscripts which meet the assigned format.
View Journal | Current Issue | Register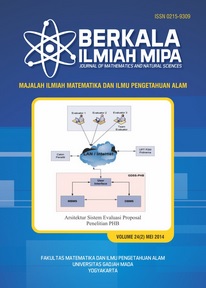 BIMIPA
BIMIPA adalah majalah ilmiah untuk mempublikasikan hasil-hasil penelitian asli (original research paper) atau review literatur dalam bidang kimia, ilmu komputer, fisika, matematika, dan terapannya.
View Journal | Current Issue | Register
Buletin Peternakan
Buletin Peternakan has been accredited as a scientific journal by the Ministry of Research Technology and Higher Education Republic of Indonesia: 36a/E/KPT/2016 PERIOD : 2016-2021.
========================================
Buletin Peternakan is published every three months (February, May, August, November). Buletin Peternakan receives original papers in animal science and technology on scope range of research topics in animal sciences: breeding and genetics, reproduction and physiology, nutrition, feed sciences, agrostology, animal products, biotechnology, behaviour, welfare, health, livestock farming system, socio-economic, and policy which are not published at any other journals.
View Journal | Current Issue | Register
Buletin Psikologi
Buletin Psikologi is a peer-reviewed scientific periodical which contains scientific articles span from theoretical reviews up to non-empirical research report. Buletin Psikologi aims to disseminate the advancement of thoughts and ideas for scientifically based applications and practices.
Buletin Psikologi is published bi-annually, in June and December, and available in printed out and electronic version with ISSN as follows. ISSN 2528-5858 (Online) 0854-7108(Print)