Buletin Psikologi 
is a scientific journal that publishes non-empirical studies such as theoretical reviews and meta-analysis. 
 It was founded by the Faculty of Psychology Universitas Gadjah Mada in 1993 and collaborated with Asosiasi Psikologi Positif Indonesia (
AP2I
) and Himpunan Psikologi Indonesia (
Himpsi
) in recent years. It aims to disseminate the advancement of critical scientific ideas for evidence-based application and practices. Since then, it has published various scientific work in the form of theoretical reviews, meta-analysis and non-empirical research report, both in English and Indonesian. We publish twice a year in June and December, but submissions are welcomed throughout the year. In 2016, Buletin Psikologi has successfully integrated the Open Journal System (OJS), an online submission platform, to improve the quality and ease of the publication process. It allows authors, readers, editorial board, editors and peer reviewers to monitor the real-time status of the manuscript. Therefore, authors are required to register in advance and upload the manuscript through OJS. Hard copies of the journal can also be purchased through the system.
 ISSN 0854 - 7106 (Print)
 ISSN 2528-5858 (Online)
 Collaborate with HIMPSI (Himpunan Psikologi Indonesia) and AP2I (Asosiasi Psikologi Positif Indonesia)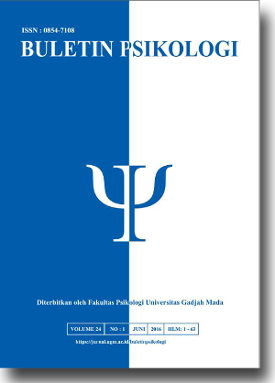 Announcements
Manuscript Submission

Buletin Psikologi processes all manuscript through open journal system (OJS). So, we would like to invite authors to submit the manuscript via this link: https://jurnal.ugm.ac.id/buletinpsikologi

Letter of manuscript submission will be automatically sent to the authors by Email. The process of the manuscript could be monitored through OJS. The admission process of manuscripts is conducted throughout the year. Manuscripts will go through the double-blind peer review and editorial review before accepted for publication.

Should you have any further questions, please do not hesitate to contact us in this number +62895391932434 (WhatsApp only).

Manuscripts can be written in Indonesian or English by using good and correct grammar rules. Writing manuscripts in English is generally in the form of past tense.

 

         Editor-in Chief:
      Galang Lufityanto




Posted: 2018-01-31
Vol 26, No 1 (2018)
Table of Contents
Articles