Buletin Psikologi is a peer-reviewed scientific periodical which contains scientific articles span from theoretical reviews up to non-empirical research report. Buletin Psikologi aims to disseminate the advancement of thoughts and ideas for scientifically based applications and practices. 
Buletin Psikologi is published bi-annually, in June and December, and available in printed out and electronic version with ISSN as follows. ISSN 0815 - 8884(Print) ISSN 2528-5858 (Online).
Manuscripts can be written in Indonesian or English by using good and correct grammar rules. Writing manuscripts in English is generally in the form of past tense.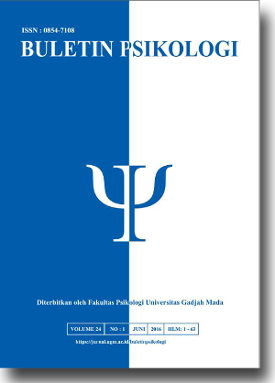 Vol 25, No 2 (2017)
Table of Contents
Articles